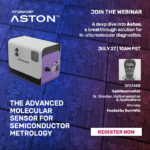 The causes of the chip shortage crisis have been widely discussed, but what about specific solutions? How can semiconductor manufacturers add new capacity to meet demand as quickly as possible?
While there is a lot of talk about investment in building new chip plants, these traditional methods of manufacturing capacity growth typically take several quarters, or even years, to come to fruition. Building new fabs is a monumentally costly and time-intensive task requiring years of planning and construction, which means new fabs realistically are not going to fill the short-term or medium-term gap. Likewise, adding more processing equipment is capital-intensive, takes many quarters to realize, and is often limited by scarce clean-room floor space and equipment lead times that can be 6-12 months or longer.
We instead must look for smarter, creative ways to increase throughput and yield, so more chips can be produced in the fabs we already have, without requiring lengthy building or equipment facilitation.
Which brings us to an upcoming webinar in partnership with Atonarp:
WEBINAR: A review of new in-situ metrology for advanced semiconductor processes
In the webinar, Atonarp will detail Aston-based improvements in FAB throughput, as well as in-situ metrology solutions for advanced CVD and etch applications. The benefits of Aston's robust molecular sensor technology with integrated plasma ionization source will be compared with existing legacy metrology solutions, such as residual gas analysis and optical emission spectroscopy.
Aston's ability to respond to a range of metrology application challenges will be reviewed and discussed, including PE-CVD end point detection, dry pump management, Atomic Level Deposition (ALD), advanced high aspect ratio, and small open area etch and advance chamber management.
The speaker is Saïd Boumsellek – Sr. Director, Instrumentation & Applications Atonarp. At Atonarp, Saïd has taken on the role of leading the development of Instrumentation and Applications of mass spectrometry products. A major initiative is to drive an externally focused application development strategy by working directly with market leaders in semiconductor process control.
Prior to Atonarp, Saïd served as the Director of Advanced Technology at L3 Security Detection Systems, where he led the R&D team. Saïd holds a PhD in Physics, has a long track record in instrument development and deep domain expertise in the chemical analysis industry. He has held many professional roles including Member of Technical Staff at Caltech's Jet Propulsion Laboratory developing miniature charged particle analyzers for planetary exploration.
Saïd has prepared over 100 research proposals and secured $15M+ in R&D funding from various U.S. Government agencies. He authored over 32 publications in peer-reviewed journals, and 40+ patents in the areas of ionization sources and chemical analysis technologies.
About Atonarp
Atonarp is leading the digital transformation of molecular sensing and diagnostics for life sciences, pharmaceutical, and semiconductor markets. Powered by a unifying software platform and breakthrough innovations in optical and mass spectrometer technology, Atonarp products deliver real-time, actionable, comprehensive molecular profiling data. Led by a world-class team of experts in the development and commercialization of semiconductor, life sciences, and health diagnostic instruments, Atonarp has operations in Japan, the United States, and India. Learn more at https://atonarp.com. 
I hope to see you there!
Share this post via: