For 5G to really deliver on its promise of high bandwidth and good coverage, it needs to use an RF band known as C-Band (3.7 to 4.4 GHz). This band is ideal because its frequency is high enough to offer 100MHz wide channels and also low enough that signal attenuation, especially in urban areas, is minimal.  In 2020 the FCC auctioned off the portion of the GHz C-Band from 3.7 to 3.98 GHz to 5G service providers. However, it is important to note that in the C-Band the range from 4.2 – 4.4 GHz, with a guard band down to 4.0 GHz, is still reserved for Aircraft Safety and Radar Systems. The segment that was auctioned off had previously been used for ground links for satellites, which posed no risk of interference with radar altimeters.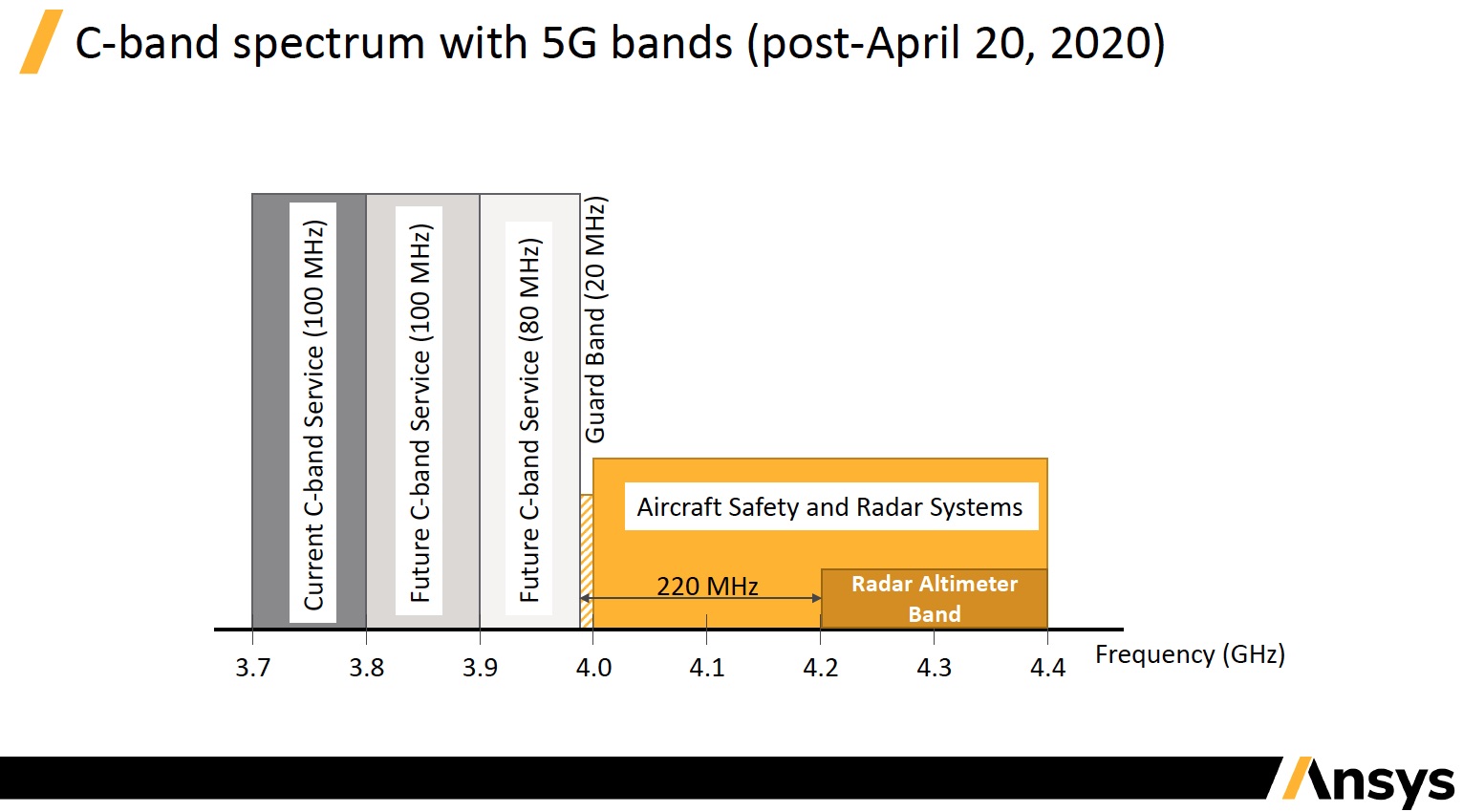 Unlike the previous use for satellite links, the new 5G application calls for transmitters near airports aiming signals at near ground level – the exact locations where the adjacent Radar Altimeter Band is used to assist commercial aircraft in category 3 automatic landings during restricted visibility. While the bands do not overlap there can be significant issues due to out of band transmission from the powerful 5G base stations causing receiver interference in the altitude radar equipment. In a perfect world the base stations would only produce electromagnetic radiation in their licensed band, and the radar altimeter would be able to reject any signals out of its band. However, the radar altimeter equipment was designed and approved before the new 5G interference could have been foreseen.
I had a chance to speak with Shawn Carpenter, Program Director at Ansys for 5G & Space, about this issue which has blown up in the last month or two because 5G carriers are now in the process of turning on 5G service in base stations near airport approaches. The carriers have spent billions of dollars on these band allocations, but the FAA is extremely concerned that stray emissions could leave aircraft blind on approach. We have all seen the news about the conflict between the cell carriers and the airlines. It seems that some accommodation has been reached for now, but a long-term solution is needed.
Redesigning certified aviation equipment is a complex and time-consuming process. The total power for the radar altimeter is around 1 watt. The maximum height it is used at is around 2500 feet. At this height the signal loss on return is approaching 90 db. Thus, you can see that the receiver needs to be fairly sensitive. The addition of filters is an option but there will be limitations on them due to sensitivity requirements.
Changing 5G antenna characteristics or redesigning 5G base station circuitry may provide a quicker path. No matter how the problem is mitigated there will be simulation work to assess the effectiveness based on the radar altimeter design, base station design or location. Shawn showed me how Ansys has been able to model antenna patterns for 5G AP and the radar altimeter antenna on a 777. This can be set up for specific airports to provide insight into the potential severity at each site. They also have looked at scenarios where filters are put either on the 5G base station or the Altimeter Radar input stage.
This problem will not be going away anytime soon, there are two more C-Band segments that are even closer to the Radar Altimeter band that will be auctioned off for use in the future. While there have been some missteps, there is a lot of money and potentially people's lives at stake. So, a long-term solution will have to be worked out. Regardless of whether the radar altimeters or the base station equipment is redesigned, extensive simulation and validation of electromagnetic signal issues will be required. Full modeling of the special effects including antennas, terrain, equipment locations, etc., will need to be performed. Ansys has a series of interesting articles on their website that have more information on this issue and the techniques that can be used to ensure airline safety while meeting the needs of the 5G carriers. The first article is 5G and Aircraft Safety: How Simulation Can Help to Ensure Passenger Safety and the second one is 5G and Aircraft Safety Part 2: Simulating Altimeter Antenna Interference.
Also Read
The Hitchhiker's Guide to HFSS Meshing
The 5G Rollout Safety Controversy
Can you Simulate me now? Ansys and Keysight Prototype in 5G
Share this post via: