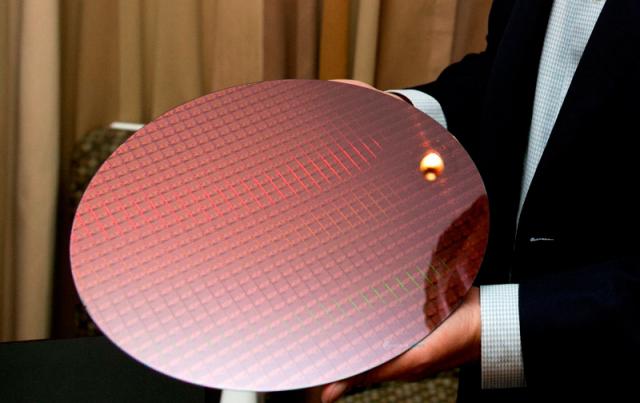 Intel (INTC) blew away expectations based on strong performance in the data center. Revenues of $16.1B versus street of $15.05B and EPS of $0.93 versus street of $0.72. While revenue was up 9% over prior year, earnings were 50% higher. Guidance is for Q2 revenue of $16.3B and EPS of $0.85 versus street of $15.55B and EPS of $0.81. IOT, NSG and PSG were also up a nice 18%.
We probably could have guessed that Intel would be a big beneficiary of the huge uptick in capital spending at Google who is obviously rolling out data centers and capacity as quickly as possible on the back of strong business.
Data center spending has long legs in our view and we think 2018 could be a super year for Intel's data center group. Intel is well positioned to capitalize on this.
Intel's financial performance and discipline has been very good and we think management will keep a tight rein on the model and profitability.
The only fly in the ointment was the long delayed 10NM roll out is still not rolling out. Though management talked about some products shipping, its pretty clear its not in volume. Intel and 10NM sounds a lot like ASML and EUV. Its coming, its just around the corner and the check is in the mail….
The delay hasn't hurt Intel yet, and this quarters financial performance obscures the technology failings.
KLAC had a great quarter, breaking the $1B mark, beating both revenue and EPS expectations.
The most important fact that may be overlooked is that KLAC is projecting an increasing year with H2 higher than H1 , versus Lam that is projecting the opposite, a softening year. KLAC has three things going for it; Memory, China & EUV.
KLAC is seeing well over half its business from memory plus the additional driver of China which needs to buy metrology and yield management tools ahead of process tools made by Applied and Lam. Additionally KLAC gets a benefit from the transition to EUV as lots of new metrology and inspection tools are needed to deal with the new problems associated with EUV. This is compared to AMAT and Lam that see etch and dep steps reduced when process flow is replaced with shorter, but more difficult, EUV process flow.
KLAC remains in a very good position for 2018.
Tick, Tock, Tock, Tock, Tock, Tock…….
Moore's Law in hibernation at Intel….It's groundhog day all over again.
Intel, the company built on Moore's Law and maintaining a technology leadership position has been stalled at 14NM going on 10NM since 2015. We were one of the first to point out Intels delay way back when. In the meantime both TSMC and Samsung seem to have caught up and may be about to pass Intel. Intel's 10NM is about the same as TSMC's 7NM and so far it looks neck and neck.
Also Read: Leading Edge Logic Landscape 2018
Broadwell, Skylake, Kaby Lake, Coffee Lake…we are getting tired of being under water at 14NM….maybe the next 14NM parts should be "Coffee Cake"…enough already, get on with it
Uptick in capex from $14B to $14.5B probably EUV high NA
We coincidentally saw an uptick of $800M in capex at TSMC for new mask capacity and a $300M pre payment to ASML for a place holder for a high NA system sometime in the future of ASML's product line. We would be willing to bet that at least part, if not most ($300M) of Intel's uptick is earmarked for a placeholder at ASML's high NA waiting list.
KLAC has three strong drivers- Memory, EUV & China
KLAC has great positioning in that it has a more diverse set of business drivers as compared to others in the industry.
Both EUV and China are going to be multi year, long term secular growth stories that will go on despite what happens in memory of with Samsung. While a lot of new capacity in China is directed at memory, we think China will continue to spend even if the existing players such as Samsung, SK and Micron slow in the face of overcapacity. China needs and wants to get a foothold in the memory market and essentially has to build.
Also Read: SPIE Advanced Lithography 2018 – ASML Update on EUV
Transitioning to EUV is another "must have" for the industry. Sooner or later, Samsung, TSMC and Intel will all go to EUV and its clearly going to be very painful and expensive but there is simply no choice. The industry can delay the inevitable only so much, sooner or later (probably at 5NM) its going to happen and KLA will sell a lot of metrology and yield management tools to sort it all out.
An improving year is better than a slowing year
KLA is looking at high single digit to low double digit growth in 2018 with H2 bigger than H1. This is certainly better than a weakening H2 projected by Lam even though it was just a slow softening.
We thinks KLAC's diversified drivers puts them in a much less risky position as compared to Lam at 84% memory and nowhere to grow.
We are also concerned that even though Applied has diversification in display tools, its highly likely that display revenue will be down sharply as Samsung cuts off display spending very quickly. This suggests that KLAC has better market positioning than either AMAT or LRCX for the near balance of the year.
The stocks
We saw both Intel and AMD blow away numbers as data center spend has been great as evidenced by Google. We think both stocks could still be buyable here as the data center spend is not going away any time soon.
Likewise, we think KLAC is one of the better positioned, less risky and more diversified plays of the semiconductor equipment tool makers. Business remains strong and future upside from Orbotech will add to the story in the fall.
And we still like Micron……
Also read: TSMC Adds Negative Semiconductor News
Share this post via: