Podcast EP153: Suk Lee's Journey to Intel Foundry Services, with a Look to the Future
Dan is joined by Suk Lee, Vice President of Design Ecosystem Development at Intel Foundry Services. He has over 35 years of experience in the semiconductor industry, with engineering, marketing, and general management positions at LSI Logic, Cadence, TI, Magma Design Automation and TSMC. At TSMC, he was responsible for managing the third party partners making up the OIP Ecosystem, and created the OIP Ecosystem Forum, the premier Ecosystem event in the Foundry Industry.
Suk discusses his journey through semiconductors, EDA and ultimately the foundry business. Dan explores the reasons Suk joined Intel Foundry Services, their focus and what the future holds for the organization in the changing semiconductor landscape.
The views, thoughts, and opinions expressed in these podcasts belong solely to the speaker, and not to the speaker's employer, organization, committee or any other group or individual.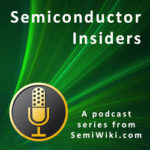 Share this post via:
---