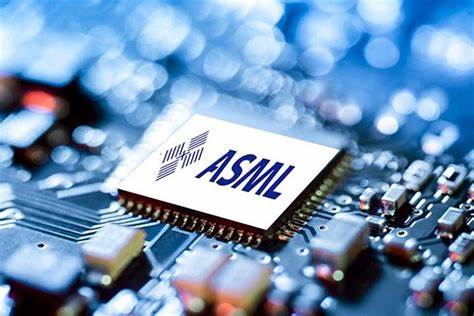 -ASML has great QTR & Outlook & Huge Euro8.9B orders
-Relatively immune from China due to mainly non leading edge
-Monster Euro38B backlog – 60EUV & 375DUV systems in 2023
-5% China risk to 2023- still mainly supply constrained
ASML proves litho's place at Apex of semiconductor food chain
ASML announced a great quarter with Euro5.8B in revenue and EPS of Euro4.29/share. Outlook is for revenues of Euro6.1B to 6.6B with gross margins of 49%. Gross margin for 2022 will come in about 50% overall.
Most importantly, orders came in at a huge Euro8.9B, 77% logic, bringing backlog to a multi-year Euro38B. ASML is looking at shipping 60EUV and 375DUV systems in 2023, assuming supply chain issues are resolved.
China immunity from two factors
ASML will have 5% or less impact next year from the China issue for two simple reasons; number one, the majority of current business is non leading edge, above 14NM as ASML was already not shipping any EUV tools to China. Number two, ASML is sold out anyway and there are a large number of customers who will happily snap up any systems that China doesn't or can't take.
In our view, as we had previously commented on months ago, ASML is virtually immune to China embargo issues given their leading positioning in the industry. The semiconductor industry remains a zero sum game and litho systems not shipped to China will go elsewhere to satisfy demand.
Macro economic risk remains low as well
In our view, there is obviously the macro economic risk in addition to the China risk, but ASML remains relatively immune from near term spending trends given the huge , overwhelming demand for product and multi year backlog. While there is always risk if macro economy issues get too bad, it would have to get real bad to see customers on the order queue get off line and reduce backlog. The backlog will likely keep ASML in good shape through a macro economic soft patch.
"Customers never cancel, they just re-schedule, it never goes away"
US content is critical to ASML tools
Company management played down the US content of tools which are obviously shipped from the Netherlands. US content may be small but its the most critical content as it is primarily the light source technology for the entire system, and was the subject of the most development work and delays in EUV.
Light source technology is developed by former Cymer, in San Diego, that ASML was allowed to buy by the US government. We are relatively certain that there were agreements regarding Cymers technology in order to win acquisition approval.
Many investors may not be aware that much if not most of the laser technology, especially for EUV, arose out of the "star wars" laser weapons systems of the Regan era as Cymer employed many scientists out of the ex star wars program from both the US and former Soviet Union. The technology used in the 250KW drive laser in EUV systems could be re-purposed for military applications.
We worked on the Cymer IPO in 1996 & followed it since and understand the technology well.
77% logic mix shows resilience
The fact that 77% of orders are from logic suggests that a more rapid slowdown in memory will not impact ASML at all. Management also announced orders for High NA systems along with regular EUV systems. Though high NA was not broken out, at over Euro300M a system, the numbers can add up more than twice as fast as DUV systems. We assume that TSMC, Intel and Samsung have likely already ordered multiple High NA EUV systems. TSMC's recent capex cut clearly is not impacting their litho system orders as they understand the import of leading in litho.
The stocks
Obviously ASML had a great quarter and fantastic outlook. In our view this reaffirms their positioning in the industry as the top semiconductor equipment company in the world.
They remain in a monopoly position for the most critical and sought after equipment, lithography, which sets the pace for Moore's Law and improvements in the industry.
While not 100% immune they are likely better than 95% immune and China and macro economic issues are minimal to near zero.
If you want to be invested in semiconductor equipment, ASML is perhaps the best stock to stay in. While the stock will gyrate a lot due to the storm surrounding the industry, the companies performance will remain the most steady of its peers throughout whatever storms come.
ASML's report raises some collateral questions on other companies. Managements comments on the memory industry weakness and the fact that memory has fallen to 23% or orders along with memory order sluggishness reported by management suggest that companies with higher memory exposure with shorter term tools, such as etch and deposition are significantly more vulnerable to numbers getting cut.
LRCX is the top memory equipment supplier. We have already seen what appears to be a 50% cut from Micron which will certainly cut all of 2023's business. Obviously Samsung and other memory players will cut memory spending as well so we would expect a significant reduction in Lam's numbers from memory related customers. Applied Materials, AMAT, will also be negatively impacted with KLAC seeing the least of the US companies.
ASML remains unique in the industry and thus a sought after product and stock relative to others.
About Semiconductor Advisors LLC
Semiconductor Advisors is an RIA (a Registered Investment Advisor),
specializing in technology companies with particular emphasis on semiconductor and semiconductor equipment companies. We have been covering the space longer and been involved with more transactions than any other financial professional in the space. We provide research, consulting and advisory services on strategic and financial matters to both industry participants as well as investors. We offer expert, intelligent, balanced research and advice. Our opinions are very direct and honest and offer an unbiased view as compared to other sources.
Also Read:
Semiconductor China Syndrome Meltdown and Mayhem
Micron and Memory – Slamming on brakes after going off the cliff without skidmarks
Share this post via: