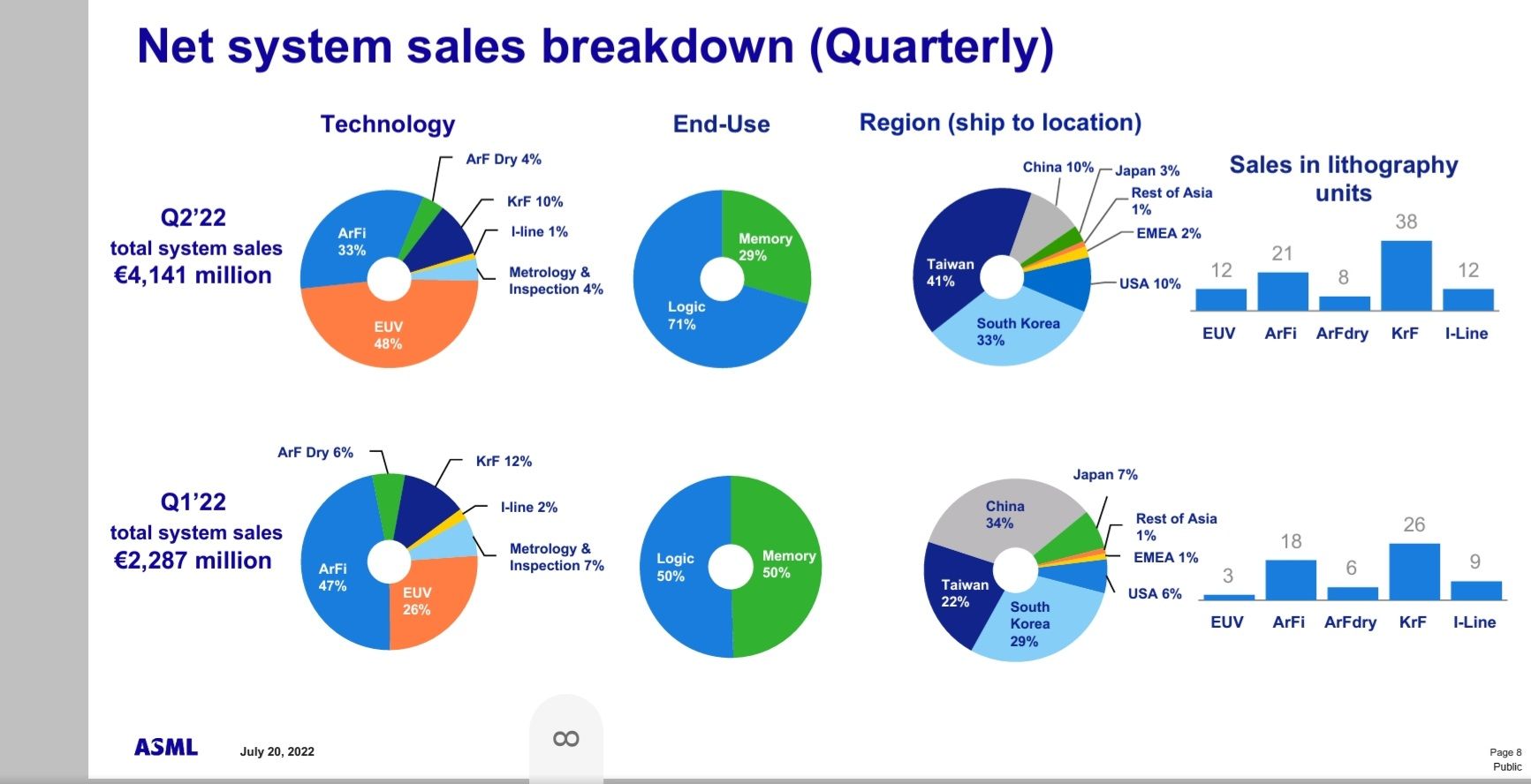 -ASML reports strong quarter- Orders up 20% Qtr/Qtr
-Customers rush delivery which delays revenue recognition
-Chip makers need hard to get litho tools most of all
-Warning on concerns about consumer chip demand
Good numbers that are even better in reality
ASML reported revenues of Euro5.4B and EPS of Euro3.54. Most importantly orders came in at Euro8.5B versus street expectations of about Euro7B and jumped over 20% quarter over quarter. The company shipped 14 EUV tools.
Rush to get equipment masks outperformance
As we had previously heard from ASML, the company is doing rush deliveries of incomplete tools, due to supply chain constraints, which are then finished at customer sites. Customers are obviously very desperate to get their hands on tools and don't want to step out of the order queue lest they get back on the end of a 2 year (or longer) line.
The financial issue is that ASML can't take full revenue recognition as the tools that are rush shipped are incomplete. This obviously masks what would have otherwise been strong performance. The slight benefit is that the delayed revenue does come back in later quarters at 100% gross margin.
The percentage of rush tools and therefore partial revenue is likely to increase going forward which will depress revenues in near term. ASML predicts that the delay impact will grow from about Euro1B to about Euro2.8B and push into 2023. We don't see this situation changing any time soon as supply chain issues appear to be longer term in nature.
ASML will be last to see chip weakness
We have heard warnings from Micron and LG about a semiconductor down cycle coming in memory. Perhaps a down cycle will be focused on memory and other consumer specific semiconductor devices. In any event, ASML will be the last semiconductor equipment company to see any impact.
Process tools , such as etch and deposition tend to be more of a turns business which can usually ship relatively quickly even though lead times are currently stretched, they are not near as long as litho tools.
Additionally, there are multiple suppliers of etch and deposition tools so there is competition which tends to keep supply times shorter or allows for alternatives if delays grow too long. ASML remains a monopoly in EUV with no alternatives. The bottleneck in critical lens supply remains in Zeiss which limits increasing supply.
Supply chain remains problematic
Company management is guiding for further issues in the supply chain that appear to be worsening which will limit revenue growth to roughly 10% in 2022.
The company expects to ship 55 EUV systems in 2022 but only 40 of which will be revenue recognized in 2022 with 15 systems slipping into 2023 for revenue recognition purposes.
Increases in costs in the supply chain also impacts cost of sales which obviously impacts gross margin but ASML will likely either share or pass increase costs onto customers.
Keeping an eye on Zeiss and Germany
Although its not a problem now, in the summertime, we are keeping an eye on Russian gas supply to Germany. If gas gets cut off in the coming winter businesses will get curtailed first and consumers last. We would hope that Zeiss is making plans for the highly sensitive lens systems in long term production in Germany that may be exposed to such a shut down.
ASML likely to ride through a chip cycle downturn due to backlog
Given the existing strong and long backlog in ASML's order book, we think there is less than zero risk to 2022 and likely close to zero risk in 2023.
We don't expect any cyclical downturn to last more than a year or so. The last time that Samsung put the brakes on capex it was for a relatively short few quarters.
We think it would take a very significant macro economic downturn to lengthen a semiconductor down cycle given the breadth of demand we are seeing.
China
We also see little impact on ASML from any potential embargo on China as there are many other customers outside of China who would gladly take their place in line and take their tools. As we have said multiple times, in the long run, semiconductors are a long term zero sum game. If anything, taking China out of the equation could keep supply short and limit down cycles and keep pricing for chips higher. In summary we don't see much of a risk out of the China situation other than rearranging the shipping destination of tools.
The stocks
Obviously this is a very positive report for ASML. Business is as strong as ever if not stronger than before. Customers remain desperate to get ASML tools. Financials remain solid and technology moves on. So we see nothing but positive for the stock of ASML.
This could be the point where short sellers who have seen ASML's stock price get cut in half should likely abandon ship and close out their short positions. One investor famously said they had a $1B short position in ASML. If we get a bit of a short squeeze we could see a bottom and a bounce of ASML's stock price, and a turn in the otherwise down trajectory.
While there may be some sympathetic positive reaction from other semiconductor equipment stocks, we think the negative talk of consumer chip concerns are more of a risk to the process tool makers such as Applied Materials and Lam. KLAC is impacted to a lesser extent as their tools have longer lead times, though not as bad as ASML, and they have a strong market position in most, but not all, markets and that keeps their backlog stronger.
We will wait and see what others have to say but clearly there is weakness showing in the chips market but we don't have a clear picture as yet as to how deep and wide that weakness is. Will the down cycle be limited to memory or memory and consumer facing logic or across the entire breadth of the chip industry? We just don't know as much of the depth and breath of a down cycle depends on the less predictable macro economic and geo political issues which are still evolving.
About Semiconductor Advisors LLC
Semiconductor Advisors is an RIA (a Registered Investment Advisor), specializing in technology companies with particular emphasis on semiconductor and semiconductor equipment companies. We have been covering the space longer and been involved with more transactions than any other financial professional in the space. We provide research, consulting and advisory services on strategic and financial matters to both industry participants as well as investors. We offer expert, intelligent, balanced research and advice. Our opinions are very direct and honest and offer an unbiased view as compared to other sources.
Also read:
Micron kicks off the down cycle – Chops 2023 capex – Holding inventory off street
ASML- US Seeks to Halt DUV China Sales
SEMICON West the Calm Before Storm? CHIPS Act Hail Mary? Old China Embargo New Again?
‌
Share this post via: