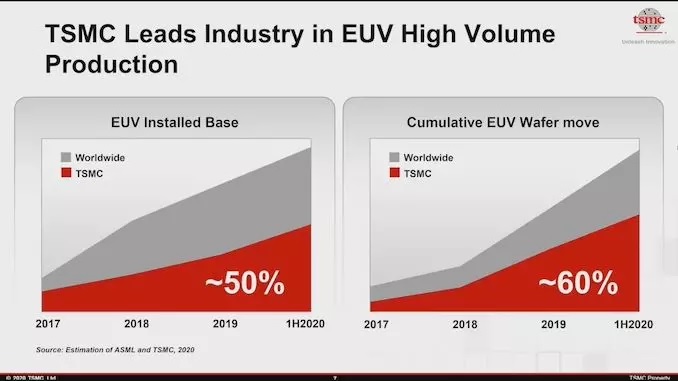 ASML has strong quarter lead by great Taiwan and EUV
EUV "crossed over" DUV as revenue leader- signaling new era
Taiwan doubles, China grows, Korea weaker, US further behind
ASML hits great numbers
ASML reported revenues of Euro 4B, with income of Euro 2.54EPS, both beating estimates handily. Ten EUV systems were shipped but 14 were recognized. Outlook is for revenues between Euro 3.6B-3.8B, which suggests upside to Euro 4B or better.
Shifting Numbers
There were significant shifts quarter over quarter. EUV went from 7 systems to 14 systems in Q3. Taiwan went from 21% of business to 47% with China going from 23% to 21% of business but increasing in absolute revenues. Korea slumped from 38% to 28% as EUV (which is not memory driven) dominated. The US (read that as Intel) fell off sharply fro.m 17% to 5%.
Intel "crushed" by TSMC in EUV spend- a very bad leading indicator
In the quarter Taiwan (primarily TSMC) was 47% of ASML's business while the US (primarily Intel) was a paltry 5%. This means that TSMC is spending more or less ten times what Intel is spending on EUV.
In case there was any question as to who is winning Moore's law by a tidal wave of investments. Intel investors should be scared…very scared. Intel is clearly voting with their feet and matching their words about outsourcing their future to TSMC, who is running away in the Moore's law race. China spending four times what the US is spending (though none of it on EUV per the embargo) shows that China is deeply building out a strong semiconductor infrastructure and also clearly outspending the US.
Logic dominates at 79% versus memory of 21%
Logic at 79% is one of the highest percentages of revenues we have ever seen and is indicative of memory spending being subdued and perhaps weaker. The fact that this is so weighted to TSMC suggests that they are expecting a lot of business and also expect to put their foot on the EUV accelerator and leave both Intel and Samsung in their EUV dust. Memory obviously does not currently use EUV so the EUV domination of the current quarter will also outweigh memory DUV spend as ArF sales were down sharply.
Some "pushouts" and timing issues in the future?
A while ago we had talked about TSMC slowing spending and the pushouts and timing issues discussed on ASML's call are likely related to what we heard as we may see some digestion in 2021 after its gigantic spending binge in 2020 (not unlike Samsung's spending binge of a couple of years ago…).
This talk of pushouts and timing may spook investors but fits the pattern of our suggestion that the COVID led technology, work from home, spending spree will slow as the economic impact of COVID finally trickles down to the semiconductor industry.
Expect a lumpier business going forward
Given the dominance of EUV with systems north of $100M, a few systems more or less can make the quarters lumpier. Customer timing, pushouts and node changes will all add to lumpiness. The reality is that the end game of EUV and High NA remains the same and remains very good. The road to EUV itself was obviously very lumpy with fits and starts so investors should understand this. We would try to take a longer term view, though that may be difficult, and look at longer term trends.
Not much talk about "High NA"
We think that now that EUV is commonplace, the next upside wave will be High NA which will likely be easier (on a relative basis) as compared to the original EUV roll out. We think the potential technology benefits as well as financial benefits may make High NA more attractive than the EUV model. But High NA is still a few years away…..
Crossover from DUV to EUV – passing of the baton
ASML has now officially crossed over from being a DUV dominated company to an EUV dominated company. This brings a different set of challenges but a welcome set.
The key here is that they are the only EUV game in town so it cements their market share at virtually 100% versus having to compete (somewhat) at DUV. This makes the quite unique and valuable as compared to other semiconductor equipment companies who still slug it out in hand to hand battles. ASML is now "above the fray"
The Stocks
We don't expect much movement on ASML's stock price as it was already priced for the perfection we got. The talk of pushouts and timing may dampen sentiment and weigh on the stock and offset the positives. We do think it was prudent for management to keep expectations under control. At just over $400 per share ASML is not cheap nor expensive but appropriate given circumstances.
Collateral Stock Impact
In general we think that ASML's strong performance first out in the quarter bodes well for the semiconductor equipment industry. Our main concern is that the stocks remain ahead of reality. The weak memory showing could be interpreted as bad for memory centric players, most notably Lam (though we have heard they are doing just fine) EUV spend clearly helps KLA and to a slightly lesser extent Applied.
Also Read:
LRCX weak miss results and guide Supply chain worse than expected and longer to fix
Chip Enabler and Bottleneck ASML
DUV, EUV now PUV Next gen Litho and Materials Shortages worsen supply chain
Share this post via: