In early April, Gabriele Saucier kicked off Design & Reuse's IPSoC Silicon Valley 2021 Conference. IPSoC conference as the name suggests is dedicated to semiconductor intellectual property (IP) and IP-based electronic systems. There were a number of excellent presentations at the conference. The presentations had been categorized into eight different subject matter tracks. The tracks were Advanced Packaging Solution and Chiplet, Analog and Memory Blocks, Design and Verification, Interface IP, Security Solutions, Automotive IP and SoC, Video IP and High-Performance Computing.
One of the presentations I listened to was titled "Die-to-Die Interface PHY and Controller Subsystem for Next Generation Chiplets" and was presented by Ketan Mehta, Senior Director Product Marketing, Interface IP, from OpenFive, a business unit of SiFive, Inc. The term chiplet has been behind lot of hot discussions in the industry over the last few years and the volume and velocity of these discussions have increased of late. As addressing the needs of next generation chiplets is the key focus of Ketan's presentation, it is a good idea to clarify what chiplet stands for, how much it is talked about and why. That would provide the proper backdrop for the solution that Ketan discusses in his presentation.
Chiplets are neither chips nor packages. They are what we end up with after architecturally disintegrating a large integrated circuit into multiple smaller dies. The smaller dies are referred to as chiplets. The benefits are at least two-fold. The multiple smaller dies could avoid sub-10nm process node and reduce the development cost. The smaller dies could benefit from the better yield rate per wafer.
An internet search for the term "chiplets" displays seventeen pages of results. With the exception of a few entries that talk about Lieber's chocolate chiplets, all other entries refer to semiconductor related chiplets. The reason for the intensified discussion on chiplets is the projected market opportunity. According to research firm Omdia, chiplets driven market is expected to be $6B by 2024 from just $645M in 2018. That's an impressive nine-fold projected increase over a six-year period.
The following is a summary of what I gathered by listening to Ketan's talk. For complete details, please register and listen to Ketan's presentation.
As a full-service provider for custom silicon, OpenFive offers services as well as a broad array of differentiated IP to enable the chiplets market. At a basic level, partitioning of a large die into chiplets results in primarily logic bound, memory bound or I/O bound chiplets. To integrate all the chiplets into a System-in-a-package (SiP) product, the interconnect IP has to be flexible, comprehensive and easy to integrate with their customers' products.
OpenFive offers D2D IO to enable the chiplets market. D2D IO is a parallel I/O interface at low latency and low power delivering high throughput for die-to-die connectivity. It includes a controller and a PHY. For artificial intelligence (AI), high-performance computing (HPC), storage or simply chiplet to chiplet interconnect, a D2D PHY interface may be better suited than other types of interfaces. For a comparison of D2D PHY and a generic extra short reach/ultra short reach (XSR/USR) SerDes, refer to Figure 1.
Figure 1: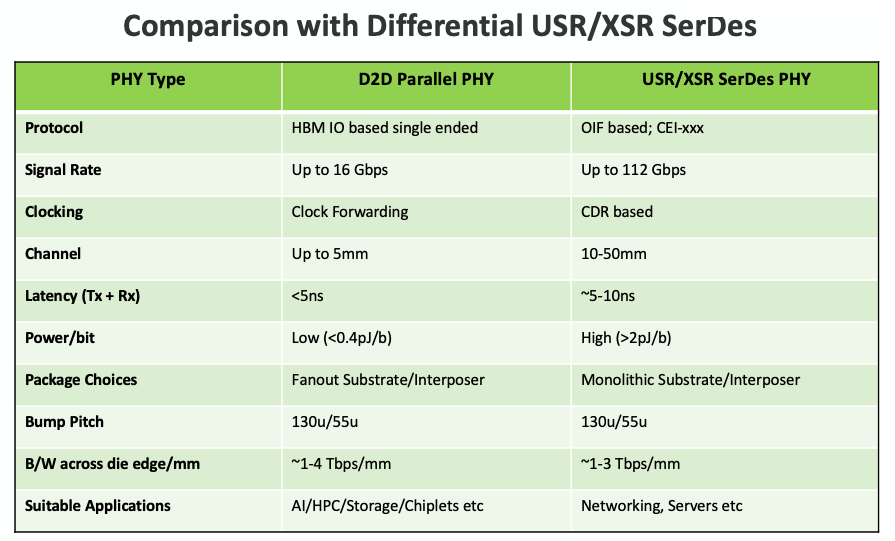 The D2D controller has been designed with flexibility in mind. The Controller is designed to interface with not only the D2D PHY but also with many other types of interfaces. Depending on the particular need and constraints, the controller can interface with Bunch of Wires (BoW), Open High Bandwidth Interface (OHBI), Advanced Interface Bus (AIB) or an XSR SerDes. Refer to Figure 2 to see how the D2D Controller handles the data as it flows between the framing layer, the protocol layer and the client adaptation layer.
Figure 2: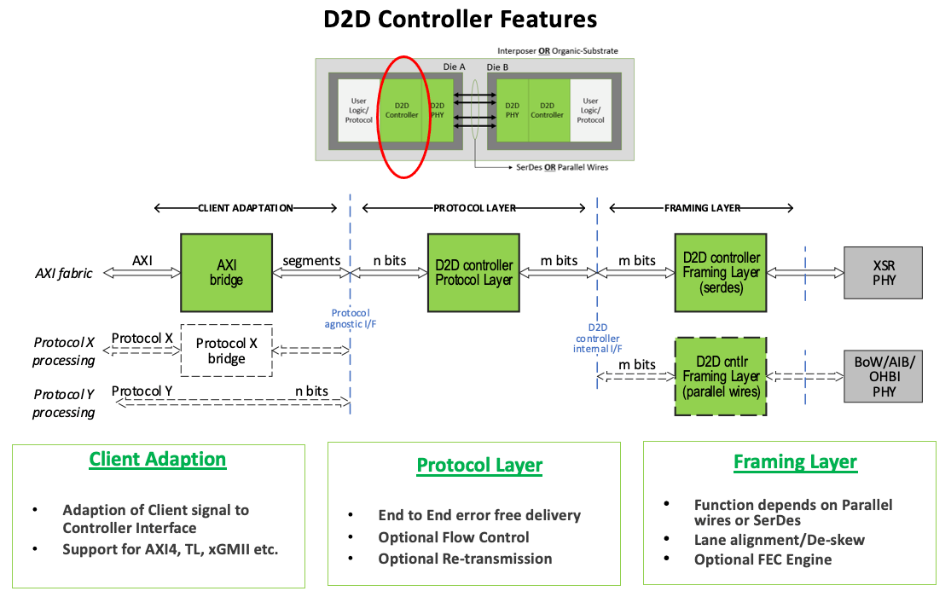 Ketan wraps up his presentation by showcasing how a RISC-V based CPU system and an 800G/400G Ethernet I/O system could benefit from using the D2D IO.
If interested in benefiting from a chiplets implementation approach, I recommend you register and listen to Ketan's entire talk and then discuss with OpenFive on ways to leverage their different IP offerings and services for developing your products.
Also Read:
Enabling Edge AI Vision with RISC-V and a Silicon Platform
WEBINAR: Differentiated Edge AI with OpenFive and CEVA
Open-Silicon SiFive and Customizable Configurable IP Subsystems
Share this post via: