5G phones are now the top tier devices from many manufactures, and 5G deployment is accelerating in many regions. While 4G/LTE has served us well, 5G is necessary to support next-generation telecommunication needs. It will be used heavily by consumers and industry because it supports many new use cases. There is an excellent white paper by Omni Design Technologies that discusses the new applications for 5G, the technological changes that are necessary, and the hardware architectures needed to support it.
The white paper, titled "5G Technology and Transceiver Architecture" lists the three main use cases as enhanced mobile broadband (eMBB), ultra-reliable and low-latency communications (URLLC), and massive machine-type communications (mMTC). Each has specific technical requirements aligned with the scenarios that each will be used for. Each will vary in terms of peak data rate, spectral efficiency, latency, connection density, reliability, and many more.
Consumers will see 4k and 8k streaming, AR/VR improvements and much lower latency and higher speed access to the cloud. To fully realize higher bandwidth 5G will open up new communications bands from 24GHz to 100GHz. URLLC will be used for applications that require real-time performance, like automotive or some industrial applications. It calls for 1ms latency and 99.999% reliability. mMTC will be used for billions of connected devices such as wearables, IoT and sensors that use lower bandwidth and require low power.
I already alluded to one of the key technologies, millimeter-wave (mmWave), that will be essential to 5G. The white paper says that 5G deployment is going to move first and most rapidly in the sub-6GHz bands with the help of infrastructure reuse. The bands above 24GHz will offer much greater bandwidth but come with additional technical complexity. One of the key issues is that propagation losses will be much higher due to obstacles and signal absorption in the atmosphere.
MIMO will be used to improve signal performance through spatial diversity, spatial multiplexing and beamforming. Spatial diversity takes advantage of multipath to gain information using multiple antennas. The different antennas see different signals that can be used to mathematically determine the transmitted signal. Spatial multiplexing creates multiple spatially separated signals between the transmitter and receiver to boost data rates.
As a consequence of technology changes the hardware architecture for 5G is also changing. Beamforming is one of the biggest drivers for changes we see in the hardware implementation. The white paper points out that current commercial solutions include 64TX and 64RX for base station deployments. This is a large increase from the 2×2 or 4×4 arrays used in 4G.
It is no longer feasible to perform all the beamforming operations in pure analog or pure digital. If a pure digital approach is used, then each array element must have its own RF chain. This causes increased power consumption and adds components. Going with a pure analog approach requires only one RF chain but gives up a lot of the reconfigurability and spatial resolution.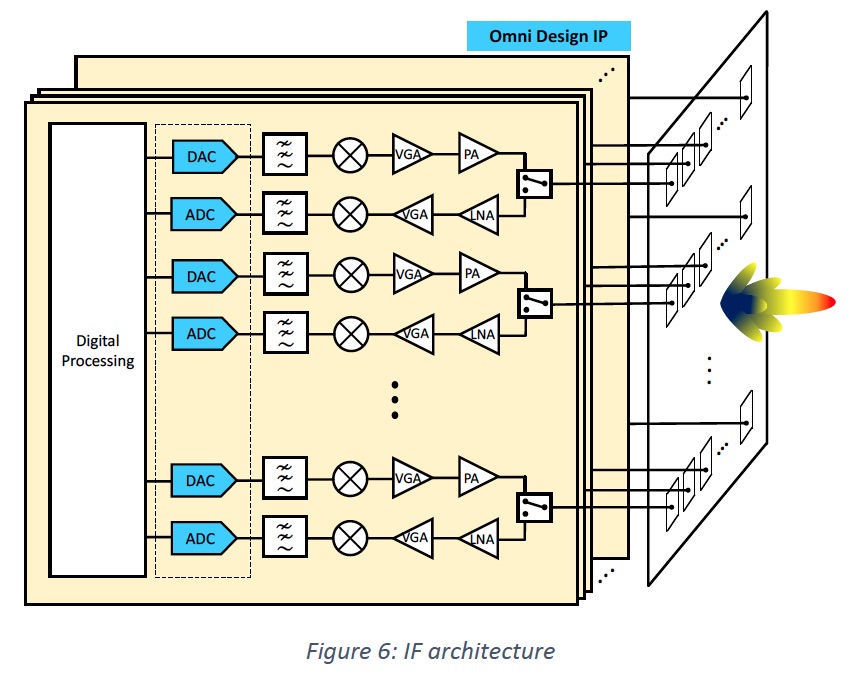 Omni Design suggests that a hybrid approach can meet all system objectives and is easier to implement. Much of the processing can be done on the digital side. Fewer RF chains are needed, with the analog side handling phase shifting individually for each antenna. Omni Design offers data converter IP solutions for 5G applications. Their IP is suited for below 6GHz or above 24GHz, using an IF architecture. Their solutions are offered in multiple processes from 28nm to advanced FinFET nodes. Omni Design has patented technologies that enable data converters to operate at higher sampling rates and precision while significantly reducing power consumption.
The white paper goes into detail on the performance characteristics of their IP for 5G. It also talks about the verification requirements and how their IP offering includes the necessary deliverables to ensure rigorous verification. With much of the 5G deployment still ahead of us, there will be an increasing need for data converter semiconductors. The Omni Design white paper, which is available here, is a good source of information useful for teams working to develop products for 5G telecommunication systems.
Share this post via: