While the trend towards System-on-Chip (SoC) has been gathering momentum for quite some time, the primary driver has been integration of digital components, spurred by Moore's law. Integrating more and more digital circuitry into a single chip has been consistently beneficial for performance, power, form factor and economic reasons. Hence, the digital components of a system kept getting integrated into an SoC while many of the analog functions were still left as separate chips and for good reasons. For one, analog circuits did not benefit from process scaling to the same extent as digital circuits did with every advancing process node. For another, general availability of analog functions as IP blocks on advanced process nodes trailed because porting analog to FinFET nodes was seen as more challenging. That is one reason for the tremendous growth of semiconductor companies supplying analog ICs.
Many of today's applications require edge processing and have very demanding requirements, whether it is in automotive, AI, or 5G. The products are expected to deliver higher performance at lower latency, consume lower power, have smaller form factor and be available at attractive price points. This is driving many semiconductor companies to look at innovative ways to integrate more of the analog functionality into an SoC.
It is in this context that a presentation at the recent TSMC OIP Forum would be of interest to system architects and SoC designers alike. The talk was given by Manar El-Chammas, vice president of engineering at Omni Design Technologies.
Omni Design Technologies
Omni Design innovates across multiple levels from transistor level designs to algorithms. Their IP offerings address multiple markets including 5G, automotive, AI, image sensors, etc.
Omni Design's IP portfolio consists of analog-to-digital converters (ADCs) and digital-to-analog converters (DACs) ranging from 6-bit to 14-bit resolutions, and sampling rates from a few mega samples/second (Msps) to 20+ giga samples/second (Gsps). Omni Design also offers complete analog front-ends (AFEs) that can include multiple ADCs and DACs, PLLs, PVT monitors, PGAs, LDOs, and bandgap references. The fully integrated AFE macro enables seamless integration of the analog components into SoCs.
Transitioning From Boards to SoCs
There is a significant shift in the industry towards integration of analog functions from PC boards into SoCs in many of the applications identified earlier. These applications require higher performance, lower power, and smaller form factor chips. The integration of more components into the SoC helps reduce system cost and bill of materials (BOM) complexity. An integrated solution makes for easier clock synchronization of ADC arrays and excellent matching between channels. One of the key things that has made these integrated SoCs a reality, is of course, the availability of high-resolution, high sampling rate, ultra-low power data converters in advanced FinFET process nodes.
Enabling Technology
Applications such as 5G and automotive LiDAR required high-speed, high-resolution data converters that maintain high linearity over 60dB SFDR and 60dB IMD3 and low NSD. Through use of a variety of proprietary and patented solutions, Omni Design is able to address these stringent requirements. For example, their time-proven SWIFT™ technology can deliver both power and speed efficiencies compared to more conventional solutions. Refer to Figure below. A comparison with conventional amplifier is shown in the table. The SWIFT technology allows the reference capacitors to be bootstrapped in such a way as to optimize the overall performance of the amplifier. As a result, Omni Design is able to develop ultra-low power, high-performance data converters.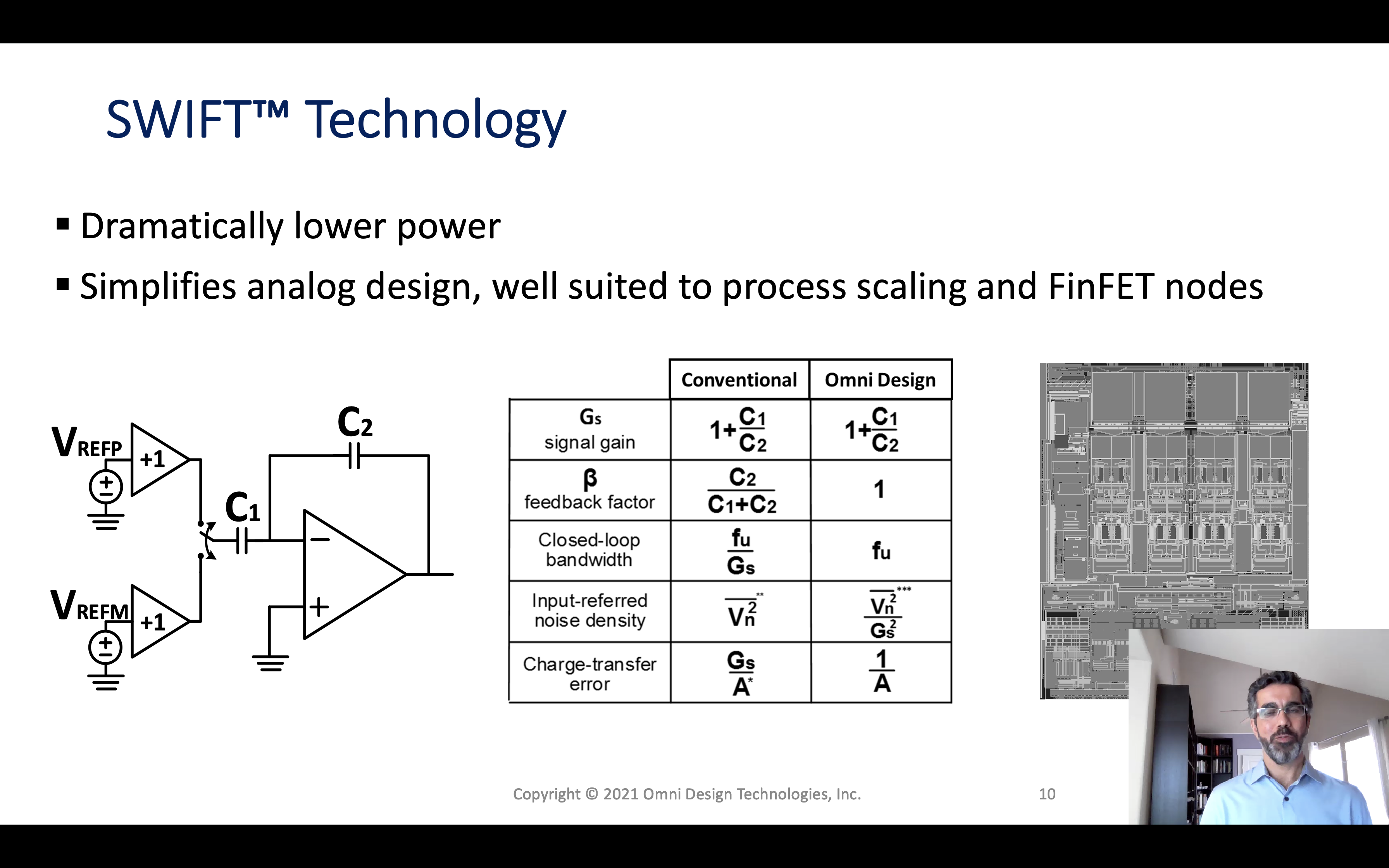 Analog Front End (AFE) Integration into Advanced Node SoC
5G and Automotive are two of the many different growing markets that Omni Design's IP portfolio addresses. As mentioned earlier, Omni Design delivers individual blocks of IP and entire AFE subsystems.
One complete AFE subsystem that Omni Design offers is for use in 5G SoCs. The subsystem includes everything that is needed in the signal processing path between the antenna and the digital signal processing (DSP) block. For a high-level block diagram of a 5G subsystem, refer to Figure below.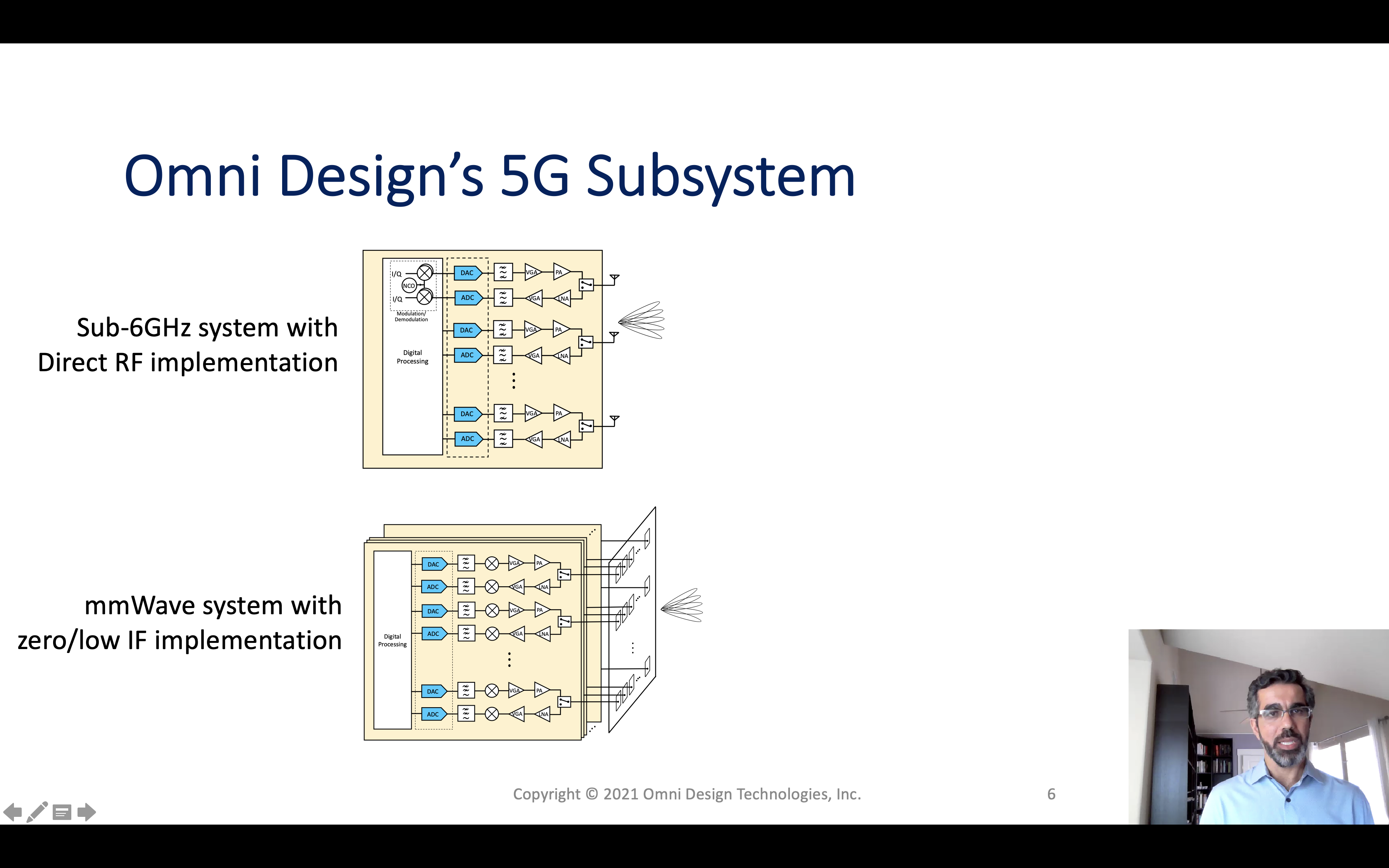 Another complete AFE subsystem that Omni Design offers is for use in automotive LiDAR SoCs. The subsystem includes everything that is needed in the signal processing path between the photo diode and the DSP. For a high-level block diagram of a LiDAR subsystem, refer to Figure below.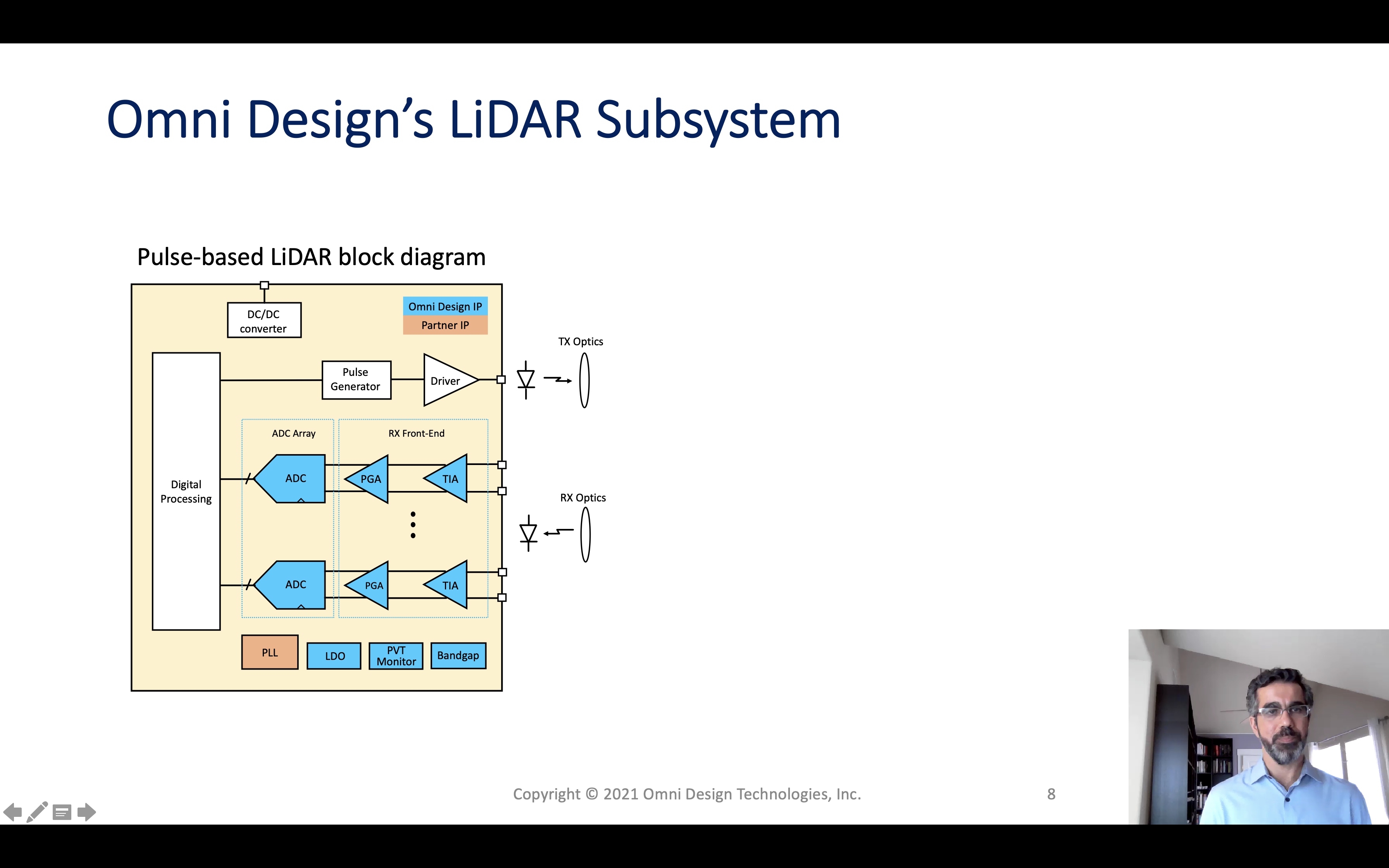 LeddarTech®, a global leader in Level 1-5 ADAS and AD sensing technology is integrating Omni Design's AFE subsystem into their automotive LiDAR SoC. Omni Design recently announced general availability of a complete receiver front-end for a LiDAR SoC.
Summary
Automotive and 5G require high-performance ADCs and DACs in FinFET process nodes for integration into SoCs. Omni Design's modular architecture and proprietary technologies help deliver these as IP cores and complete subsystems for ease of SoC integration. These IP cores are optimized for power, performance and area/form factor and exhibit low NSD and high SFDR as demonstrated in silicon. Customers have been integrating Omni Design's IP blocks and/or complete subsystems into their SoCs.
You may be interested in some of Omni Design's recent announcements. A press release about their customer MegaChips, announcing the integration of ultra-low power, high-performance data converters into their automotive Ethernet SoC for the Vehicle-to-Everything (V2X) communications market. Another press release about availability of their Lepton family of high-performance ADCs and DACs on TSMC 16nm technology.
You may also be interested in reading their recently published whitepaper on "LiDAR Implementations for Autonomous Vehicle Applications."
Share this post via: