The Interface IP market has grown with 21% CAGR from 2017 to 2021 and we review the part of this market restricted to the high-end of PCIe, DDR, Ethernet and D2D IP made of PHY and controller targeting the most advanced technology nodes and latest protocol release. We will show that an IP vendor focusing investment on the high-end interconnect IP can benefit for a very healthy ROI based on a business growing with 75% CAGR for 2022 to 2026.
To keep a leading market share on this very demanding IP business, he will have to show the best time to market (TTM) and demonstrate 100% perfect execution. Taking Alphawave as an example, If the company can perfectly execute this strategy, he can grow his IP business from $90 million in 2021 to $600 million or more in 2026.
We have used market information extracted from the "Interface IP Survey & Forecast", and we have selected the following interconnect protocols and the best technology nodes to focus on, because showing the highest ROI, 7nm, 5nm, 3nm and even lower:
PCIe 4 and above (PCIe 5, 6…)
CXL 1, CXL 2, CXL 3
UCIe
Ethernet based on 56G SerDes, 112G SerDes, 224G…
LPDDR5 memory controller
HBM3 memory controller
We can see that all these protocols support HPC, becoming the segment leader (size and growth) for TSMC in 2022.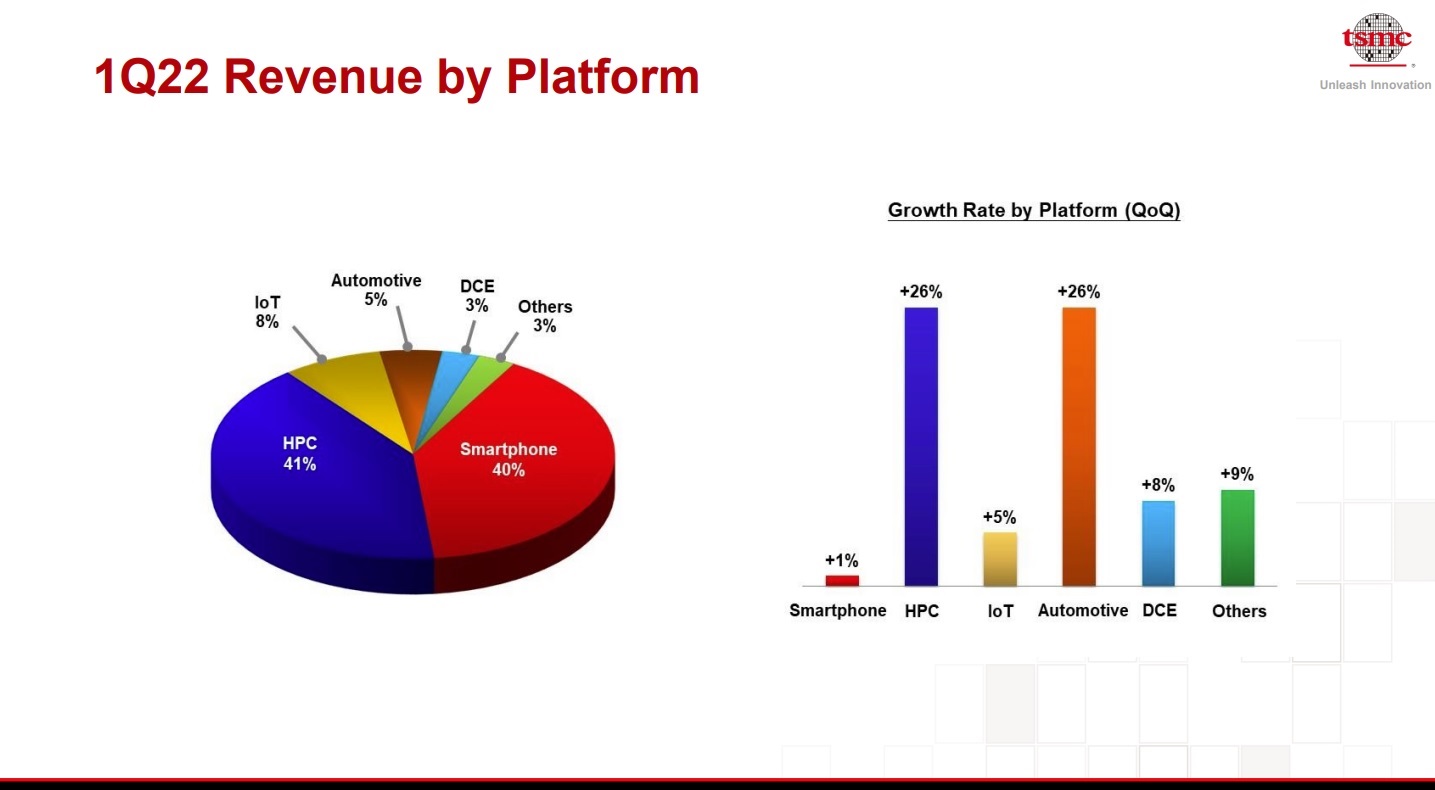 Revenue and Growth Rate by Platform – TSMC 2022
Selected Protocol Forecast 2022-2026
IP outsourcing rate and IP market size are growing year over year (about by 20% by year for the total interface IP market since the last five years) and, as we will see, even more for the high-end protocol-based IP.
For PCIe 5 and 6, mature technology nodes don't make sense and we split the PHY IP forecast between mainstream and advanced technology nodes, as ASP are different, but the Controller IP ASP is expected to be technology independent. We assume that a combo PCIe/CXL PHY will be proposed.
Advanced memory controller includes:
DDR5, LPDDR5 memory controller according with above technology split
GDDR6, GDDR7 targeting 7nm, 5nm and below
HBM3 targeting 7nm, 5nm and below
The picture below describes the number of VHS SerDes IP commercial design starts for the three data rate: 56Gbps, 112Gbs and 224Gbps for the next 5 years.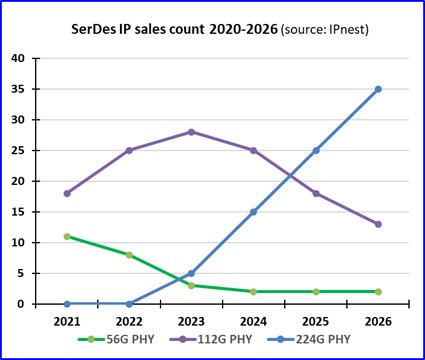 SerDes PHY IP Number of Sales Forecast 2021-2026
The semiconductor industry is undertaking a major strategy shift towards multi-die systems.
Multi-die systems are driving the need for standardized die-to-die interconnects. Several industry alliances have come together to define such standards, the most promising being Unified Chiplet Interconnect Express (UCIe).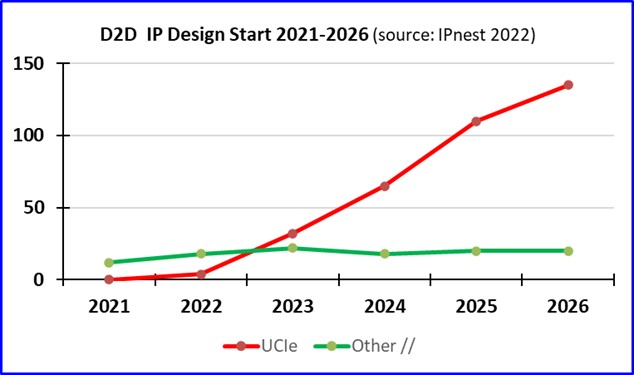 D2D Design Start IP Forecast 2021-2026
Top4 High-End Interface IP by Revenue 2021-2026
The group made of the top 4 Interface IP (PCIe, DDR, Ethernet and D2D) is forecasted to grow with 27% CAGR for 2022 to 2026. If we consider the high-end only, the Global CAGR for HE Top 4 Interfaces will be 75% for 2021 to 2026: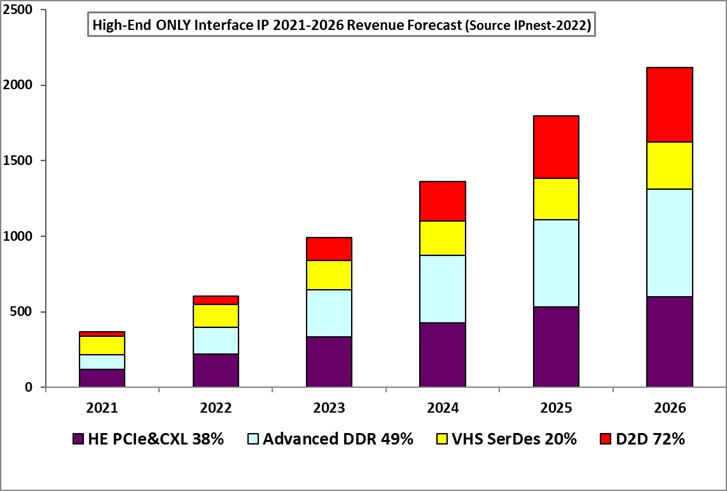 The Top 4 Interface IP by Revenue 2021-2026
The weight of the HE Top 4 protocols IP was $370 million in 2021, the value forecasted in 2026 will be $2115 million, or CAGR of 75%, compared with 27% for the overall IP sales for these Top 4 protocols IP.
We will look at Alphawave IP vendor case study. Created in 2017, the company has focused on high-end IP since the beginning with PAM 4 DSP based 112G SerDes, supporting Ethernet and PCIe segments. The strategy was successful as 2021 IP revenues was $89.9 million. In the meantime, Alphawave IP has acquired an Ethernet controller IP vendor and propose PCIe controller validated by the PCI-SIG for PCIe 5 complete solution.
Moreover, in June 2022, they acquired OpenFive. The first result was to enlarge Alphawave IP portfolio and address two more segments: high-end DDR memory controller (HBM3 and LPDDR5) and D2D. The second result was to bring design services capability to create a potential emerging chiplet business.
That's why Alphawave is a good candidate for a case study "What can be the potential business development for an IP vendor focusing primarily on high-end Interface IP (PCIe, DDR memory controller, Ethernet and D2D)".

2022-2026 Market Share Evolution When Focusing on
High-End Interface IP
Starting with 24% market share of HE Interface ($370 million in 2021), we evaluate the revenues generated when keeping deploying this strategy, with three scenarios: flat market share, growing by 1% per year and by 10% by year. The real case may be inserted between these two scenarios, calling for Alphawave revenues from IP only on HE interfaces market to be between $500 million and $800 million in 2026.
In 2020, we have seen the emergence of Alphawave IP building strong position on the high-end interface IP segment (thanks to PAM4 DSP SerDes), creating "Stop-for-Top" strategy, by opposition with Synopsys "One-Stop-Shop". If we consider that this high-end segment, strongly driven by HPC (including datacenter, IA, storage, etc.), is expected to considerably grow on the 2020 decade, Alphawave IP could enjoy major market share on this $2 billion interface IP sub-segment by 2026, a revenue between $500 and $800 million being realistic.
** This white paper has been sponsored by Alphawave IP, nevertheless the content reflects the author's positioning about the IP market and the way it expected to evolve in the future, during the 2020 decade.
By Eric Esteve from IPnest
The white paper can be downloaded
https://www.awaveip.com/en/news-views/high-end-interconnect-ip-forecast-2022-to-2026/
Share this post via: