We have shown in the "Design IP Report" 2022 that the market share of the wired Interface IP category is a growing part of the total IP, and that this trend is confirmed year after year. The interface IP category has moved from 18% share in 2017 to 25% in 2022.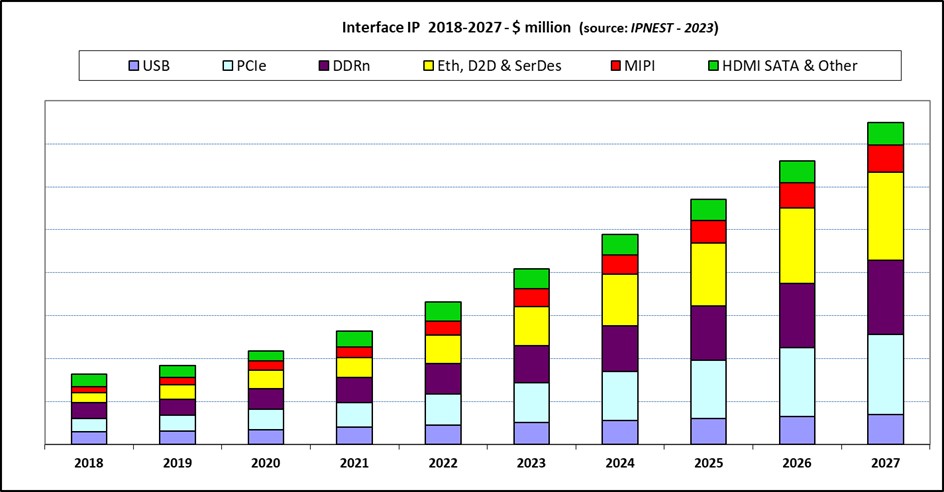 During the 2010-decade, smartphone was the strong driver for the IP industry, pushing the CPU, GPU categories and some interface protocols like LPDDR, USB and MIPI. Since 2018, and again in 2022, the new drivers are data-centric application, including servers, datacenter, wired and wireless networking and emerging AI. All these applications share the need for higher and higher bandwidth, in term of speed and volume. This translates into high-speed memory controller (DDR5, HBM or GDDR6) and faster release of interface protocols (PCIe 5, 400G and 800G Ethernet, 112G SerDes). We think that this trend will confirm during the 2020-decade. It can be illustrated by comparing TSMC Revenues by Platform in 2022 and 2020: HPC has grown from 33% to 41% when smartphone has declined from 47% to 33%!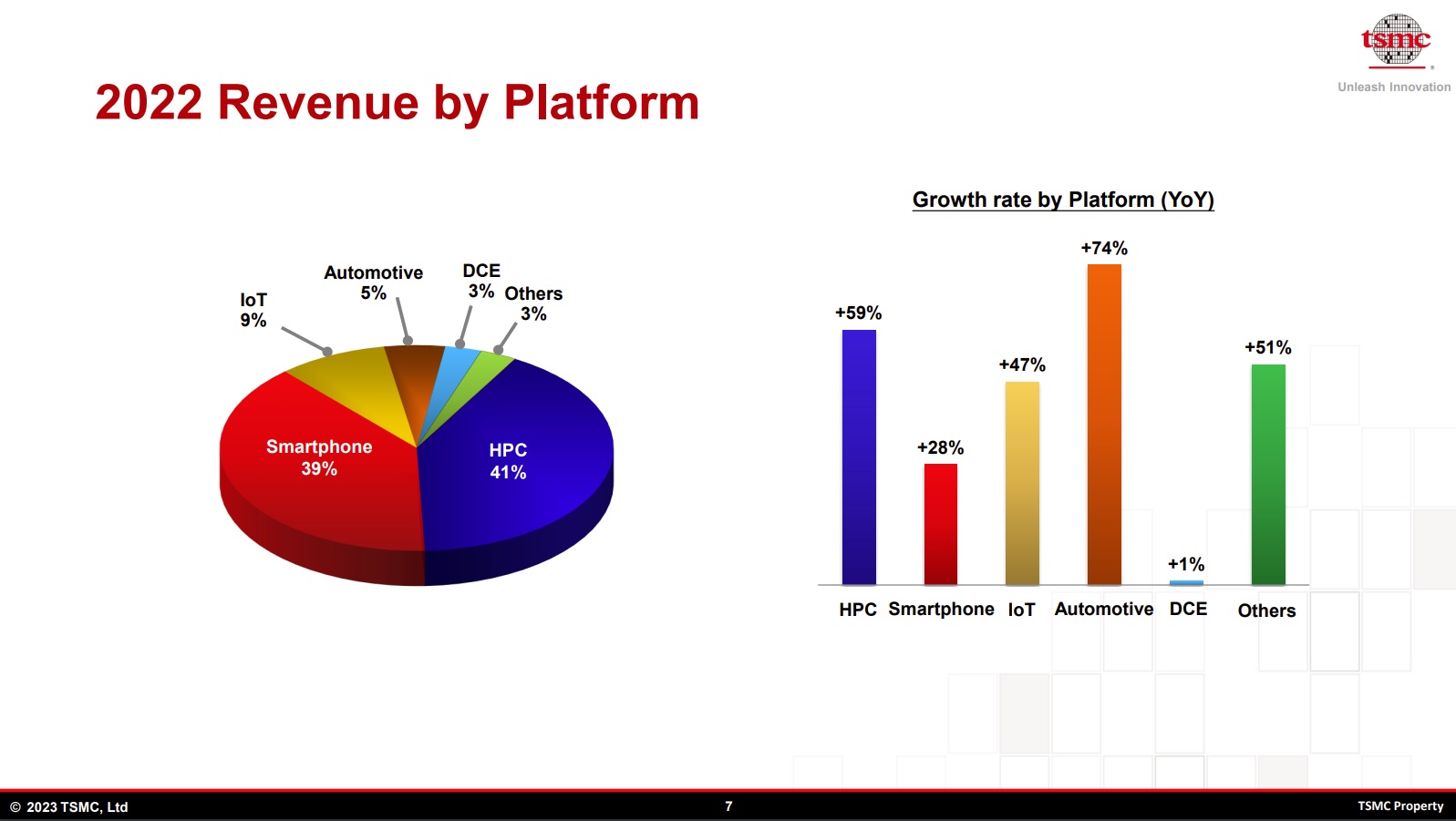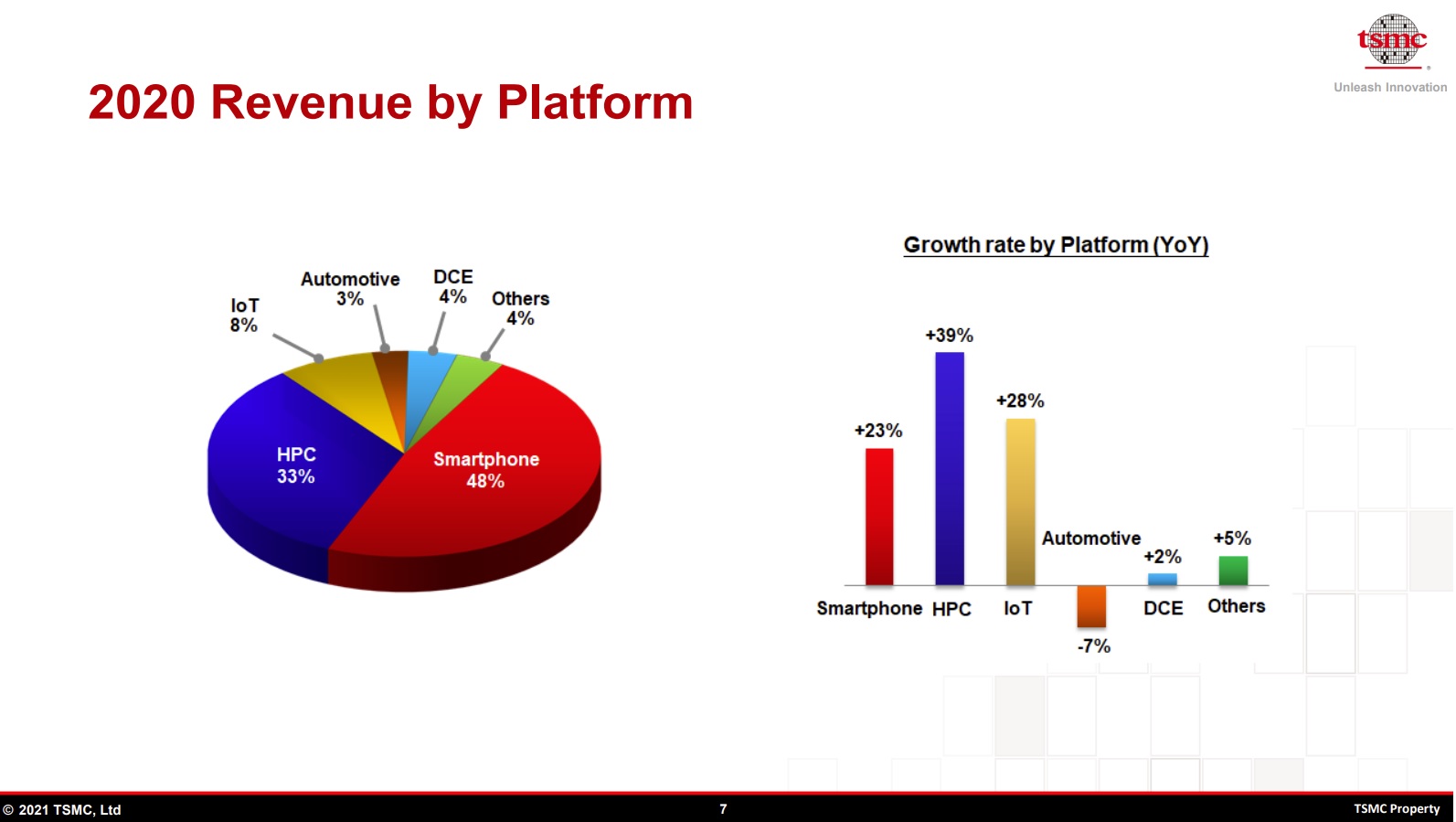 As usual, IPnest has made the five-year forecast (2023-2027) by protocol and computed the CAGR by protocol (picture below). As you can see on the picture, most of the growth is expected to come from three categories, PCIe, memory controller (DDR) and Ethernet & D2D, exhibiting 5 years CAGR of resp. 19.2%, 18.8% and 22.3%. It should not be surprising as all these protocols are linked with data-centric applications! If we consider that the weight of the Top 5 protocols was $1440 million in 2022, the value forecasted in 2027 will be $3500 million, or CAGR of 18%.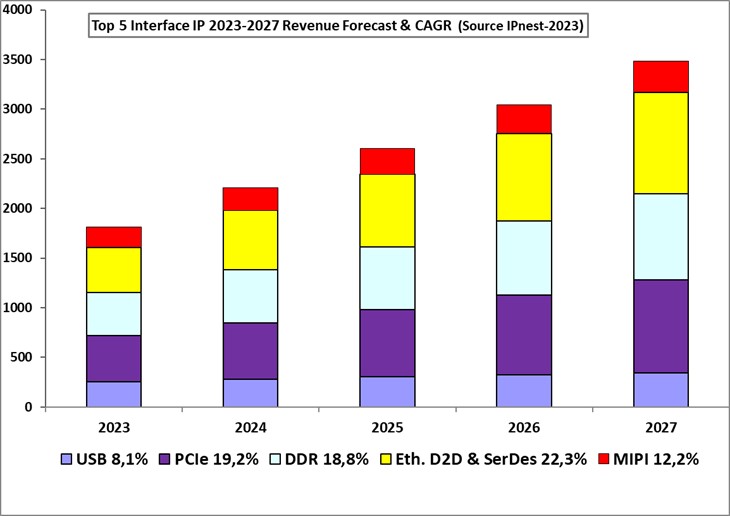 Conclusion
Synopsys has built a strong position on every protocol -and on every application, enjoying more than 55% market share, by doing strategic acquisitions since the early 2000's and by offering integrated solutions, PHY and Controller. We still don't see any competitor in position of challenging the leader.
In 2020, we have seen the emergence of Alphawave Semi building strong position on the high-end interface IP segment (thanks to PAM4 DSP SerDes), creating "Stop-for-Top" strategy, by opposition with Synopsys "One-Stop-Shop". If we consider that this high-end segment, strongly driven by HPC (including datacenter, IA, storage, etc.), is expected to considerably grow on the 2020 decade, Alphawave Semi could enjoy 25% market share on this $3 billion sub-segment by 2027, a revenue of $600 to $800 million being realistic. At that time Synopsys revenues could be close to $2 billion range for interface IP only.
In 2023, we think that a major strategy change will happen during the decade. IP vendors focused on high-end IP architecture will try to develop a multi-product strategy and market ASIC, ASSP and chiplet derived from leading IP (PCIe, CXL, memory controller, SerDes…). Some have already started, like Credo, Rambus or Alphawave. Credo and Rambus already see significant revenues results on ASSP, but we will have to wait to 2025, at best, to see measurable results on chiplet. The interesting question is whether Synopsys or Cadence will adopt this new strategy or wait until its success will have been proven to make a decision (by acquisition if they want to share this multi-product strategy).
This is the 15th version of the survey, started in 2009 when the Interface IP category market was $250 million (in 2022 $1650 million), and we can affirm that the 5 years forecast stayed within +/- 5% error margin!
IPnest predict in 2023 that the interface IP category in 2027 will be in the $3750 million range (+/- $200), and this forecast is realistic.
If you're interested by this "Interface IP Survey" released in July 2023, just contact me:
Eric Esteve from IPnest
Also Read:
Design IP Sales Grew 20.2% in 2022 after 19.4% in 2021 and 16.7% in 2020!
Interface IP in 2021: $1.3B, 22% growth and $3B in 2026
Stop-For-Top IP Model to Replace One-Stop-Shop by 2025
Share this post via: