If you want to remember the key points for Interface IP in 2021, just consider $1.3B, 22%, $3B. Interface IP category has generated $1 billion 300 million in 2021, or 22.7% year to year growth, thanks to high runner protocols PCIe, DDR memory controller and Ethernet/SerDes. Even more impressive is the forecast, as IPnest predict the category to weight $3 billion in 2026. Also interesting in this category is the battle of two strategy models, Synopsys "One-Stop-Shop" and "Stop-For-Top" for Alphawave IP.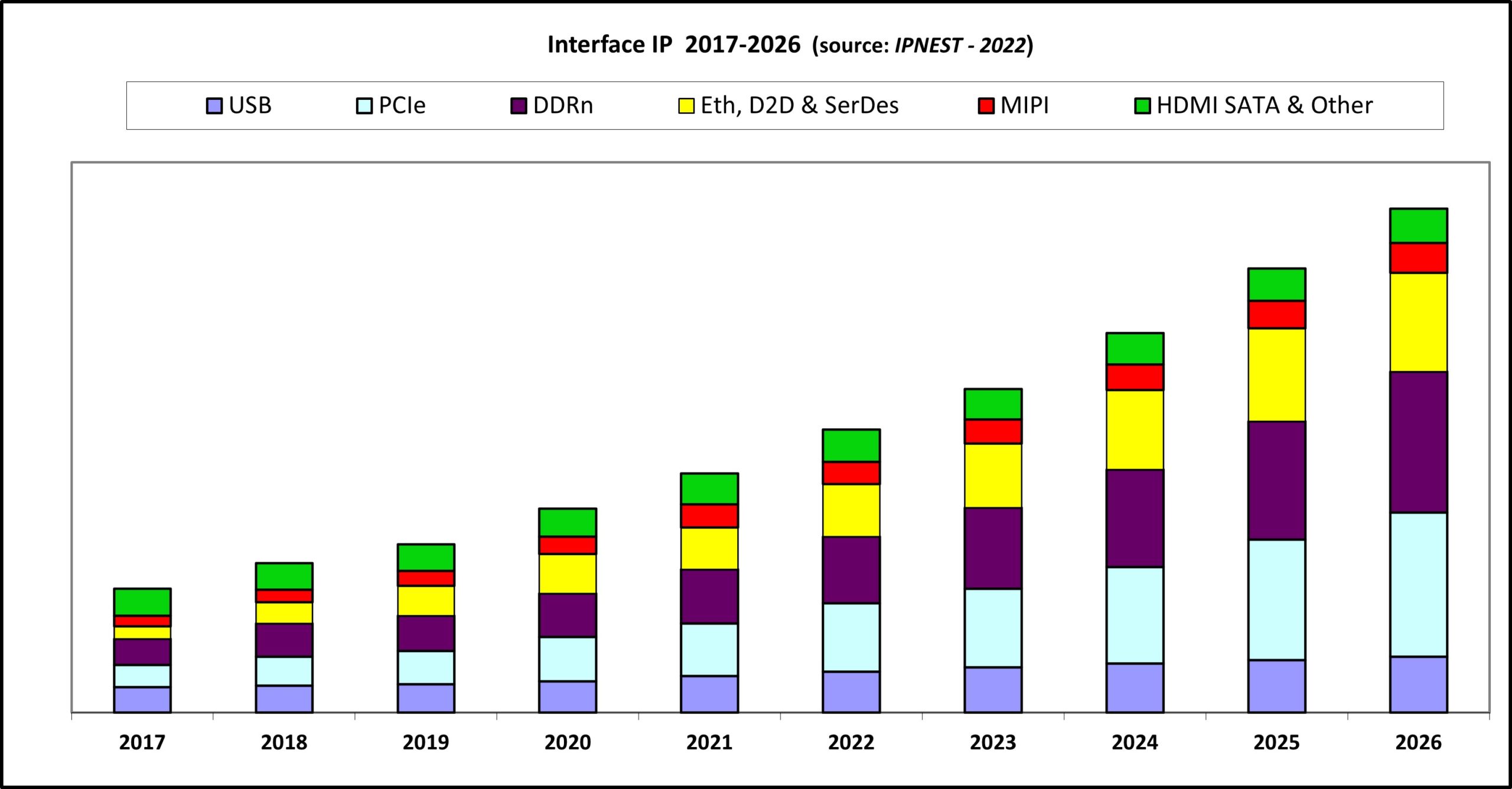 IPnest Forecast Interface IP Category Growth to $3B in 2026
The beginning of the 2010 years has been dominated by the wireless mobile, and a large part of interface IP revenues were generated in this market segment. High-end mobile was still dynamic in the end of 2010, and in the 2020 include many interface IP, like LPDDR5X, MIPI camera/display interfaces, PCIe 3 / 4, UFS 3.1, eUSB and USB 3.1/DP, but the data-centric segments like HPC, datacenter, AI or storage are booming and sustaining the growth in protocols like DDR memory controller (DDR5, LPDDR5, HBM), PCIe and CXL (PCIe 5 adoption in datacenter when automotive and mobile are still using PCIe 3 / 4) and Ethernet/SerDes (112G SerDes design starts in 2021 have been significant).
Ten years ago, "One-Stop-Shop" model was the mantra for IP vendors, and the strategy has been extremely beneficial for Synopsys, enjoying 55.6% market share in interface IP category. If we look at the other vendors following the "One-Stop-Shop" model, it's more questionable. Cadence with 14% or Rambus with 3.4% market share have not been as successful as Synopsys. To benefit from this model, you need to support almost all protocols, by definition, but you also need to be the leader, with #1 revenues in every supported protocol. That we have seen since 2005, is that a small size vendor can survive and grow only if he can put a strong focus on the supported IP protocol. If the same vendor tries to support five, six or more protocol, as "One-Stop-Shop" model require, the risk of failure will be very high.
Alphawave IP, created in 2017 by a team of SerDes experts, has develop DSP based PAM4 112G and generated IP revenues of $89 million in 2021 or +102% YoY growth, after +75% in 2020. It's an excellent example of the new strategy model, "Stop-For-Top". The IP vendor is concentrating on very demanding product, targeting bleeding edge protocol and technology node, thanks to a strong engineering team. Alphawave IP has been "lucky", as they are providing interconnect IP to an industry who is moving fast to become more and more data-centric and need to compute always more data, store it and interconnect these data at system level (PCIe and CXL) or long range, via Ethernet. Lucky to be at the right place at the right time, but the engineering team excellence is not luck based, it's the result of long experience in SerDes design.
It can be interesting to compare the ROI generated by the two models… We can notice that both strategies can lead to success, as illustrated by Synopsys adopting the "One-Stop-Shop" model, with interface IP revenues ($727 million in 2021) and dominant market share of 55.6%, when Alphawave IP has been impressively fast to reach almost $100 million in IP revenues.
As usual, IPnest has made the five-year forecast (2022-2026) by protocol and computed the CAGR by protocol (picture below). As you can see on the picture, most of the growth is expected to come from three categories, PCIe, memory controller (DDR) and Ethernet & D2D, exhibiting 5 years CAGR of resp. 22%, 21% and 19%. It should not be surprising as all these protocols are linked with data-centric applications! This forecast predicts top 5 interface IP protocol to pass the $2.5B mark in 2026, or 2.5 multiplication factor in 5 years. It's a 18.6% CAGR for 2026 to 2021 high-end interface IP revenues…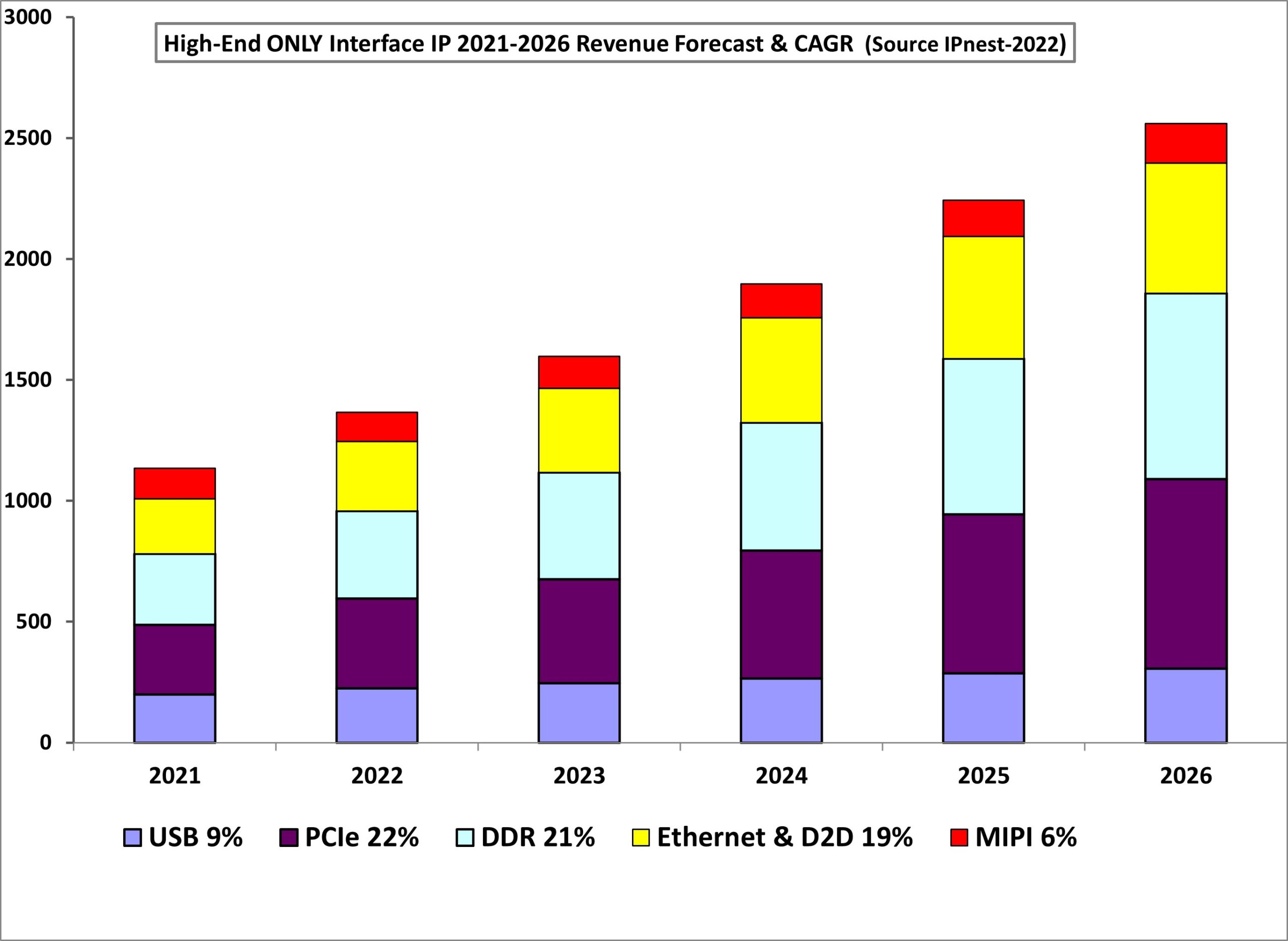 This is the 14th version of the survey, started in 2009 when the Interface IP category market was $250 million (in 2021 $1306 million), and we can affirm that the 5 years forecast stayed within +/- 5% error margin! IPnest predict in 2022 that the interface IP category in 2026 will be in the $3000 million range (+/- $200), and this forecast is realistic.
If you're interested by this "Interface IP Survey" released in June 2022, just contact me:
Eric Esteve from IPnest
Also Read:
Verifying Inter-Chiplet Communication
Using an IDE to Accelerate Hardware Language Learning
Share this post via: