Webinar: Accelerating Compute-Bound Algorithms with Andes Custom Extensions (ACE) and Flex Logix Embedded FPGA Array
August 22 @ 10:00 AM

-

11:00 AM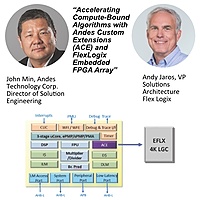 * Company Email is Required for this Webinar *
Andes Custom Extensions (ACE) is a enables designers to add custom extensions to the standard RISC-V ISA to accelerate compute bound algorithm operations. A FIR filter with 128 taps in C code consumes 1600 RISC V CPU cycles. A custom extension can cut this function to 128 cycles. ACE makes this addition easy. But, how do put the extra logic the extension requires into silicon?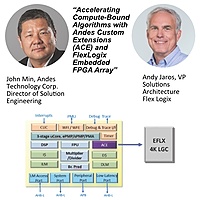 Flex Logix enables putting the gates into its embedded FPGA array. Flex Logix's FPGA technology adds a layer of increased usefulness to ACE, by unlocking the ability to instantly observe the results of the extended ISA in hardware while allowing hardware-software co-design and rapid design iterations.
If this sounds compelling join us for this webinar. Andes Technology Director of Solution Engineering, John Min, and Flex Logix VP of Solutions Architecture Andy Jaros will describe how easy it is.
* This webinar is in partnership with SemiWiki, Andes, and Flex Logix *
Share this post via: