WAMICON 2023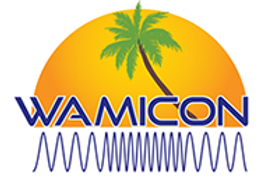 About Wamicon
The 23rd annual IEEE Wireless and Microwave Technology Conference, WAMICON 2023, will be held in Melbourne, Florida, on April 17-18, 2023.
The conference will address up-to-date multidisciplinary research needs and interdisciplinary aspects of wireless and RF technology. The central theme of WAMICON 2023 is "Microwave and RF Innovations connecting Government, University and Business communities." We welcome submissions on all aspects of related technologies, including antennas, passive and active circuits, communication theory, and system concepts.
The program includes both oral and poster presentations as well as tutorials and special sessions. Prospective authors are invited to submit original and high-quality work for presentation at WAMICON 2023 and publication in IEEE Xplore. The conference also features an active vendor exhibition area and an array of networking opportunities.

In April of 1997, the University of South Florida launched a new research and teaching program with the introduction of the Wireless and Microwave Information (WAMI) Systems Laboratory and the formation of a WAMI Advisory Board.
The Conference was founded in 1999 and began as a 1 day forum to promote the WAMI program research and relevant industry technology. This one day forum was held on the campus property of USF at the Embassy Suites and was initially sponsored by the IEEE Florida West Coast Section and the IEEE MTT/AP/ED Joint Chapter. In 2001, exhibitors were added.
In 2004 the WAMI Conference grew into a multi-day international IEEE conference fully sponsored both technically and financially by IEEE MTT-S. The conference is a regional event usually held in the March/April months, usually at a beach location on the west or east coast of Florida.
Share this post via: