RISC-V 101
November 6 @ 9:00 AM

-

12:00 PM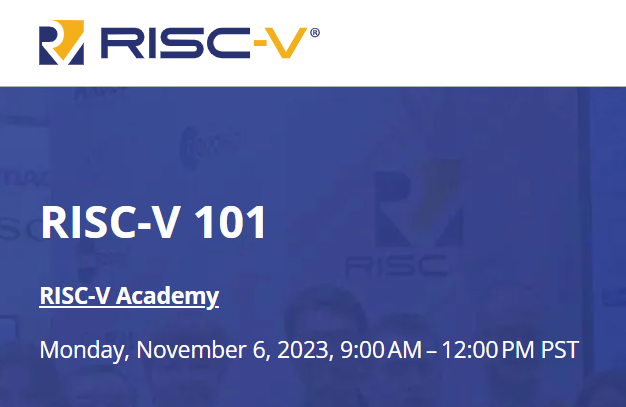 About this event
The RISC-V Instruction Set Architecture (ISA) is the future of computing. As an open standard, RISC-V is accelerating innovation and enabling unprecedented design freedom across every computing application.
You've seen the headlines and stories. Now, here's your chance to learn all about RISC-V and why it is being rapidly adopted by organizations of all size around the world. RISC-V 101 is your introduction to RISC-V and a primer on the ISA and ecosystem.
This free, special event will cover the history of RISC-V and why organizations around the world are choosing it as the architecture for their computing needs.
Learn more about RISC-V's ecosystem, including contributions from commercial companies, research institutes, consortia and government organizations. Discover how they are using RISC-V in their own applications and developing technologies that are powering solutions in a wide range of markets including data center, automotive, mobile, embedded and more.
RISC-V 101 will also feature breakout sessions to explore specific topics, such as commercial solutions, software development, careers and getting started in technical committees.
If you have wanted to better understand what the hype is about, here's your chance to hear directly from and meet our community. On the eve of RISC-V Summit North America, come to RISC-V 101 to learn how RISC-V could impact your future trajectory.
There is no cost to attend, but you must register to guarantee your seat. Register now to unlock your understanding of RISC-V!
Share this post via: