OFC 2024
March 24, 2024

-

March 28, 2024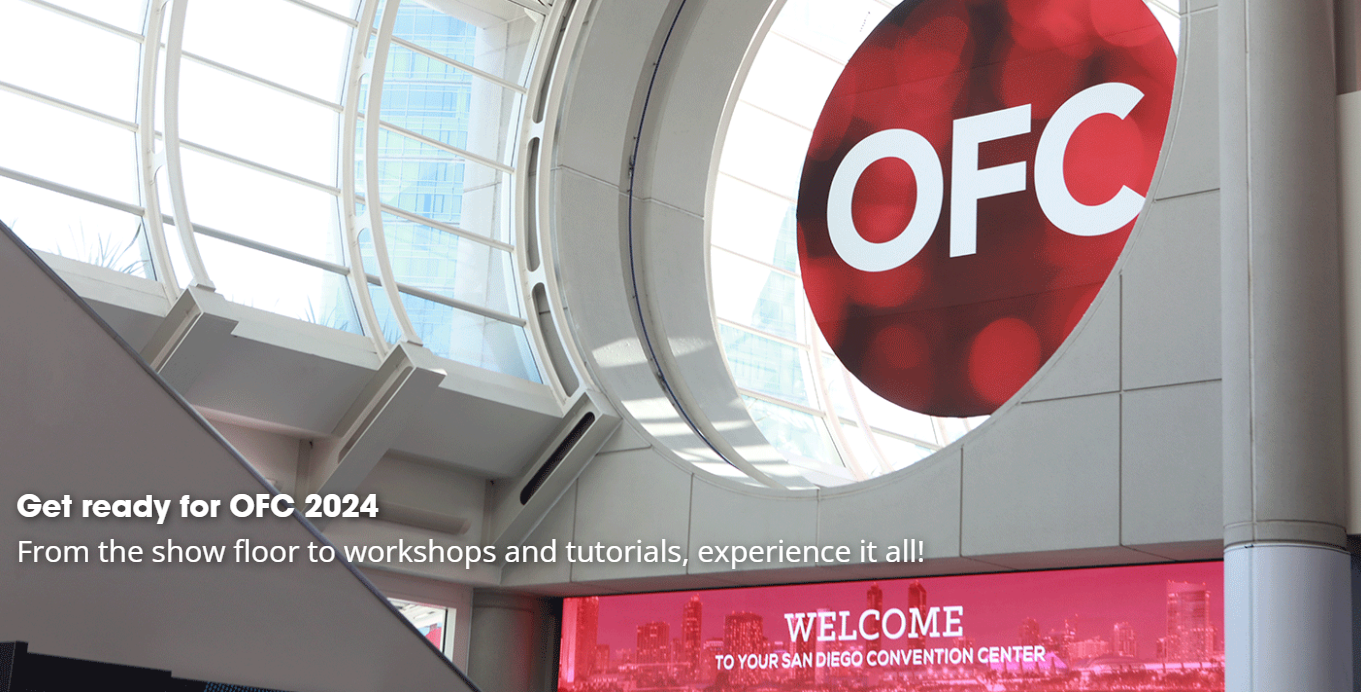 OFC Conference and Exhibition
Quantum Networking, AI, Data Center Connectivity and so much more!
OFC, the premier global event for optical communications and networking, attracts attendees from around the world to a conference and exhibition that showcases the latest industry advancements and emerging technologies.
In 2024, OFC expects to welcome over 13,000 participants from 70 countries, 80 media outlets and have over 540 exhibiting companies in its exhibition halls. This global event serves as the platform for start-ups to make their debut and industry leaders to set the pace for what's to come. Event organizers provide a compelling series of exciting programs and events covering the entire ecosystem with a focus on inclusivity.
One of OFC's highlights is the live interoperability demonstrations from leading optics companies running over OFCnet. Another is the Plenary Session with inspiring talks by industry leaders who share insights into how technology is transforming our industry and reshaping the world.
"The optical sector is currently in an exciting period," said Woo Jin Ho, Analyst – Hardware and Communications Equipment, Bloomberg Intelligence in regard to OFC 2023. "Companies continue to introduce and launch new innovations at OFC, such as 1.2T and 1.6T coherent optics and Co-Packaged Optics.
But it was really refreshing to hear the ramp up and monetization of the innovations that were introduced at OFC two, three years ago." We expect nothing less in 2024.
The Exhibition Dazzles with the Industry's Finest
OFC is where the optical communications industry comes to unveil new products, showcase innovation and reconnect with its customers.
"OFC is the place to get a first-hand look at the technologies and applications that will power the future of optical networking," said Steve Alexander, CTO at Ciena, co-sponsor of OFCnet, and chair of OFC Long Range Planning. "Many innovations are happening in coherent technology, software, and automation—including our WaveLogic 6, the industry's first 1.6Tb/s coherent optic solution—and the conference affords attendees the opportunity to get up close with the advances that are pushing the envelope in these areas."
Product announcements and company launches take center stage at OFC. The exhibition has long been a showcase for entrepreneurs focused on transforming markets. A multitude of new companies introduce innovative technologies and leverage OFC to speed up market adoption.
"We are seeing significant year-over-year growth in the PON equipment market, which approaches $20bn in 2028," said Julie Kunstler, Chief Analyst, Omdia. "Key PON ecosystem players, encompassing subcomponent, component and solution vendors, along with service providers, are here at OFC. PON innovation is around us, providing more bandwidth at lower-cost points, while ensuring backwards compatibility to earlier generations of this fiber and optics-efficient technology."
OFCnet Connects Industry with Research and Education
OFC's live high-speed optical network enables booth-to-booth fiber connectivity for on-site optical demonstrations while also connecting CENIC, the Corporation for Education Network Initiatives in California, network to the OFC exhibition. This connectivity is providing new opportunities for exhibitors who collaborate with affiliated academic institutions to highlight advancements and capabilities in a live real-time, fully operational network environment. In 2024, we expect to have over 27 live demonstrations where industry and research and education come together to support large-scale optical networking. Learn more: View the 2023 OFCnet network diagram.
Share this post via: