Leti Devices Workshop – San Francisco
December 4, 2022 @ 5:30 PM

-

9:00 PM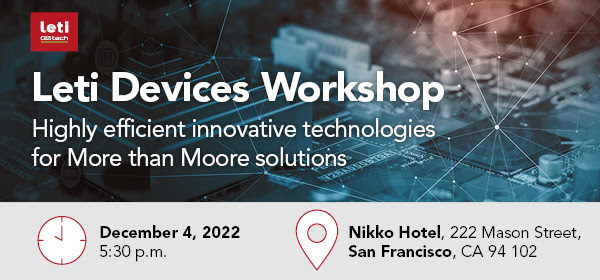 Dear Madam or Sir, dear friend,
I am pleased to invite you to the Leti Devices Workshop to be held in San Francisco at 5:30 p.m. on December 4, 2022. The workshop will focus on the subject:
Highly efficient innovative technologies for More than Moore solutions
Applications for More than Moore require cutting-edge solutions that combine efficient processing and innovative sensing. From curing to sensing, transporting and communicating, numerous factors are driving the roadmap to improve a variety of applications. During the Leti Devices Workshop, CEA-Leti experts will share their visions, innovations and achievements in these fields. Notably, the event will highlight key results in terms of efficient computing (FD-SOI, chiplet, memories), radiofrequency devices and innovative co-integration with sensors.
Yours Faithfully,
Sébastien Dauvé
CEO, CEA-Leti
Registration coming soon
Workshop: 5:30 p.m. – 7:00 p.m.
Networking reception: 7:00 p.m. – 09:00 p.m.
In-person event
Contact: letiinnovationdays@cea.fr with any questions.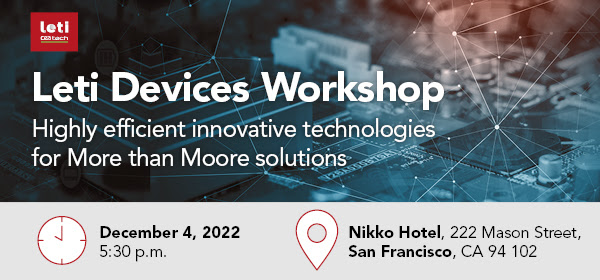 Speakers
Sébastien Dauvé
CEO, CEA-Leti
Olivier Faynot
Head of Silicon Component Division, CEA-Leti
Elisa Vianello
Embedded AI Program Director, CEA-Leti
Fabien Clermidy
Head of Digital Systems and Integrated, CEA-List
Didier Belot
System to Technology Transverse Programs Manager, CEA-Leti
Emmanuel Hardy
Research Engineer in Edge AI, CEA-Leti
Thomas Signamarcheix
VP Strategic Development, CEA-Leti
Share this post via: