Automotive segment is a market that has historically been supported by a few select suppliers within the semiconductor ecosystem. Over the last decade, this market has transitioned from just being about reliability, performance, fuel efficiency, etc., to placing equal importance to user experience. This user experience includes in-cabin experience in terms of comfort, convenience, connectivity, driving assistance, safety and security. More semiconductors are needed to deliver this user experience. In particular, Advanced Driver-Assistance Systems (ADAS) and autonomous driving initiatives are major factors behind the increased semiconductor content of automobiles. Consequently, more players have been attracted to support this market. Converting the opportunities into profitable revenue depends on how well the application, product and market challenges are overcome.
It is interesting that standardized compliance requirements for automotive electronics started only as recently as a decade ago. The ISO 26262 standard for functional safety of electrical/electronic systems installed in automobiles was defined in 2011 and revised in 2018. This timeline aligns with when we started depending more on electronics to tell us the status/conditions of the automobile. For example, we now depend on electronics to tell us engine oil level, oil condition, tire inflation pressure, etc.
Historically many semiconductor ecosystem suppliers stayed away from supporting automotive industry because of stringent product operating conditions requirements. Products were prone to systematic and random faults as they are exposed to changing environmental conditions during operation of the vehicle. As if these challenges are not enough, cybersecurity risks got added to the list as vehicles depend more and more on electronics for delivering safety and security to people and vehicles. Regulations and compliance requirements relating to automotive electronics are fast evolving. As an example, the ISO 21434 standard is being defined for addressing cybersecurity risk management of automobile systems.
The semiconductor supplier one chooses has to be firmly committed to supporting the automotive market. The supplier has to invest in keeping pace with fully supporting defined standards and compliance requirements. It is in this context that Synopsys' recent announcement of their ASIL B compliant tRoot HSMs becomes even more significant.
Let's look at automotive electronics challenges and how Synopsys' product offerings address these challenges.
Challenges
The architectures behind automotive electronics systems are fast evolving. Traditional microcontroller-based solutions are not a match for this kind of compute workloads. Refer to Figure 1. The evolving architectures involve more and more sensors and actuators and sensory data fusion to make decisions. The architectures themselves are evolving from being domain-centric to more centralized processing and control of the vehicle.
Figure 1: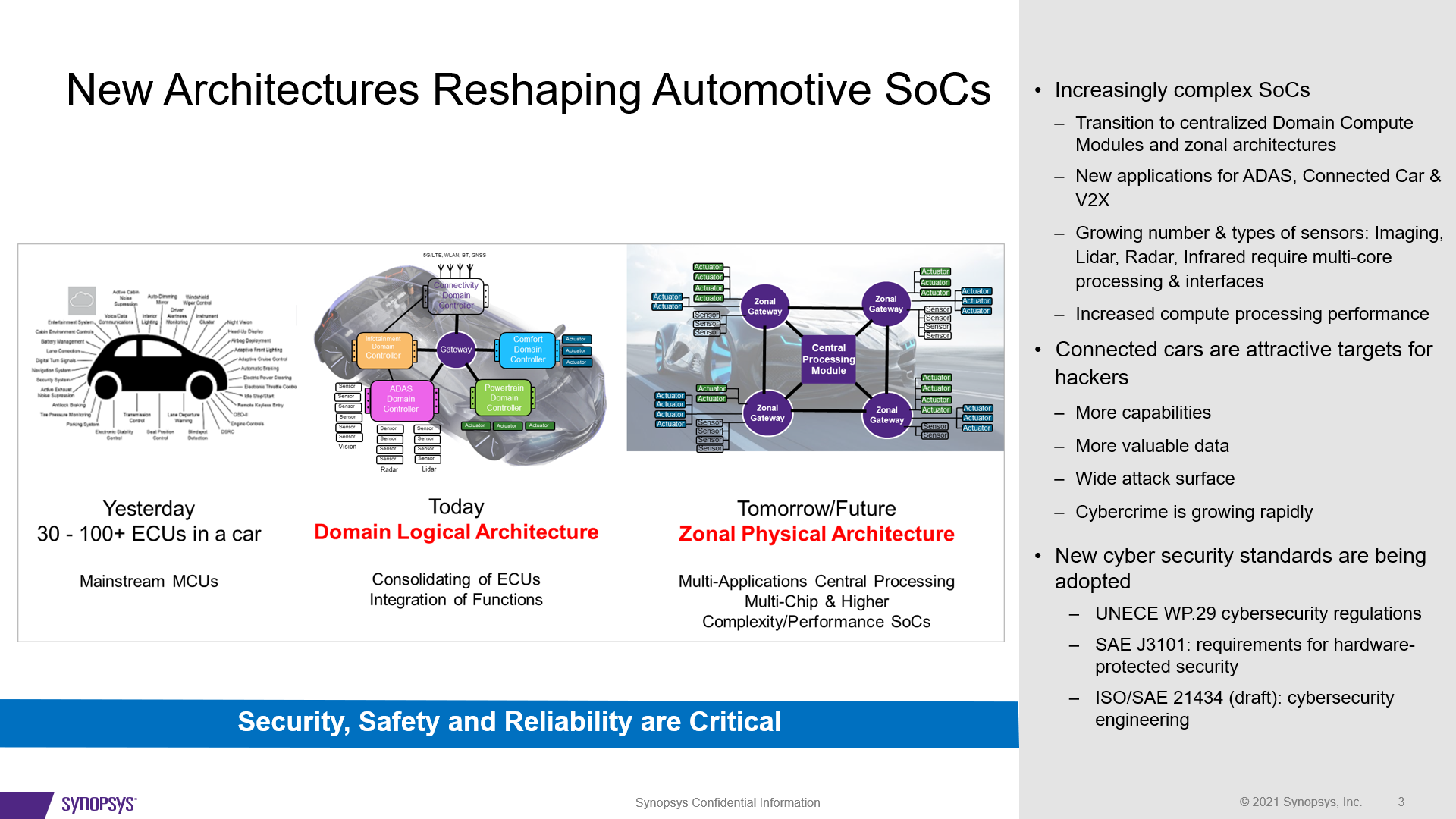 Any erroneous data introduced into the processing may lead to disastrous results. The solutions that are implemented should have a fool-proof way of managing systematic and random faults. As if these traditional types of faults are not enough, a new type of fault is becoming more prevalent. And that is the "malicious attacks" fault. Refer to Figure 2 for definition of these types of faults.
As a backdrop, according to the AV-TEST Institute, the number of malware programs (not just automotive related) has climbed from around 65 million in 2011 to 1.1 billion by the end of 2020. And cybercrimes involving automobiles, although not a large number in absolute terms, is growing rapidly.
Secure automotive systems must be able to handle malicious attacks, better still prevent these attacks from taking place in the first place. Just imagine, if a malicious attack were to target the ADAS or autonomous-driving system of a vehicle. The 2,000-6,000 lbs automobile could be converted into a deadly weapon.
Figure 2: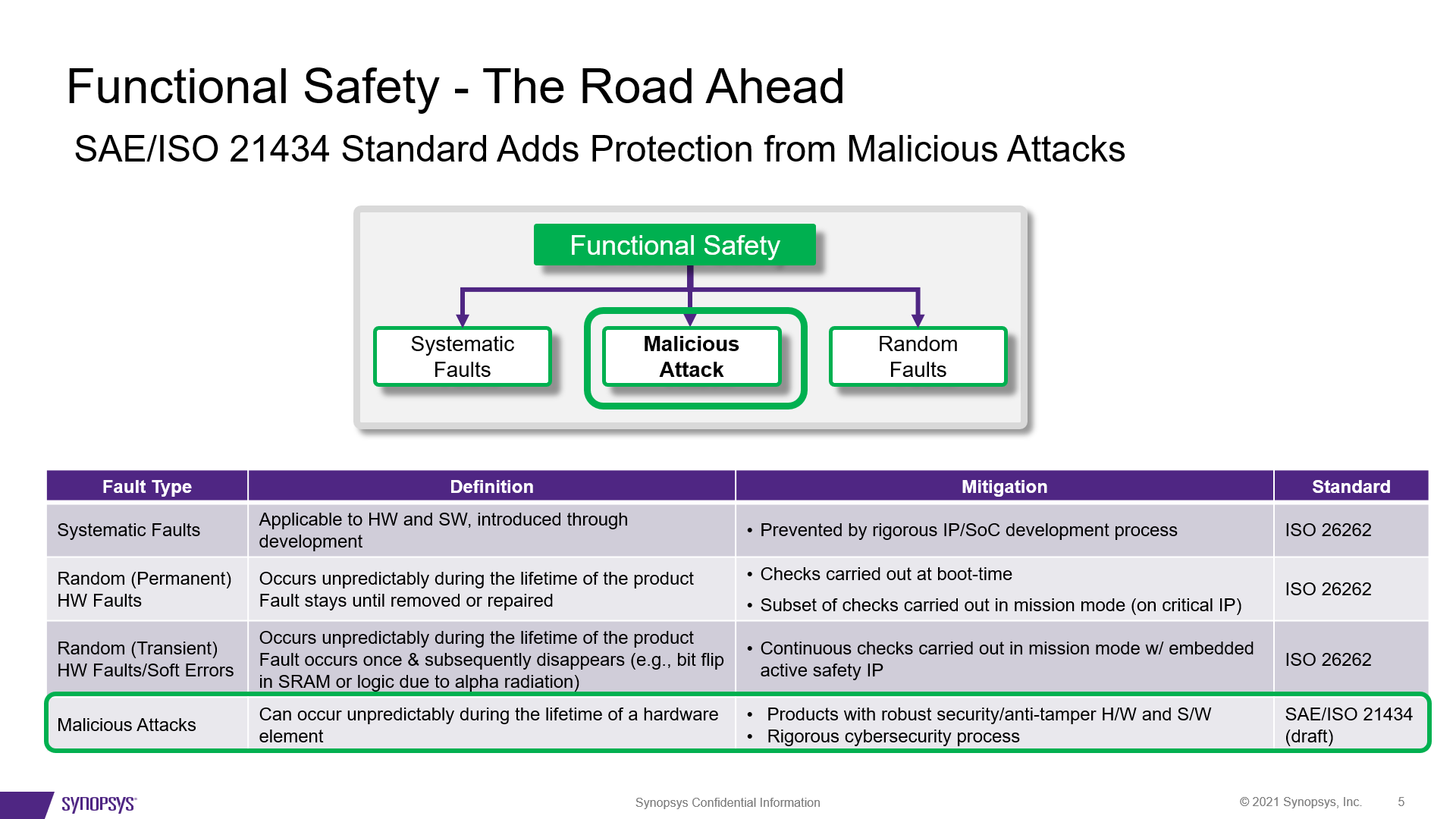 Synopsys' Solutions
Synopsys recently announced that it has extended its DesignWare® IP portfolio with offerings to address the safety and security requirements of automotive designs. The value of an offering is determined based on a number of criteria. Can it implement a particular solution, can it implement the solution easily and efficiently, can it implement the solution cost advantageously, and does it have a long-term support and technology roadmap? Is the technology a core competency and focus for the supplier? And most importantly, does the offering support and comply with defined automotive safety and security standards? The answer to all of these questions is in the affirmative.
Definition: tRoot Hardware Security Modules (HSMs) provide a Trusted Execution Environment (TEE) to protect sensitive information and processing and implement security-critical functions such as secure boot, storage, debug, anti-tampering and key management required throughout the device life cycle.
Synopsys' Hardware Security Module (HSM) IP with root of trust helps defend against malicious attacks. The automotive variant of tRoot HSM adds a broad range of safety mechanisms to its security features, including dual-core lockstep, memory ECC, register EDC, parity, watchdog, self-checking comparators, bus and MPU protection, and dual-rail logic. It also incorporates an ASIL D compliant low-power ARC processor. Refer to Figure 3. By designing automotive SoCs using Synopsys' tRoot HSM and Processor IP, next generation automotive vehicles can expect to manage random and systematic faults and fend off cyberattacks.
Figure 3: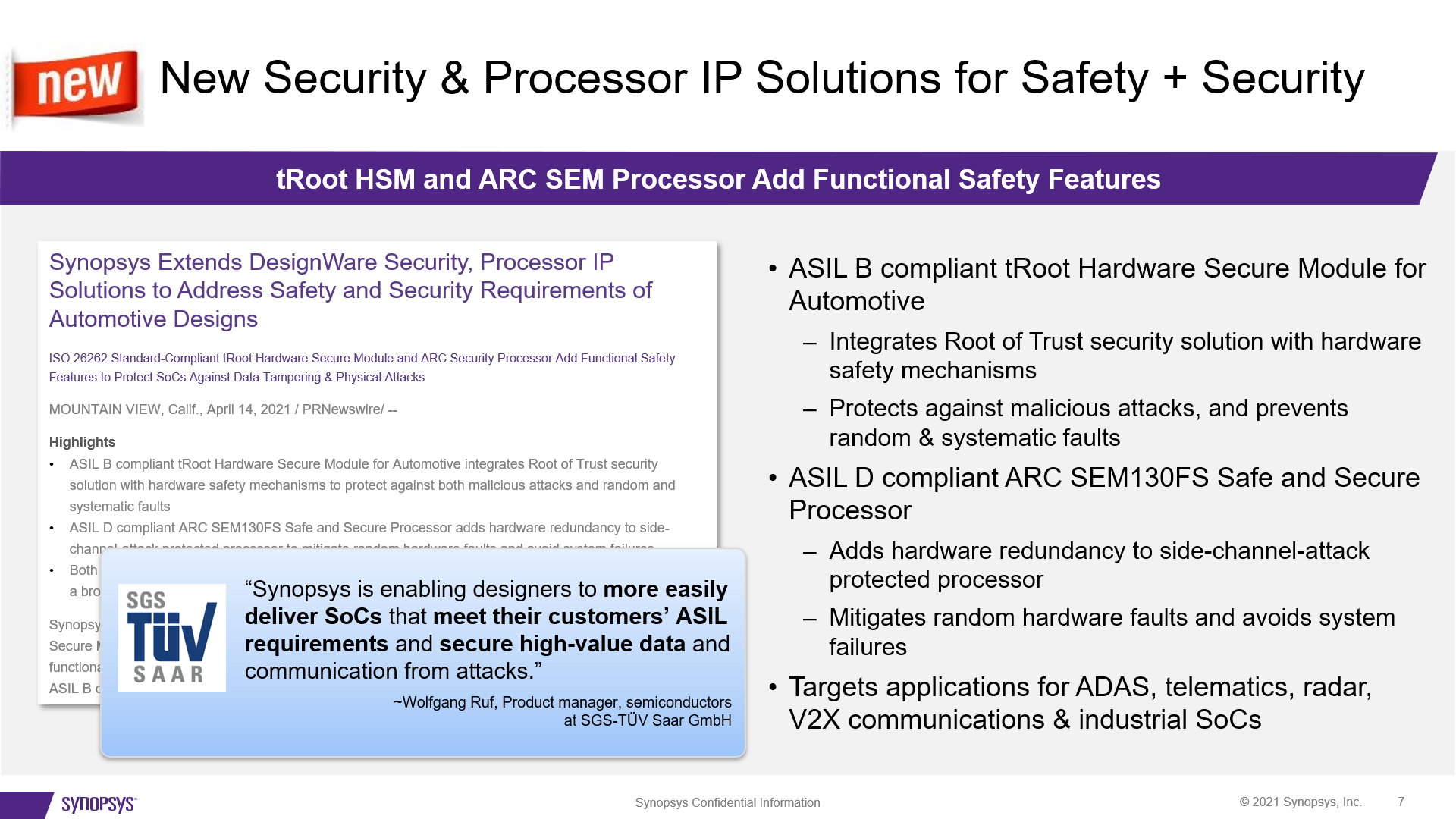 Summary
Synopsys' standards-compliant tRoot HSMs for automotive satisfy the latest market demands and enable SoC designs to quickly implement safe and secure solutions. If you are involved in designing electronics that go into automobiles, you would want to explore their IP offerings. Leveraging their IP should make it easier to get your products to market faster.
Also Read:
IoT's Inconvenient Truth: IoT Security Is a Never-Ending Battle
Upping the Safety Game Plan for Automotive SoCs
PCIe 6.0 Doubles Speed with New Modulation Technique
Share this post via: