Generative AI is all the rage with systems like ChatGPT, Google Bard and DALL-E being introduced with great fanfare in the past year. The EDA industry has also been keen to adopt the trends of using AI techniques to assist IC engineers across many disciplines. Saugat Sen, Product Marketing at Cadence did a video call with me to explain what they've just announced, it's called Allegro X AI. The history of Cadence includes both IC and Systems-design EDA tools, plus verification IP and design services.
By using generative AI-driven PCB design in Allegro X AI there are three big goals:
Better and Faster Hardware Design
Improved PCB Designer Productivity
PCB-design Driven by Physics engines
The typical PCB design flow has several sequential steps, where the most time-consuming parts are manual placement, followed by manual routing.

With Allegro X AI the electrical engineer specifies design constraints, runs the tool; automating board placement, power and ground routing, plus critical signal routing.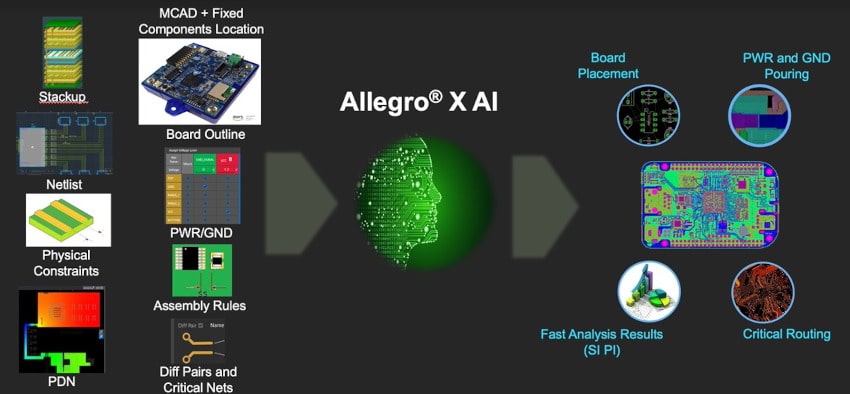 Just like ADAS in the automotive world is bringing new automation levels to the driving experience, constraint-driven PCB design offers a shift-left time savings for electronic systems. Allegro X AI does not replace PCB designers, rather it makes the team of electrical engineer plus PCB designer more productive, saving valuable time to market.
To provide these new automation levels to the PCB design flow requires compute power found in the cloud, and one example of a PCB design that required 3 days for human-based placement, now takes only 75 minutes with Allegro X AI while producing a 14% better wire length metric.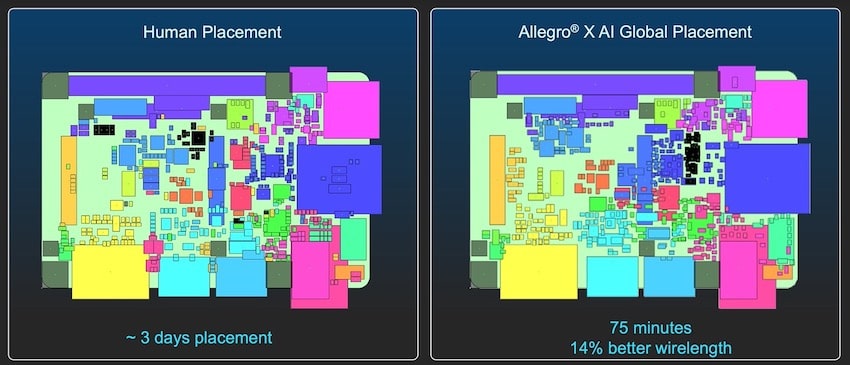 A second PCB example that Saugat showed me was for global placement and the automation results were impressive:
20 minute runtime with Allegro X AI versus 3 human days
0 opens, 0 DRCs, with 100% timing passes
Wire length improved by 3% using AI
In this new, AI-powered approach, the PCB designer still needs to complete detailed routing, but stay tuned for future improvements. With Allegro X AI an electrical engineer can quickly look at the feasibility of a PCB design, without using a layout designer resource. The learning curve for this new feature is quick, so expect to explore results on the very first day of use. Expect to use this technology on small to medium-sized PCB projects to start out with. The built-in engines for SI/PI analysis operate quickly, ensuring that your design meets timing and reliability constraints.
In the official press release you can read quotes from three companies that had early access to Allegro X AI:
Summary
PCB design is changing, and for the better by using AI techniques found in tools like Allegro X AI from Cadence. You can expect benefits like better and faster hardware design, as an electrical engineer can explore the PCB design space more quickly, even giving the PCB designer a layout starting point. PCB designers become more productive, as the placement and critical net routing becomes automated, freeing them up to complete the detailed routing task. Using constraints and built-in analytics for SI/PI is a physics-based approach, which helps produce a more optimal PCB design compared to fully manual Methods.
Cadence engineered all of this AI technology in-house, and you just need to contact your local account manager to get started with Allegro X AI.
Related Blogs
Share this post via: