Aldec, Inc. is an industry-leading Electronic Design Automation (EDA) company delivering innovative design creation, simulation and verification solutions to assist in the development of complex FPGA, ASIC, SoC and embedded system designs. With an active user community of over 35,000, 50+ global partners, offices worldwide and a global sales distribution network in over 43 countries, the company has established itself as a proven leader within the verification design community. Make sure and visit Aldec at #50DAC:

Register for One-on-one Technical Sessions and Demonstrations
Design Automation Conference (DAC) – Aldec Booth #2225
June 3-5, 2013 from 9:00am-6:00pm
Sessions are filling up. Pre-register here to reserve your appointment.
[TABLE] cellpadding="1″ cellspacing="1″ style="width: 90%"
|-
| valign="top" style="width: 75px" | Session 01:
| valign="top" | Prototyping Over 100 Million ASIC Gates Capacity
|-
| valign="top" | Session 02:
| valign="top" | Hybrid SoC Verification and Validation Platform for Hardware and Software Teams
|-
| valign="top" | Session 03:
| valign="top" | Requirements Traceability for Safety-Critical FPGA/ASIC Designs
|-
| valign="top" | Session 04:
| valign="top" | Comprehensive CDC Analysis for Glitch free Design
|-
| valign="top" | Session 05:
| valign="top" | UVM/SystemVerilog: Verification and Debugging
|-
| valign="top" | Session 06:
| valign="top" | VHDL 2008 and Beyond: OS-VVM Continues to Grow
|-
| valign="top" | Session 07:
| valign="top" | Accelerate DSP Design Development: Tailored Flows
|-
| valign="top" | Session 08:
| valign="top" | Ask Aldec: Demos, Roadmaps, Partners, Q&A, etc.
|-
| valign="top" | Session 09:
| valign="top" | CyberWorkBench: C-based High Level Synthesis and Verification
|-
Register for a one-on-one Technical Session at http://www.aldec.com/DAC2013.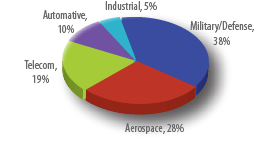 Aldec market share is estimated at 38% of all mixed-language RTL Simulators sold to FPGA designers worldwide. (Excludes OEM simulators supplied directly from FPGA vendors).
Aldec delivers high quality EDA solutions for government, military, aerospace, telecommunications, automotive and safety critical applications. Large companies including IBM, GE, Qualcomm, Rohde and Schwarz, Bosch, Texas Instruments, Applied Micro, Hewlett Packard, Toshiba, Intel, NEC, Mitsubishi, LG, Hitachi, NASA, Invensys, Westinghouse, Raytheon, Panasonic, Lockheed Martin, Samsung, as well as mid-size and small firms utilize Aldec EDA verification suites to boost product performance, cut design development cycles and reduce cost.
The Design Automation Conference (DAC)is recognized as the premier event for the design of electronic circuits and systems, electronic design automation (EDA) and embedded systems and software (ESS).
Members are from a diverse worldwide community of more than 1,000 organizations that attend each year, represented by system designers and architects, logic and circuit designers, validation engineers, CAD managers, senior managers and executives, and researchers and academicians from leading universities.
Close to 300 technical presentations and sessions are selected by a committee of electronic design experts offer information on recent developments and trends, management practices and new products, methodologies and technologies.
A highlight of DAC is its exhibition and suite area with approximately 200 of the leading and emerging EDA, silicon, intellectual property (IP), embedded systems and design services providers.
The conference is sponsored by the Association for Computing Machinery (ACM), the Electronic Design Automation Consortium (EDA Consortium), and the Institute of Electrical and Electronics Engineers (IEEE), and is supported by ACM's Special Interest Group on Design.
Some of the highlights of this year's DAC include:
Keynotes by industry leaders/visionaries
Technical Program (panels, special sessions, Designer Track)
Forums, tutorials, and workshops
Management Day

Exhibition Floor

Colocated Conferences

Awards for professionals and students
And there's much more!

lang: en_US
Share this post via: