Aldec, Inc. is an industry-leading Electronic Design Automation (EDA) company delivering innovative design creation, simulation and verification solutions to assist in the development of complex FPGA, ASIC, SoC and embedded system designs. View Product Line (pdf)
With an active user community of over 35,000, 50+ global partners, offices worldwide and a global sales distribution network in over 43 countries, the company has established itself as a proven leader within the verification design community.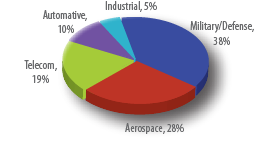 Aldec market share is estimated at 38% of all mixed-language RTL Simulators sold to FPGA designers worldwide. (Excludes OEM simulators supplied directly from FPGA vendors).
Aldec delivers high quality EDA solutions for government, military, aerospace, telecommunications, automotive and safety critical applications. Large companies including IBM, GE, Qualcomm, Rohde and Schwarz, Bosch, Texas Instruments, Applied Micro, Hewlett Packard, Toshiba, Intel, NEC, Mitsubishi, LG, Hitachi, NASA, Invensys, Westinghouse, Raytheon, Panasonic, Lockheed Martin, Samsung, as well as mid-size and small firms utilize Aldec EDA verification suites to boost product performance, cut design development cycles and reduce cost.
Today's FPGA design teams require innovative solutions that foster team productivity and enable rapid deployment at every stage of design development – from Design Entry to Place and Route. Aldec offers the industry's… Read more
Aldec's functional verification platform is an integrated portfolio of tools that drive productivity and innovation by enabling industry-leading technologies for design entry, mixed-language HDL simulation, mixed-signal simulation, DSP co-simulation… Read more
HES-DVM™ is a hybrid verification and validation ecosystem for hardware and software teams developing the latest SoC and ASIC designs. Partnering the latest high-capacity FPGA technology with industry leading co-emulation standards, HES-DVM allows for multiple modes of verification and validation… Read more
Prototyping is an important step in design verification. It assists in identifying problems with the design that were not detected during simulation. Increases design quality and reduces cost over runs… Read more
With the growing complexity and size of today's FPGA and ASIC designs, requirements have also grown exponentially, and methodologies to effectively manage and track requirements have never been more crucial to… Read more
Advancements in FPGA silicon, tool flows and IPs have proven FPGAs to be the ideal solution for accelerating complex computational applications for solving science, engineering and business problems. The inherent reprogrammability of FPGAs,… Read more
Embedded systems have been around us for years in our cars, homes, cities, factories, etc. They are both in professional tools as in personal and entertainment devices. For a long time embedded systems were… Read more
RTCA/DO-254 is a means of compliance for the development of airborne electronic hardware containing FPGAs, PLDs and ASICs. FPGA design and verification under DO-254 guidelines is a rigorous undertaking, and… Read more
Sometimes general-purpose tools and methodologies are not enough – designers need something that addresses very specific needs in their design. It can be an interface enabling/enhancing data exchange between different tools… Read more
Share this post via: