With time-to-market pressures ever increasing, companies are continually seeking enhanced designer productivity, faster design closure and improved project management efficiency. To accomplish these, organizations invest a lot in implementing both standardized approaches and proprietary techniques. With ever increasing product complexities, more and more engineers are needed to implement the designs. Consequently, regular onboarding of a mix of fresh engineers and experienced ones is an ongoing process.
A typical chip project includes thousands of tool-flow runs with different setup configurations. A problem that gets introduced in one flow could have ramifications later on within the same flow or in a different flow. Understanding the relationship and dependencies is critical for rapidly debugging an issue, better still for avoiding such issues in the first place. An SoC design produces a massive amount of data that gets archived away and doesn't see the light of day after a project completes. The learnings generally don't get documented as the team members are off to work on the next project. So, critical knowledge essentially resides among the various team members.
Being able to leverage the learnings from one project is not only helpful at the start of future projects but is even more useful when facing problems that need to be debugged. This is where and why the institutional knowledge developed over time becomes very valuable. Everything is fine until one or more team members leave and/or when many fresh engineers start working on a project. One of the biggest gripes at many companies is the loss of talent along with the institutional learnings. What if there is a way to leverage the massive amount of data to enhance productivity and efficiency of an SoC design? A way for engineering teams to benefit from the valuable insights that are hidden within the archived big data. Until recent years, compute power and machine learning technology were not available in a commercially viable scale to mine this big data.
Earlier this week, Synopsys launched an ML-Driven Big Data Analytics technology which helps solve this long standing problem of lost knowledge. You can access the entire press release here. I had a chat with Mark Richards, Sr. Staff Product Marketing at Synopsys to gain more insights about the recently announced technology. This article is a summary of the salient points I garnered from our discussion.
Synopsys DesignDash Solution
The Synopsys DesignDash solution is an EDA-tuned big data analytics tool that leverages machine-learning techniques to yield enhanced designer productivity and faster design closures. It brings immense value, particularly in the context of high system complexities, shrinking time to market windows and challenging talent resource landscape. The tool delivers a real-time, unified, 360-degree view of all design activities for faster decision making, a deeper understanding of run-to-run, design-to-design and project-to-project trends, and enhanced collaboration within an SoC development environment.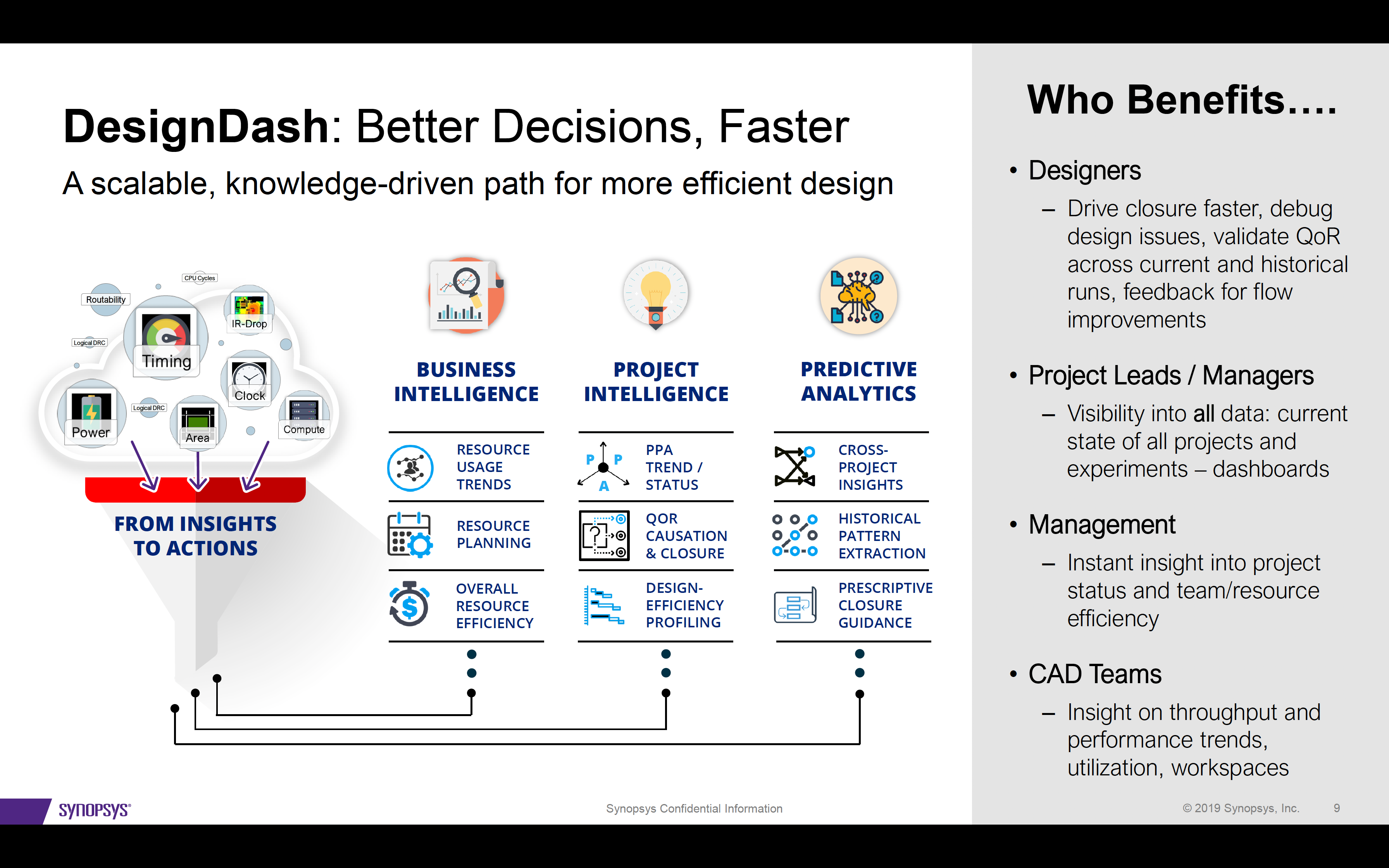 Some salient features and benefits offered by the tool include:
Extensive real-time design status through powerful visualizations and interactive dashboards
Actionable insights from structured and unstructured EDA metrics and tool-flow data
Classification of trends and identification of design limitations
Guided root-cause analysis and delivery of flow consumable, prescriptive resolutions
Team-wide dashboard for consistent and comprehensive data views to make status comparisons easy, informative, and actionable
Simple metric tracking (e.g., machine, license, and other KPIs) to optimize project management
The cloud-optimized DesignDash solution is natively integrated with Synopsys Digital Design Family of tools and offers easy 3rd party tools support too. The solution complements the Synopsys SiliconDash product and thus enables valuable data analysis across the complete design-to-silicon lifecycle.
You can visit the DesignDash product page for more details.
Customer Experience
Customer demand for the DesignDash solution is very strong and a number of customers have already benefitted by using it for their projects. IDMs, established Fabless and startup companies alike have leveraged the automated insights and prescriptive guidance provided by the tool.
For more details, visit Synopsys.com or call your local Synopsys representative.
DesignDash and DSO.ai: A Powerful Interplay
Synopsys is already known for DSO.ai solution, an AI-based design space optimization tool. Together with DesignDash, customers enjoy the benefit of finding the best solution. While DesignDash recommends a range of suitable system architectures to consider given the product requirements and constraints, DSO.ai will help deliver the best implementation for each of these architectures.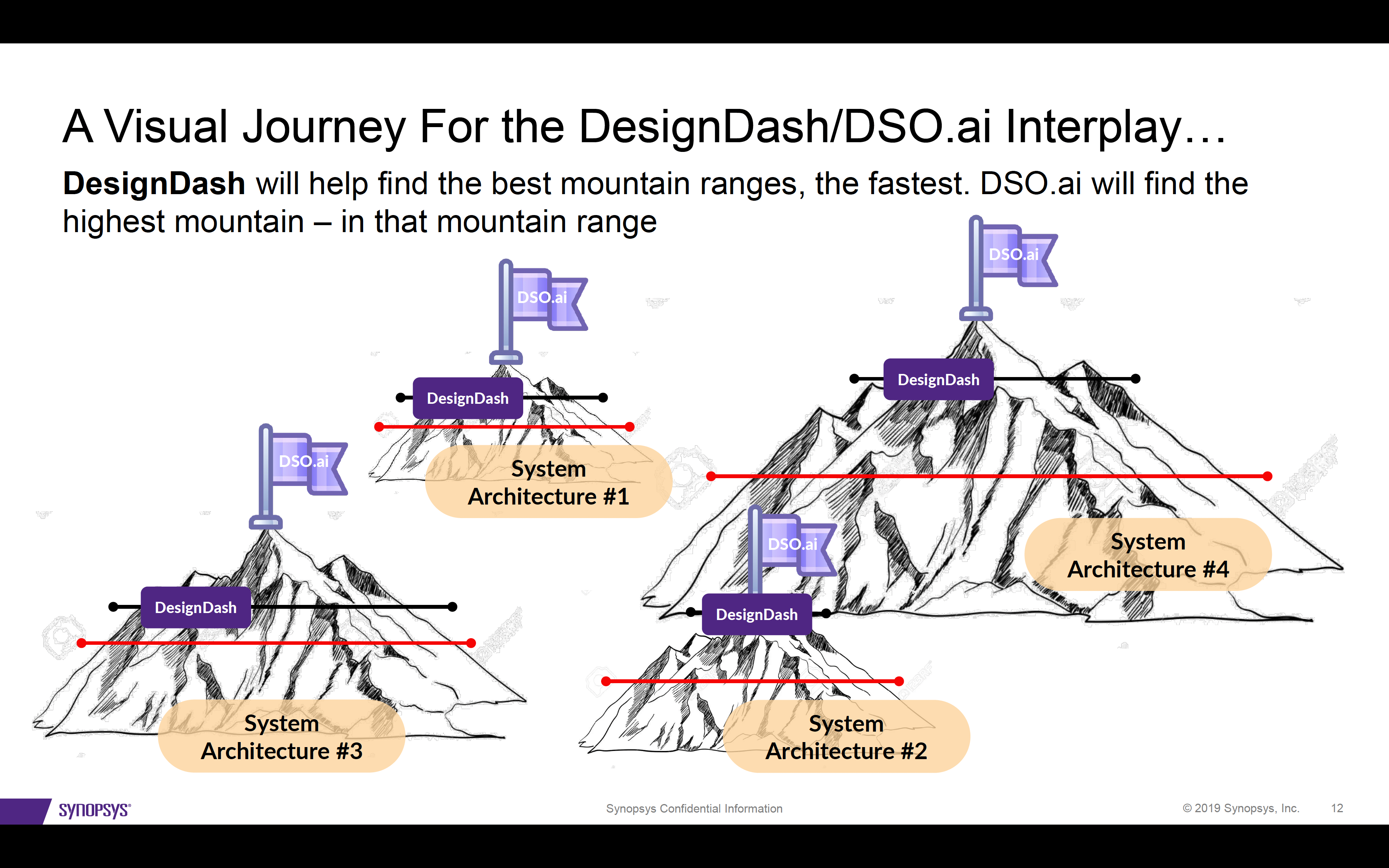 Also Read:
Coding Guidelines for Datapath Verification
Very Short Reach (VSR) Connectivity for Optical Modules
Bigger, Faster and Better AI: Synopsys NPUs
Share this post via: