Bandwidth, latency, power and reach are always the key points of focus when it comes to connectivity. As the demand for more data and higher bandwidth connectivity continue, power management is gaining a lot of attention. There is renewed interest in pursuing silicon photonics to address many of these challenges. There are many other drivers as well behind the push for a broader adoption of silicon photonics. From an implementation perspective, co-packaged optics is going to play a catalyzing role. Co-packaged optics means bringing the optics (which is typically in a face plate) very close to the SoC. Many players within the ecosystem are working together to make co-packaged optics technology a mainstream reality. But it will be some time before that broad adoption happens. Until then, pluggable optical module is the way the industry is serving the optical connectivity requirements.
Manmeet Walia, Director, Product Marketing for high-speed SerDes IP products at Synopsys gave a talk at IP-SoC Silicon Valley 2022 last month. His presentation focused on opportunities for very short reach (VSR) 112G PHY for bringing optical connectivity deeper into the data centers. He discusses trends that are driving this transformation, and presents a solution to overcome the reach constrains of copper modules. This post is a synthesis of his talk. You can download his presentation slides from here.
Trends pushing optics deeper into data centers
Explosion of intra-data center traffic
We are all aware of data explosion, driven by more users, more devices per user, and more bandwidth needed per device. What many may not be aware is that the growth in data traffic within a data center is 5X that of the total internet traffic. And this is growing at a 30% CAGR [Source: Cisco Global Cloud Index 2021]. The processing of this data is getting complex. Even a search query could lead to lot of computation and machine to machine communication/traffic within the data center. This generates a lot of intra-data center traffic that call for wider data pipes and faster processing at very low latency. This in turn is pulling more optics connectivity within the data center than traditional copper connectivity.
Flattening of the networks for low latency
As each switch adds 500ns of latency, a data center architecture is limited to no more than three layers of switches. While the top of rack (TOR) switches are mostly copper, the other two layers are heavily dominated by optics. Due to growing number of servers in the data center and wider data pipes between them, the pressure is on the switches to increase throughput 2X every two years.
Aggregation of Homogeneous Resources
Data centers used to be built with hyperconverged servers where storage, compute and networking were rolled into one box. But that is changing. The new trend is called Aggregation of Homogeneous Resources, aka Server Disaggregation. This concept is the polar opposite of hyperconverged servers. The different functions are separated but connected optically with low latency and high bandwidth. When a workload needs a certain amount of storage and compute, that is exactly what is tapped and connected optically.
Reach constrains of pluggable copper modules
Pluggable copper modules are the reality today but they introduce power issues. The signal from the host SoC is driven through PCB trace and then a retimer inside active pluggable modules, followed by a  2-5 meter copper cable to the other pluggable copper module  in a different rack unit . The high-end, expensive material in the PCB trace reduce signal losses, but increases the total cost of server chassis. Rack unit to rack unit connectivity is achieved by low-loss cable such as 24 AWG which is thick and takes a lot of space. When 100K servers (typical in a data center) are inter-operating over PVT, things inherently breakdown due to over-heating. To minimize this, expensive cooling system is required, which again adds to the datacenter cost.
These issues can be circumvented by using low-power SerDes in the host SoC and as retimers in active copper cables.
Synopsys' 112G Ethernet PHY IP for VSR
A VSR PHY approach for the pluggable optical module market is an attractive solution until the industry predominantly shifts to a co-packaged optics solution some years from now. Optical modules can be broadly classified into two categories. The ones based on Intensity Modulation Direct Detect (IMDD) lasers support up to 40Km reach. The ones based on Coherent lasers are for distances up to 120Km. Synopsys' PHY IP is for optical modules supporting IMDD as well as coherent modules (as host side interface).
Synopsys provides a complete solution with lowest power, area and latency to make it easy for customers to integrate, validate and go to production. Its floorplan mockup, signal and power integrity tools and system analysis tools provide a comprehensive platform to solve the multi-dimensional challenge of die, package, channel and connector. The Synopsys' 112G Ethernet PHY IP for  VSR is emerging as an ideal solution for 800G optical modules.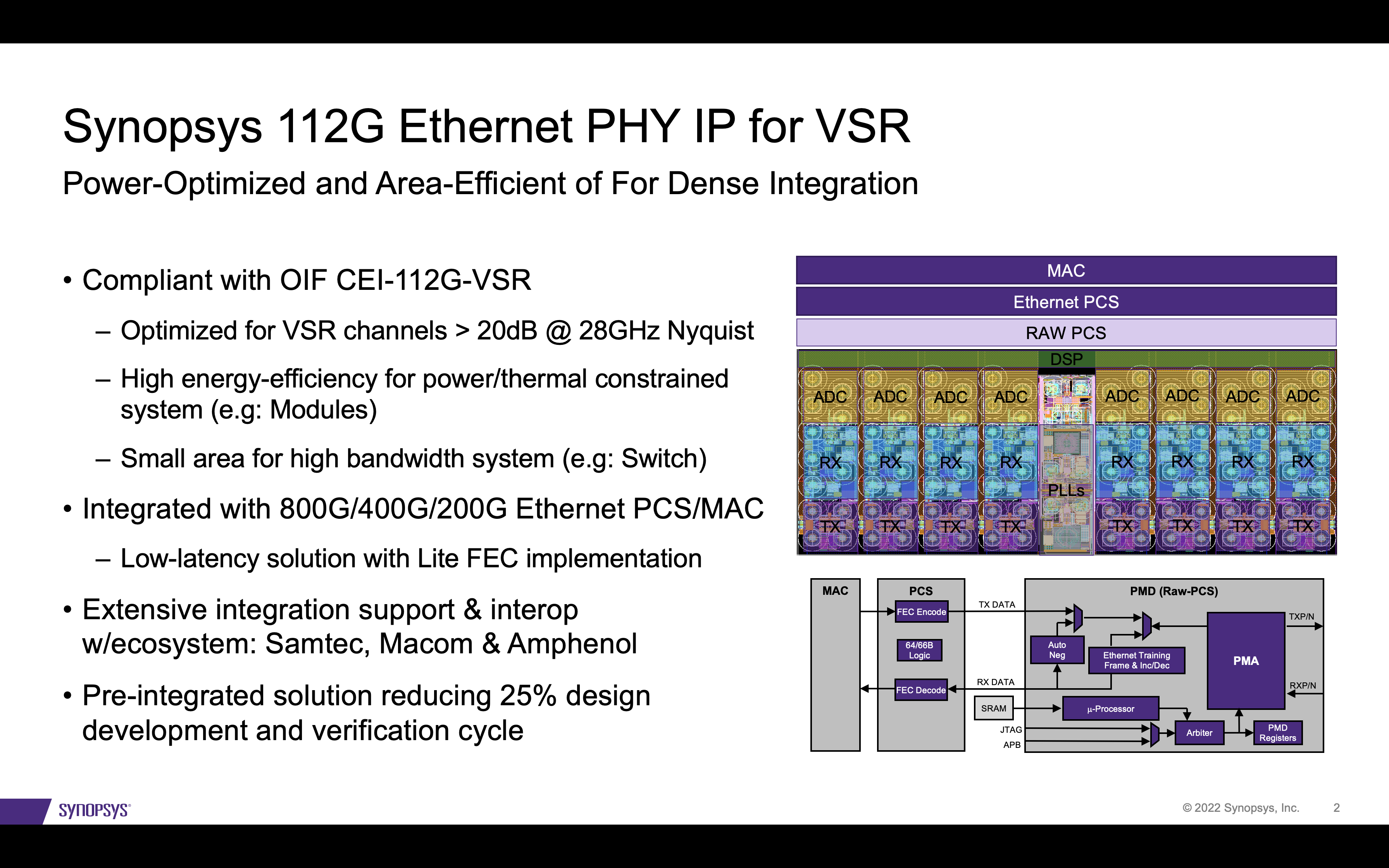 Also Read:
Bigger, Faster and Better AI: Synopsys NPUs
The Path Towards Automation of Analog Design
Design to Layout Collaboration Mixed Signal
Share this post via: