The MIPI Alliance was founded in 2003 by large IDM to standardize chip-to-chip interfaces in the wireless phone (mobile) segment. The various MIPI specifications (CSI, DSI, DigRF and many more) have been adopted by the application processor chip makers (usually large IDM or fabless, like Intel or Qualcomm initially and many more joining from Asia like MediaTek, Spreadtrum or HiSilicon to only name a few). As important was the adoption from the companies developing peripheral IC like camera sensor, display controller or RF IC as most of these MIPI specifications are functional: CSI stands for Camera specification interface, DSI for Display and so on. Until 2010, not only the MIPI technology was exclusively used in mobile, but there was no demand coming from other, non-mobile, segments and consequently no strategy from the Alliance to push for MIPI usage beyond mobile.
During the last couple of years, MIPI as a low power/low EMI technology has generated high interest in other segments, automotive, wearable, medical and industrial or IoT. That's why the MIPI Alliance has decided to open and promote the Developers Conference, and that's good news for the semiconductor industry, for several reasons reviewed in this paper.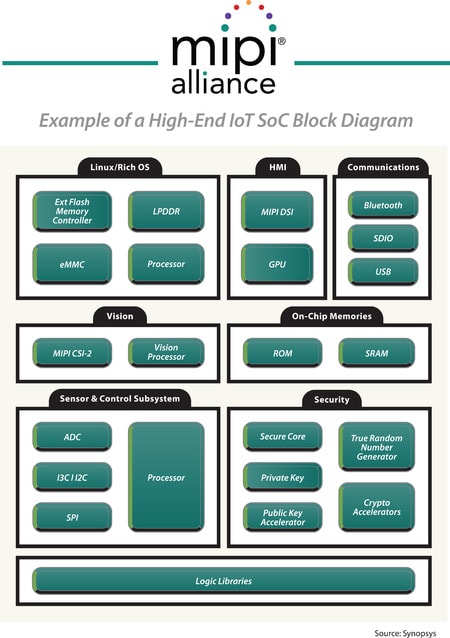 If you try to evaluate how many IC including at least one MIPI interface are produced every year to support smartphone manufacturing and you quickly come to several billions. Taking as an example a MIPI powered camera sensor IC (or a display controller IC), every year 100's of million if not billion of these chips are shipped to the mobile manufacturers. One empirical, but validated economic law states that the higher the production volume, the lower the chip cost. Keeping the sensor IC example, it's a production proven chip, equipped with a standard based, low power, low EMI interface (MIPI CSI) which can be available for any other application, like for example to interface with an image recognition processor in the automotive segment. Thanks to the huge production volume in the mobile industry, MIPI powered IC have reached an optimized, low production cost, benefiting to any kind of application.
Because MIPI CSI is standardized, the chip maker developing this specific processor can decide to outsource the interface function, buying an IP to a vendor like Synopsys, Cadence or Mixel, avoiding assigning resources to internally develop the function if he is not familiar enough with the technology. If you take a look at the MIPI DevCon agenda, you will notice that all the above listed IP vendors are giving one or more presentation, illustrating the strength of the ecosystem around MIPI. This ecosystem is active for years and includes test equipment manufacturers, Verification IP (VIP) and EDA vendors, foundries, etc. If a chip maker addressing non-mobile segment decides to integrate certain MIPI interface as an IP, he can rely on a dynamic ecosystem.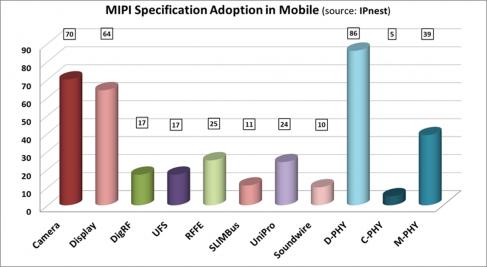 According with Peter Lefkin, managing director at the MIPI Alliance, this 2016 MIPI DevCon to be held on September 14, 15 in Mountain View, at the hearth of the Silicon Valley, is intended to "learn how MIPI technology is facilitating new capabilities within mobile while at the same time being extended to other markets, such as IoT, automotive, wearables, industrial and augmented/virtual reality". Let's take a look at the four tracks:
Implementations and Use Cases for Beyond Mobile
MIPI I3C: Introduction and Impact on Cameras and Other Sensors
Verification and Debug
Camera and Display – Prototyping, Bridging and Compression
In the first track, some presentations from Mixel, Synopsys or Intel will directly address applications in automotive or IoT, illustrated by use cases. MIPI adoption is segments beyond mobile is real, especially in automotive. If you try to figure out the electronic architecture of the 2025 car, there will be numerous displays (not only for entertainment but also on the dashboard) and numerous cameras. Some cameras will certainly be used for ADAS, but it's likely that the rear-view mirror will be replaced by electronic systems. In all cases, it will be possible to integrate a MIPI Serial Interface, like Display Serial Interface (DSI), Camera Serial Interface (CSI) or the I3C sensor dedicated interface, whose specification has just been released at the beginning of August 2016.
Some MIPI members, chip makers and IP vendors, have already developed solutions to support I3C, the second track will be dedicated to I3C and its impact on cameras and other sensors. There will be presentations from Intel, Cadence Design Systems, Qualcomm, Synopsys, Lattice Semiconductor or Microsemi. That is, two of the top three chip makers, the top two interface IP vendors and two FPGA vendors who have decided to invest into MIPI technology and who are able to offer low cost/low power FPGA solutions. Did we say ecosystem in this paper? Here is a good example of the I3C specification ecosystem!
The best standard organization, generating very smart and complexes specifications, would never be successful if these specifications never reach production and consumer adoption. That's why the last two tracks are so important. The third track addresses verification and debug, with papers dealing from verification of mobile SoC designs to system SW development or UFS card certification test. The presentations given in the fourth track are dealing with product development and prototyping, focused on the two functional specifications enjoying the largest adoption rate (see the above picture), Camera and Display.
That's the first time that the MIPI Alliance organize a development conference widely opened to the electronic industry (including the non-MIPI members) in the Silicon Valley and this will be the opportunity for system architects, engineers, designers, test engineers, engineering managers, and business and marketing executives working in various segments and not only the mobile segment to learn about the MIPI technology and the various MIPI specifications. No doubt that some of them working in emergent markets will realize that integrating certain MIPI interfaces in their system could be a wise decision.
From Eric Esteve from IPNEST
WHAT:MIPI DevCon: Moving Mobile Forward, the Alliance's first annual developers conference
WHEN & WHERE:Sept. 14-15, 2016, at the Computer History Museum in Mountain View, Calif.
WHO:The conference agenda is designed for system architects, engineers, designers, test engineers, engineering managers, and business and marketing executives. Members of the media and industry analysts are invited to attend with complimentary registration.
WHY:MIPI Alliance technology is driving new capabilities within mobile and impacting markets, such as the Internet of Things (IoT), automotive, wearables, industrial, and augmented/virtual reality. MIPI DevCon 2016 will provide the latest information on MIPI specifications for implementation in mobile and other emergent markets.
TO REGISTER:Find more details and registration links at mipi.org/devcon including a $49 "early bird" registration fee available until Aug. 19.
PROGRAM DETAILS:The MIPI DevCon 2016 agenda features expert commentary and presentations from MIPI members representing the industry's top companies working in mobile, IoT, automotive and other fast-growth industries.
Share this post via: