I am old enough to remember when cars did not come with air conditioning unless you purchased it as an option. Of course, now you can't even find a car that doesn't come with air conditioning. So, it goes with Advanced driver assistance systems (ADAS). They are becoming more and more common and will certainly become baseline features in cars in the future. In all likelihood autonomous driving systems (ADS) will follow the same path as they become more feasible and affordable. Video data from sensors, either heading to an internal display or to a computer for processing, is required for both of these systems.
The automotive environment brings with it a number of specialized requirements for these systems, such as low power and high reliability in a challenging physical environment. They also must also be cost effective. System designers for ADAS and ADS have been turning to existing standards for transferring video information in mobile systems, which share many of the same requirements as ADAS and ADS. Specifically, there has been a lot of interest in MIPI® Alliance specifications. The proven technology found in the well-established D-PHY℠ for connecting high resolution cameras, vision processor and displays has become a popular solution for in-vehicle video needs.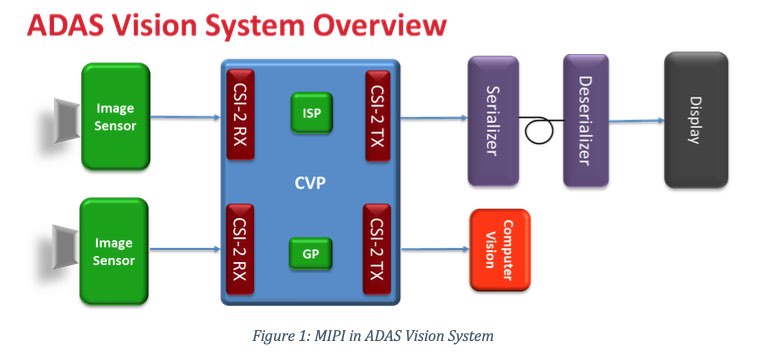 Mixel, a leading provider of mixed signal mobile IP has published an article discussing the application of their D-PHY IP in GEO Semiconductors' GW5 CVP product family. MIPI D-PHY is a source synchronous PHY that uses one clock lane and a varying number of data lanes. It is a widely adopted standard that has been in use since 2009. There are two differential pins per signal. D-PHY can be used with MIPI CSI-2℠, DSI℠ and DSI-2℠, to connect to cameras and displays. Mixel's D-PHY v2.1 TX and RX IPs can handle 2.5Gbps per lane, up to 4 lanes to achieve 10Gbps. The TX and RX IPs are AEC-Q100 compliant for auto-grade 0/1/2 temperature ranges.
In GEO Semiconductor's product they used D-PHY v1.1 TX and RX with 4 lanes of 1.5 Gbps, for a total of 6Gbps. The GEO GW5400 includes in-camera vision processing to enable ADAS functionality. The GEO GW5 supports up to 8-megapixels and includes GEO's eWARP® geometric processor, innovative High Dynamic Range (HDR) Image Signal processor (ISP), and 2D graphics functionality. For the GEO GW5 there are 2 RX interfaces, supporting dual sensors. However virtual channels can be used to connect to more sensors. There is an HDR feature that allows each RX interface to receive images from multiple HDR sensors and combine them into a single high dynamic range video stream.
The Mixel PHY IP come with a BIST engine that can be used for IC, board or system tests. Mixel has had silicon success across multiple nodes at a variety of foundries. Mixel reports widespread deployment of their IP in ADAS and ADS chipsets.
MIPI interfaces will increasingly play a major role in ADAS and ADS systems. In the future in addition to radar, LIDAR and video sensor input, ADAS and ADS will also rely on data links between vehicles and between vehicles and their surroundings. Sensor data rates and resolution will increase over time as well. From reading the Mixel article it is pretty clear that they intend to stay on the forefront of the technology. The article which can be found here also goes into more details about the specifics of their offering and the GEO Semiconductor products that employ their IP.
Also Read:
A MIPI CSI-2/MIPI D-PHY Solution for AI Edge Devices
FD-SOI Offers Refreshing Performance and Flexibility for Mobile Applications
New Processor Helps Move Inference to the Edge
Share this post via: