The trade dispute between the U.S. and China continues to drag on. According to Reuters, U.S. President Donald Trump recently threatened to raise tariffs further on Chinese imports if no deal is reached. Tariffs affecting most consumer electronics imports from China are scheduled to go into effect on December 15, according to a timeline from China Briefing.
The trade war has already had a significant impact on U.S. electronics imports. In the first three quarters of 2019, total U.S. electronics imports have dropped 6% versus the first three quarters of 2018. Imports from China dropped 12%. China still is by far the largest source of electronics imports, accounting for 54% in 1Q-3Q 2019. The second largest source, Mexico, dropped 3%. Two countries benefiting from the U.S.-China dispute are Vietnam (third largest) and Taiwan (fourth largest). U.S. electronics imports versus a year ago are up 59% from Vietnam and 64% from Taiwan. All other significant sources of U.S. electronics imports were down from a year ago, with the biggest declines coming from South Korea (down 32%) and Malaysia (down 29%).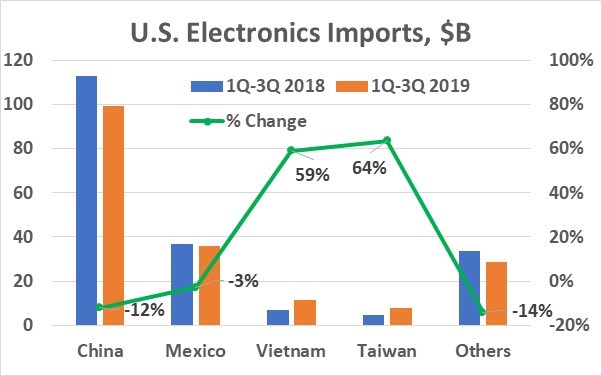 Numerous companies have shifted production out of China in recent months. Samsung ended mobile phone production in China, moving to countries such as Vietnam and India. Inventec Corp., plans to shift production of notebook PCs (including HP branded PCs) for the U.S. market from China to Taiwan. A CNBC article cites Vietnam, Taiwan and Thailand as the biggest beneficiaries of the production shifts.
Electronics production data by country demonstrates the shifting production. China electronics year-to-year growth was in the 12% to 15% range in each month of 2018. In 2019, growth has ranged from 7% to 11%. Taiwan's production has boomed in 2019, reaching a 24% three-month-average growth versus a year ago in August. Vietnam has experienced accelerating electronics growth in 2019, reaching 12% in October. U.S. electronics production has been showing modest growth in the 5% to 7% range for most of 2018 and 2019 but slipped to 2% in September. Thus, it appears the U.S.-China trade dispute has not been a significant boost to U.S. electronics manufacturing. Other major electronics producing countries have been weak lately. South Korea, Japan and the 28 countries of the European Union (EU28) have been flat to negative for most of 2019.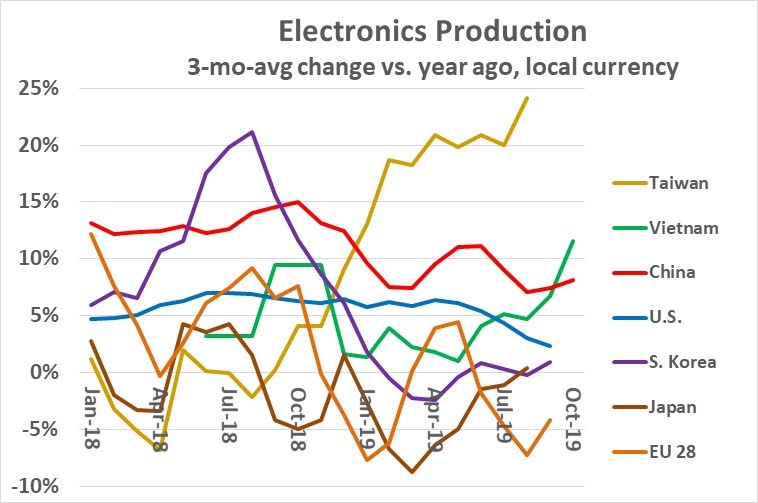 Although the shift of electronics production from China to other Asian countries has been accelerated by the current trade dispute, the trend has been in place over the last few years. Multinational companies are moving production to Vietnam and other countries due to lower labor costs, favorable trade conditions and openness to foreign investment.
How is the trade dispute affecting overall electronics in 2019? Key electronic equipment markets remain weak. Gartner projects combined unit shipments of PCs and tablets will decline 3.1% in 2019, followed by a 2.4% decline in 2020. IDC forecasts a 2.2% drop in smartphone units in 2019. Smartphones are expected to grow 1.6% in 2020, helped by the emerging 5G market. The impact of the trade dispute on PC, tablet and smartphone shipments is difficult to measure. These are mature markets which have been weak the last few years.

How will the U.S.-China trade dispute affect the economy and electronics going forward? Goldman Sachs estimated the trade dispute has cut 2019 GDP by 0.5% in the U.S. and 0.7% in China. The Consumer Technology Association (CTA) estimates tariffs on China have cost the U.S. consumer technology industry almost $12 billion since July 2018.
U.S. consumers have not yet seen tariff driven price increases on most electronics. However, unless a resolution is reached, on December 15 a 15% tariff will be applied to U.S. imports from China of mobile phones, TVs, digital cameras, set-top boxes, laptop PCs, tablets, video monitors, headphones, video game consoles, smartwatches, fitness trackers and other consumer products. Consumers are conditioned to expect a general trend of lower prices and higher functionality for electronics. If implemented, the 15% tariff will not affect the 2019 holiday season, but going forward it will negatively impact the U.S. demand for consumer electronics in 2020.
Share this post via: