Sensors are critical to every new automotive design, whether created for a driver or self-driving. Frame rates and resolution for car, truck, and SUV imaging systems continue to rise. Getting data from each sensor to a location in the vehicle with sufficient processing power may be challenging, especially when AI inference algorithms must work on data streams in real-time. Automakers turned to MIPI, initially targeted for mobile applications, for interfacing high-resolution, low-power sensors, and CSI-2 has emerged as a de facto standard in automotive imaging systems. Automotive-grade MIPI PHY IP gives auto manufacturers and subsystem providers confidence they can deliver the speed, reliability, and certifiability needed. Mixel provided a glimpse at #60DAC into how it supports automotive safety certification and what some of its automotive customers are doing with Mixel PHY IP.
Aligning processes and IP with quality and safety standards
Competing as an IP supplier for automotive business means stepping up to the processes and documentation needed to obtain industry certifications. Automotive designers cannot tolerate failure risk, no matter if IP delivers the required functionality. Mixel has been on a course to achieve automotive-grade certifiability since 2016, developing a solid position in three areas over many years of supplying its automotive MIPI PHY IP solutions.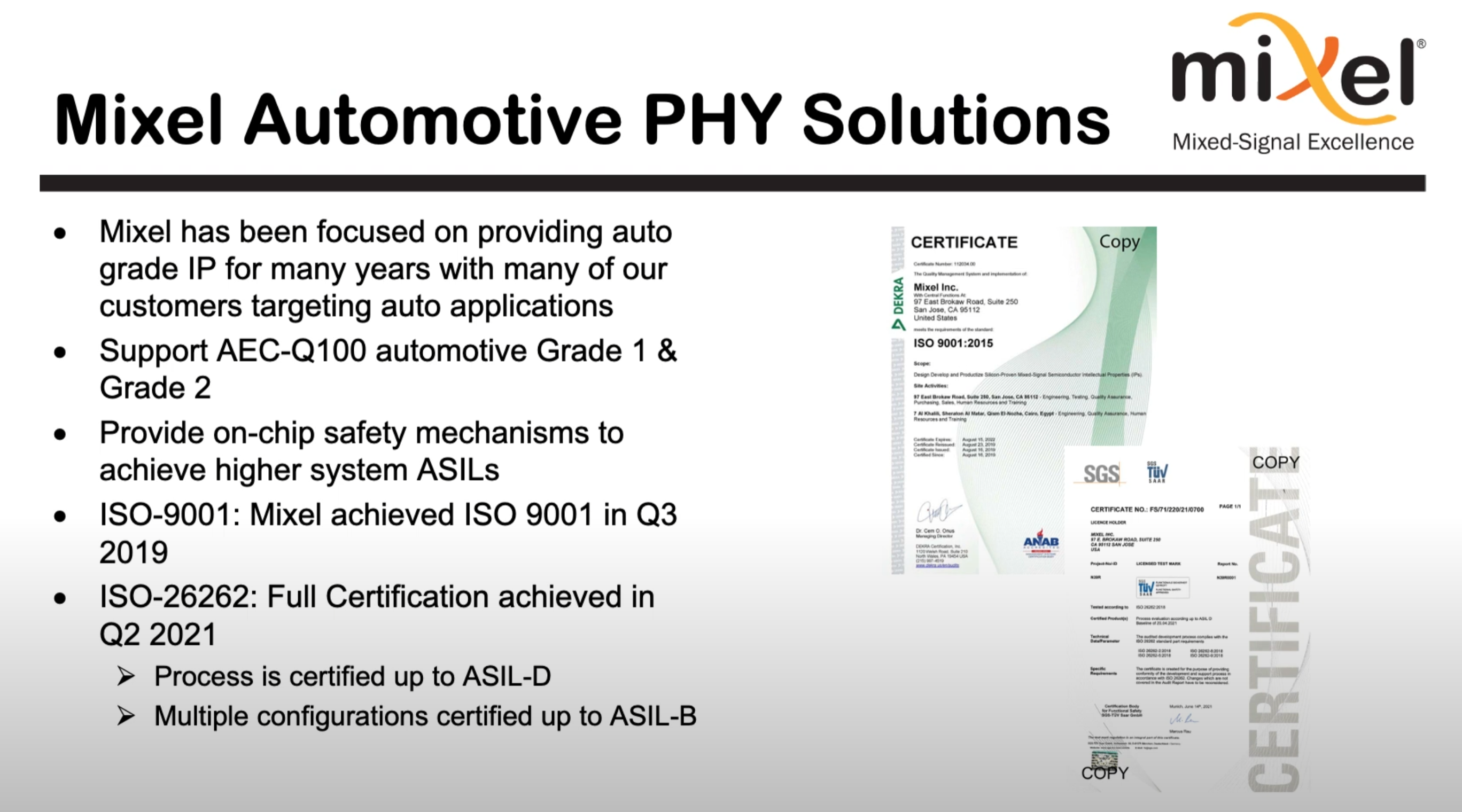 ISO-9001 is the foundation of quality management systems. Mixel first achieved ISO-9001 certification in Q3 of 2019, putting them on a basic level of quality traceability through engineering and supply chain processes.
AEC-Q100 (currently at revision J as of August 2023) has guided automotive electronic systems design for many years. It defines minimum stress tests for failure mechanisms in integrated circuits. These include apparent failures that affect functionality, conditions that induce failures that may not be observable in an application, and extreme conditions causing unintended consequences. Mixel PHY IP supports Grade 1 (ambient temperature up to 125°C) and Grade 2 (ambient temperature up to 105°C) to help its customers achieve AEC-Q100 compliance.
ISO-26262-1 (updated in 2018) is an international functional safety standard targeting hazards caused by application-level malfunctions and interactions between electronic systems in production road vehicles. It provides a framework for integrating functional safety into a product and process requirements for engineering development. It also defines safety levels, from the lowest, ASIL A, for low-harm failures such as taillight malfunctions to the highest, ASIL D, seeking to prevent potentially life-threatening failures. Mixel first achieved ISO-26262 certification in Q2 of 2021, with its engineering process certified to ASIL D, while its MIPI PHY IP configurations are certifiable up to ASIL B.
Examples of automotive-grade MIPI PHY IP use cases
Justin Endo, Mixel's Director of Marketing and Sales, highlighted their automotive-grade MIPI PHY IP in customer use cases. indie Semiconductor, a pure-play automotive fabless semiconductor supplier, acquired GEO Semiconductor in February 2023. GEO has evolved three generations of its "geometric processor" for advanced driver assistance systems (ADAS) with Mixel PHY IP. In the latest GW5 version, GEO uses two pairs of MIPI CSI-2 D-PHY TX/RX interfaces, bringing images from two sensors into the vehicle for processing and display.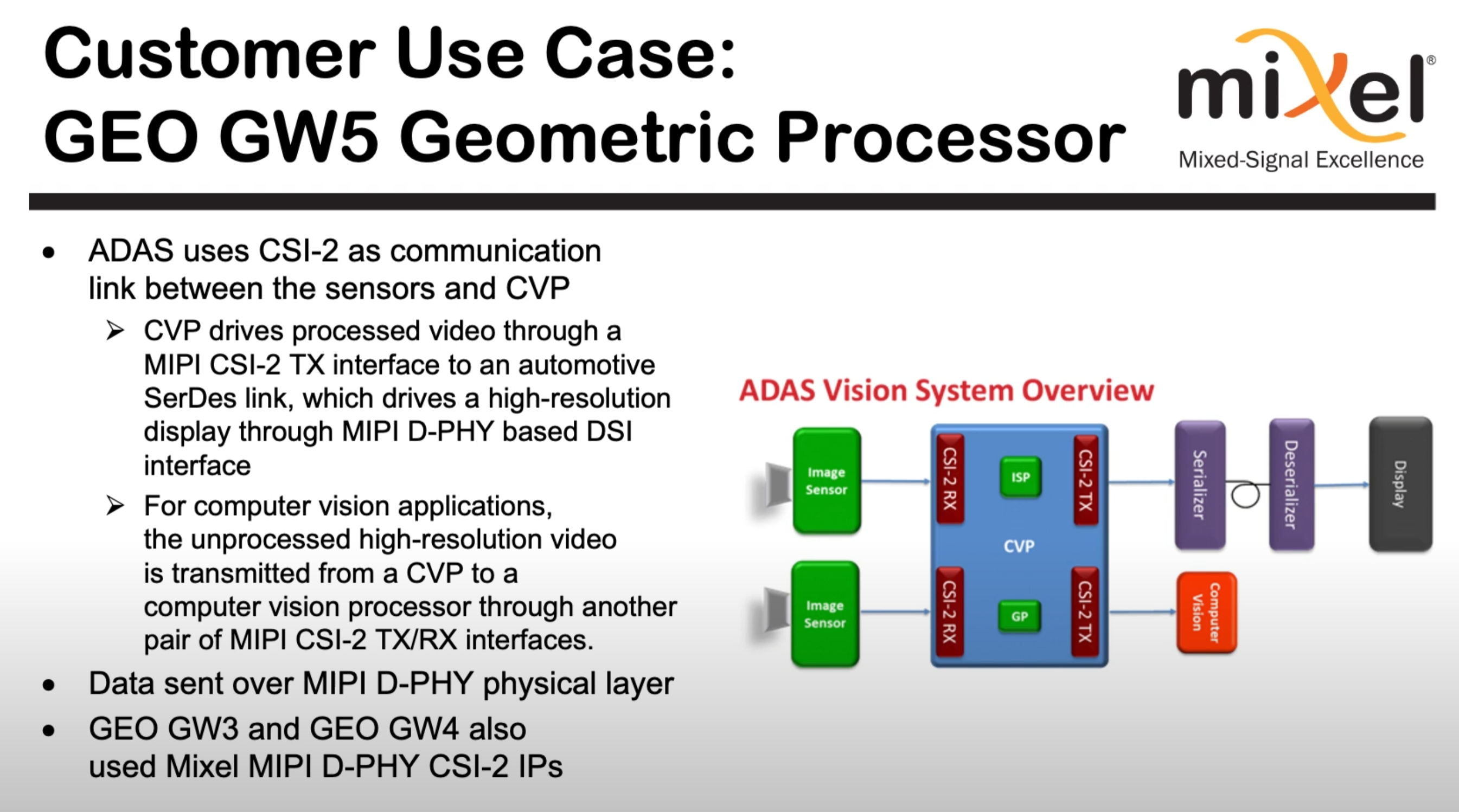 Renesas, through its IDT subsidiary, also uses Mixel PHY IP in products for automotive applications. IDT has created a mixed-signal SoC for multi-channel sensor interfacing with sample rates into the hundreds of MHz. The SoC's analog front-end filters and converts sensor data, which is then pre-processed digitally and merged into a data stream for transmission to an electronic control unit (ECU) over a four-lane MIPI CSI-2 D-PHY TX running at 2.5 Gb/sec per lane. The part is certified to AEC-Q100 Grade 1 and ISO-26262 ASIL B.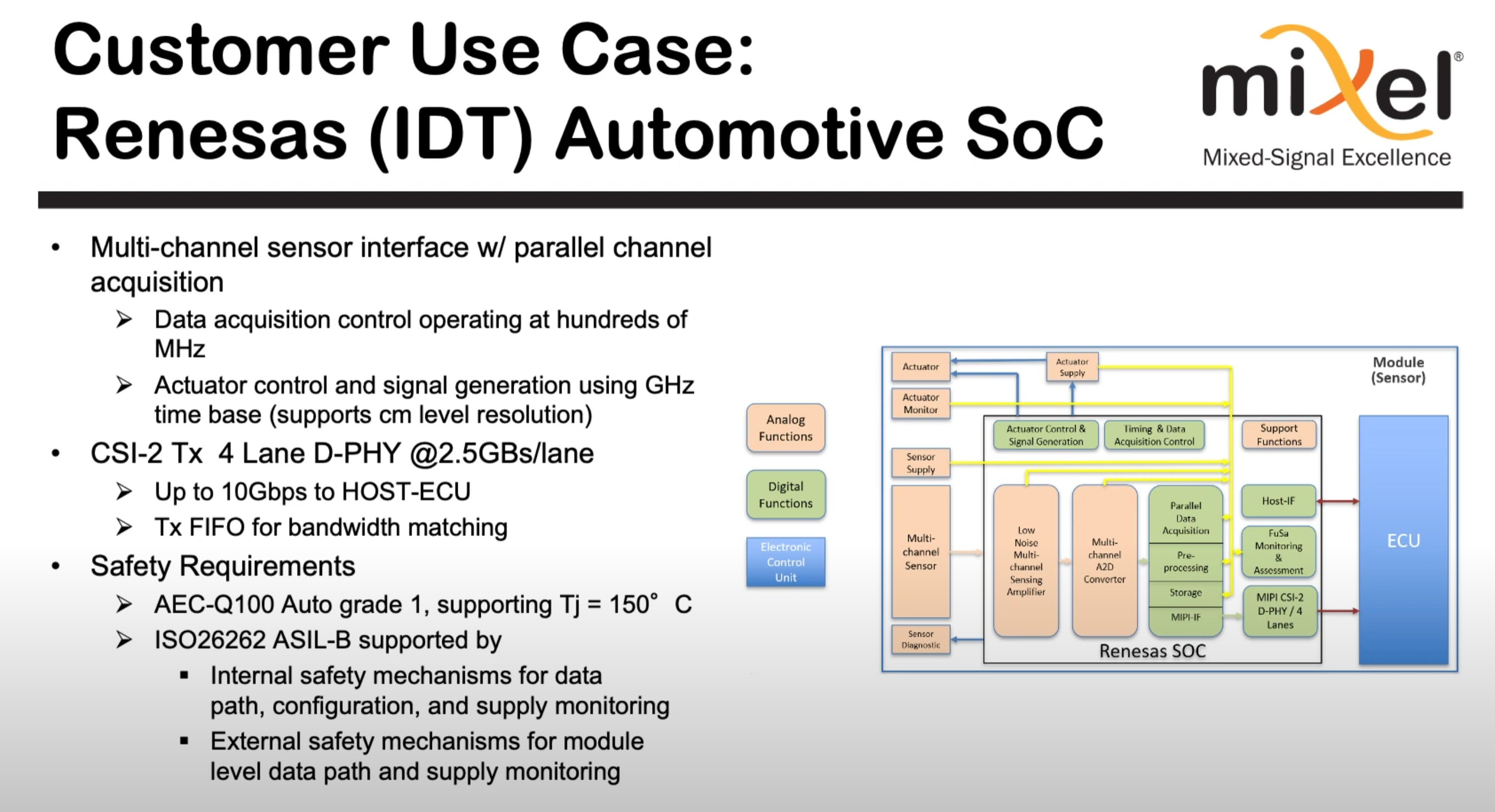 Endo also shares that NXP is a long-time Mixel PHY IP customer, using various configurations to move data from a camera to their automotive SoCs.
Investing resources in automotive markets
Not every IP supplier will invest in process and certification to participate in automotive markets, and having a high-performance product isn't sufficient to win automotive designs in this safety-minded business segment. Mixel has both pieces of the solution: a robust MIPI PHY IP product portfolio with the engineering and business processes qualifying them as a reliable, trustworthy automotive supplier. With more automakers designing custom SoCs and more imaging sensors per vehicle, Mixel is ready to help designers differentiate their solutions.
For more on Mixel's automotive-grade MIPI PHY IP and certifications, visit
Mixel: Automotive Functional Safety (FuSa)
Share this post via: