In sports, we're all familiar with how even a team with the best individual players for every role needs to be coordinated as a team to win a championship. In healthcare, a patient is better served with a well-trained primary physician to coordinate with the various medical specialists. The field of semiconductors involves a series of complex functional steps from architecting a chip to designing it all the way through to manufacturing, quality control and logistics. Driven by complexity increases, the semiconductor supply chain has gotten disaggregated over the last few decades.
The above transformation has led to specialization by individual players in the ecosystem and enabled rapid advances within each respective functional areas. Whether it is chip design, package design, package and test or even logistics for that matter, there are subcontractors that are involved. While the functional specializations have opened up tremendous opportunities for System-on-Chips (SoCs) to push the performance, power and area (PPA) benefits, they have also introduced some vulnerabilities. The modern SoC design and manufacturing supply chain can lead to communication chasms between different players and missteps in various phases of the process. In a recent press announcement, Sondrel describes how these communication chasms can ripple through the entire supply chain, creating delays and huge cost overruns.
With chip development costs running in the millions of dollars and time to market schedules ever so tight, even a single misstep can be disastrous for a chip company. Extending the sports and healthcare analogy, chip development needs an entity to oversee all phases of the entire process. This entity should possess not only deep consulting capabilities but also have in-house expertise to deliver complete turnkey services to transform designs into tested, volume-packaged semiconductor chips. That's why Sondrel offers a complete turnkey service from concept to shipping silicon so there is no possibility of any communication chasms. Sondrel takes total responsibility for the smooth running of every stage and every subcontractor in the supply chain. In addition, Sondrel offers many market-specific, reusable and customizable, reference platforms, which it calls Architecting the Future. These enable it to rapidly develop differentiated chip products for its customers as designing does not start from scratch every time. It also offers chip development consulting services including chip architectural study reports.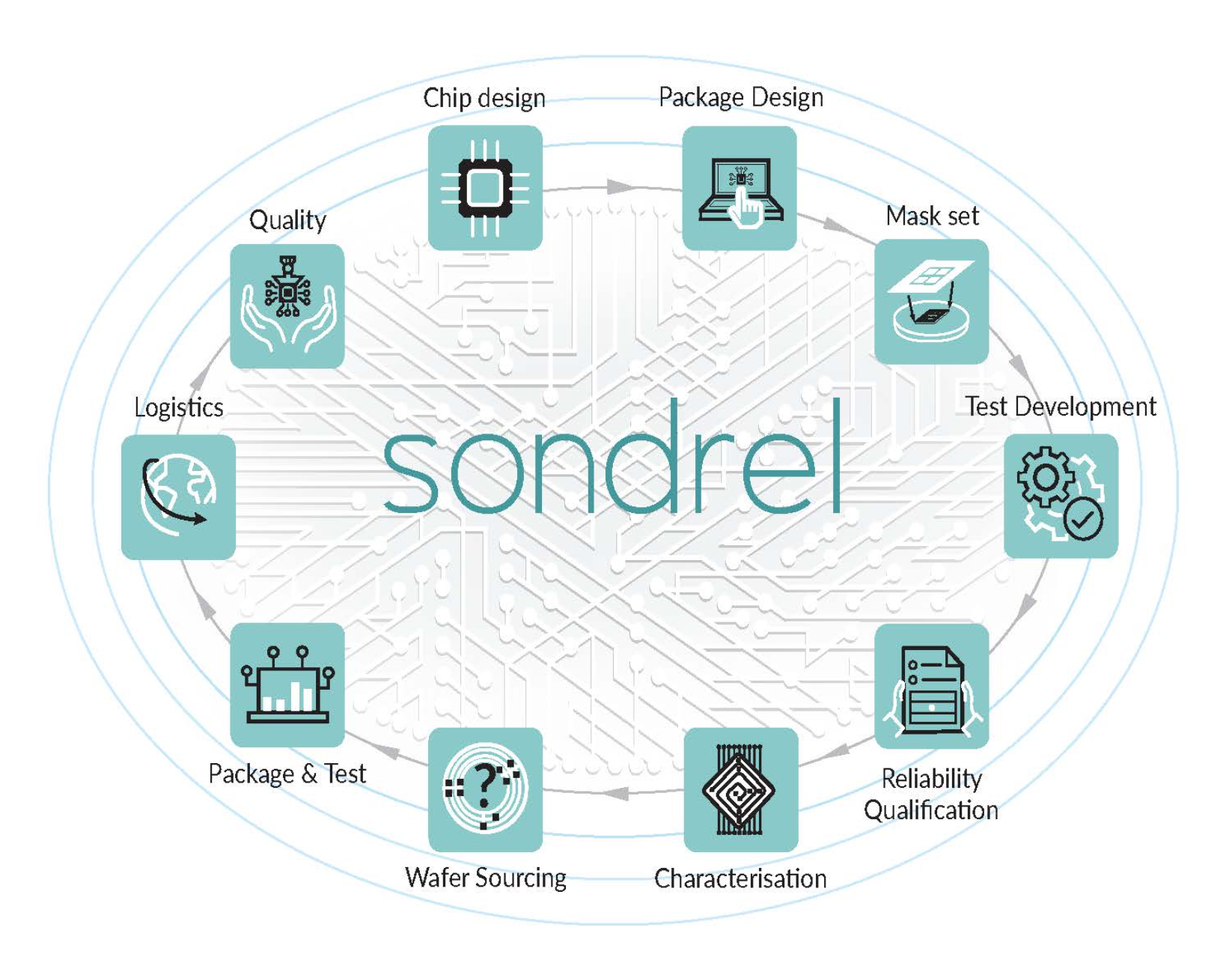 Sondrel has been serving fabless and systems companies in this capacity for a long time. It serves the Automotive, AI at the Edge, 8K Video, Smart Homes/Smart Cities, Consumer Devices, and Wearables markets and more. Sondrel's designs have been incorporated into mobile phones, game consoles, security systems, AR/VR systems, network switches and routers, cameras, computer systems and many more. With a long successful track record of customer products in various end markets, Sondrel has mastered a holistic approach to developing chips for its customers. It deploys its deep understanding of all aspects of chip development to produce designs optimized for PPA and time to market requirements.
Sondrel's Offerings
Full Turnkey Service
Sondrel's full turnkey service manages every stage of the process from chip concept to final silicon. Its Operations Team manages all downstream stages after the design is done. This includes liaising with the fabs through to selecting the most appropriate packaging OSAT, Test Development and logistics partner. Sondrel's software team develops the required software to get to Board Support Package level. The software team is also experienced in producing software for drivers and validation tests for the whole SoC.  For more details about Sondrel's Full Turnkey Service, please see here.
Architecting the Future® Reusable IP Platforms
Sondrel has developed a family of reference designs for major applications to help reduce risk and time to market for its customers. Customers can easily add their own IP as well as third party IP to rapidly create a differentiated solution. Then, Sondrel's manufacturing service team provides a total unit cost estimate based on foundry, test, qualification and packaging choices. This is a very important part of viability analysis. For more details about the various Reusable IP Platforms offered, please visit here.
Architecture Study Service
The world of electronics is full of creative ideas and the biggest challenge for a customer is to understand which ones can be turned into realities. Of course, one would want to find out the commercial viability before starting the whole process of building a chip. Sondrel's architects explore different options using abstracted what-if modelling to test alternatives and arrive at a candidate architecture. The modelling and analysis of key system behaviors validate that the architecture will behave as intended. With its experience designing hundreds of chips, Sondrel provides a detailed architectural study report that includes a high accuracy cost analysis for building a chip. For more details about its Architecture Study Service, visit here.
Also Read:
SoC Application Usecase Capture For System Architecture Exploration
Sondrel explains the 10 steps to model and design a complex SoC
Build a Sophisticated Edge Processing ASIC FAST and EASY with Sondrel
Share this post via: