It's no secret that system companies are driving a lot of new silicon. Google, AWS, Tesla and others have well-established design teams delivering differentiated servers, AI engines and other technologies. I'm sure NVIDIA suspects sub rosa projects are already underway in many of these hyperscalers to design out their GPUs.
Below those dizzy heights, there is plenty of demand among midlevel system suppliers to build the essential brick-and-mortar silicon underlying modern electronic systems. Advances in edge AI, automotive networking and support for zonal architectures, and fixed wireless access devices for industrial and building automation are all very active domains. System builders here must also differentiate in their silicon platform to meet affordability and low-power objectives but span a spectrum from zero chip expertise, to logic design only, to an in-principle full design team not yet proven on a high-risk project.
Sondrel, a UK ASIC design services company, has provided an answer for many years to such clients, growing to be the biggest digital Design and Supply and ASIC design services organization in Europe.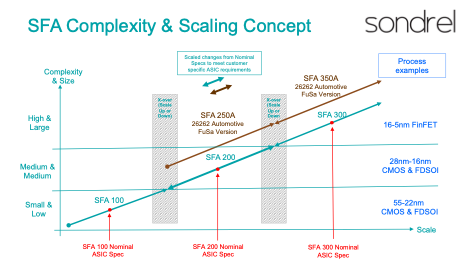 About Sondrel
The company was established in the UK in 2002. Starting in back-end design services where demand is commonly highest, they have grown steadily, acquiring the ST Morocco design center and the Imagination Technologies IMG Works team, the latter adding architectural and front-end design expertise. Sondrel now has design centers in the UK, India and Morocco, with sales offices in Europe, the US and Israel (Redtree Solutions).
These are not simple designs. Even in the midrange, systems builders want video interfaces, machine learning, automotive compliance, networking, AR/VR, low-power IoT and even blockchain expertise. Design sizes are significant, one recently reported at 500 sq mils with over 30 billion transistors. They are also regularly pushing leading-edge technologies with large chip designs on 7nm and 5nm. Markets served include AI at the edge, automotive, 8K video, smart homes and cities, wearables and consumer devices.
Even more interesting, Sondrel offers a full turnkey service, from concept to delivered packaged and tested parts. They have established relationships with the principal EDA and IP suppliers, foundry relationships with TSMC, Samsung and GlobalFoundries and with leading Test and OSAT companies. Naturally, they provide supply chain management throughout this cycle. Ian Walsh (VP of Biz Dev and VP of North America Operations) makes the point that TSMC and others will only work directly with extremely high-volume customers. The only way anyone but the giants can get access to their technologies is through accredited ASIC services like Sondrel. Sondrel calls their full-service solution Design and Supply, which starts at the design concept and extends to supply chain management and delivery, distinguishing them from other lesser ASIC offerings.
Ian also adds that another key strength is their design team which has worked on over 100 designs over the last 20 years and is tightly integrated. They operate not so differently from established teams in a big semiconductor house, working on platforms they already understand (more on that next). There is plenty of opportunity to keep pushing frontiers, yet with lots of accumulated experience in managing risk. An intriguing option for a wide range of design and supply needs.
The Sondrel SFA platform
Sondrel starts with well-proven reference designs. The SFA 200 reference is architected for single-channel video and data processing, targeted at fixed and mobile (battery-powered) applications, such as Smart Home, Smart Metering, Sensor Fusion and other applications where a compact chip can provide local intelligence for end-point data processing. The SFA 250A variant adds ISO 26262 compliance, including an independent functional safety island as a basis for ASIL D compliance if requested.
The SFA 300 reference has four CPU clusters enabling powerful, scalable signal and data processing SoCs to be created faster at lower costs. This is targeted at signal and data processing applications such as 8K video, facial recognition for surveillance, smart factories, blockchain servers and medical data analysis. In a similar way, the SFA 350A reference is extended to support automotive applications.
The SFA 100 platform is designed for small-footprint IoT applications supporting features such as voice activation, image classification, gesture recognition, filtering, inference and tracking.
I think this is interesting. Turnkey ASIC Design and Supply service, load-balancing the business across the mid-tier of system companies with options to serve monster projects without overbalancing the revenue mix. You can learn more HERE.
Share this post via: