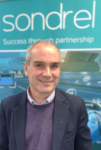 It has been my pleasure to interview Graham Curren, CEO of Sondrel. A veteran of the Electronics Design industry, he founded Sondrel in 2002 to provide digital ASIC designs.
How did you aim to differentiate Sondrel when you started?
My view of the market was that there were a lot of small design companies and also huge in-house design teams. There was a gap that would grow as chips would only become more complex taking them out of the skill and price range of many companies. I founded Sondrel with the aim of being able to take on the design of a chip that would need teams of engineers working for a year or more and provide some economy of scale.
How well did that work out?
Badly to start with, because it was at the end of the dotcom boom (or the start of the bust).  However, over time, things improved and, over the last 18 years, we've grown at an average of around 25% every year.  We had to grow, of course, to be able to reach the staffing levels so we could handle design contracts for big digital chips. In fact, we are one of the few companies in the world with the staff and expertise to tackle such enormous projects – apart from those with in-house design teams.
How big are we talking?
We are regularly designing large chips, such as a recent one of 500 square millimetre chip that has over 30 billion transistors, 40 million flipflops, and 23 thousand pads for I/O, power and ground.
That would be beyond the skills of many in-house design teams!
Exactly. Which is why customers come to us as we have the experience of designing the architecture of big chips and solving the many associated challenges such as the NoC (Network on Chip), timing issues between different parts of the chip and between different chiplets for a SIP design, etc. As we have solved these challenges on many different chips, we provide a low risk means to get to market faster. Part of this success is that engineering teams have access to the rest of the 200 plus engineers working for Sondrel to brainstorm for ideas, additional skills and experience.
Do you only do big chips?
It is our speciality; however, we are doing some smaller devices now in response to customer demand since we are offering a full turnkey service of design through product validation to shipping silicon. This is really exciting existing customers and bringing in new customers who want the security of a one-stop shop for their product creation in silicon.
Why are you offering turnkey services?
Defining and designing a chip for a customer means that we really get to know them and what they want their chip to do and we are able to bring some of the advanced process techniques to the older generation nodes.  This can have a big impact on things like testing, minimising test time and field test failures which are a very expensive but often under-represented part of the design process. For these customers we become a trusted partner.
The supply chain is a complex process to manage with many opportunities for mistakes that could result in costly delays. So many customers told us horror stories about the less advanced supply chain support that they had received that we decided to solve it by offering a full turnkey ASIC service to take responsibility for the whole process from the initial brief for the chip, designing the ASIC and then managing the supply chain process right to shipping the tested silicon chips to customers. We are the single point of contact managing everything giving opportunities to improve the chip as time moves on, for example by improving the test to catch more failures. This means that customers can now focus all their energies on their area of expertise and innovation, safe in the knowledge that we will deliver the silicon to turn their ideas into real products.
Any other design specialities apart from big designs?
Of course, all designs in the latest technologies have huge numbers of transistors and therefore can be considered big! Designs can have Giga numbers of transistors and yet the actual size is in the square millimetres. Which is why we often describe them as complex chips and that what we do as a company is to make complexity simple.
We are very skilled at supporting the newer technologies – almost everything we do is below 28nm going right down to 5nm. Then there are design domains such as low power and high security where we have long established expertise. Functional safety and radiation hard are two examples of the new exciting areas that we are working on with clients.
All these different areas provide the variety that our designers really like as it enables them to learn new skills. That really attracts engineers to join us as we are big enough to have the latest tools and innovations, yet small enough that individuals' ideas are listen to and can make a real difference to projects.
Sondrel is very well known in Europe and Asia but much less so in the USA. Why is that?
Growing a company organically has to be done at the right speed. Too fast and you can't manage it (and you run out of cash). Too slow and others take your market share. We are headquartered in the UK so naturally our first focus was Europe. Then Asia as we have offices there with design engineers so it was logical to have sales teams there too based in our largest market in the region – Xi'an, China.
2021 is the year that we are really starting to build our presence in the US starting with Silicon Valley. A year ago, we took on Dave Krishna as VP of Sales and Marketing, North America. He is a great guy and so well connected that he is finding projects despite the COVID lockdown. We have now welcomed others to the team and have expanded our sales and technical support locally both in southern California and on the east coast. We are looking to continue to grow this team rapidly with positions for engineers and business development experts.
How has COVID affected Sondrel?
Fortunately, hardly at all. Unlike many design companies that have teams of people in offices as the only way to operate, a couple of years ago we ensured that all our staff have the ability to work effectively from home with fast, secure internet connections to our servers. As lockdowns were imposed in the various countries round the world that we operate in, we simply closed that office and the staff started working from home the next day. It helps that we have more senior, experienced staff that don't have to be closely supervised to do their work. As a result, not a single customer project has been delayed, and we are receiving enquiries from customers who have been let down by our rivals who could not cope with lockdowns.
That's great forward planning!
The ability to work from home is just one of the things that we have in place to make Sondrel a great place to work. I'm a firm believer that happy staff work better and are committed to go that little bit extra if needed. It certainly showed by the way that everyone pulled together to cope with all the issues of the pandemic.
What else do you do for staff?
We have always had flexible working hours for good work/life balance, which helped when staff had to also become teachers for their children locked down at home. Another big thing is the Social Committee that every office has and organises events from paintball to family picnics and from bowling to flower arranging. These events help bond us into a big family. Even during lockdown, they were organising quiz nights to keep people in touch with one another. Despite many requests, we have yet to manage a virtual curry night!
Are you finding it hard to recruit in the lockdown?
Not really. It has become quite apparent how different we are to rivals in terms of working arrangements, some of whom are insisting that staff have to come into offices and not work from home. As a result, engineers are approaching us to join. Fortunately, we recruiting for staff in all our offices around the world – China, USA, UK, France, Morocco and India. Our target is to recruit over a hundred engineers this year.
Why so many?
As I mentioned, our systems were already in place for home working. Some rivals really struggled and let customers down. They are turning to us with projects as we have proven to be a very safe, reliable partner so 2021 is looking very good for us. Which is why we need many more engineers to service this dramatic increase in business.
Also Read:
CEO Interview: Mark Williams of Pulsic
CEO Interview: Sathyam Pattanam
CEO Interview: Pim Tuyls of Intrinsic ID
Share this post via: