Access to sophisticated RF EDA tools is one thing. Effectively harnessing their capability in real-world use is another. Digital EDA and test & measurement providers have long recognized ongoing customer education needs for their solutions. Keysight is embarking on an initiative to develop curated EDA experiences with a wide range of free learning for RF EDA solutions.
Curation brings users better information
Keysight teams already produce a massive quantity of information online, most of which lives a very long life somewhere tied to an asset. "If you go and search Keysight.com for 'oscilloscopes' today, you're going to come up with thousands of documents, videos, applications, notes, and white papers," says Linas Dauksa, Senior Digital Marketing Manager for Keysight. "Much of this material we've developed as vendor-neutral for learning to do something with any oscilloscope – we're teaching users, not selling gear."
Still, an unaided search can produce many results – some new, some old, some on target, some not maintained. Curation can pull better results to the top, but it takes skilled resources. For the last four years, Keysight has quietly assembled an experienced digital learning team to begin the process, creating a portal called Keysight University as a first step and collecting RF EDA content in pages like this one focused on RF circuit designers.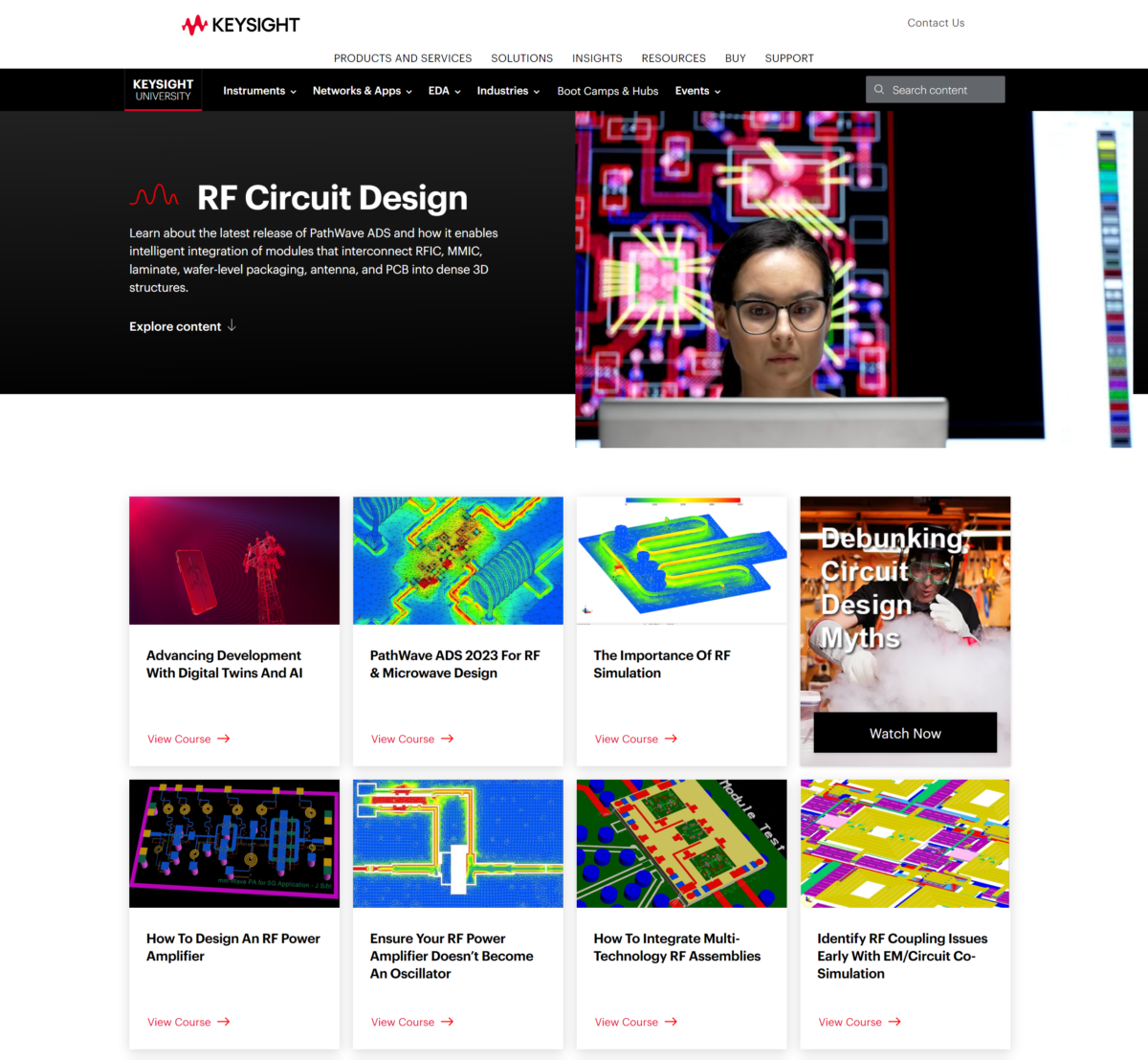 "We originally thought of Keysight University as a pre-sales tool," says Julie Pildner, Digital Learning Marketing Manager. "Soon, we discovered people were using the information in many different ways at all points in their journey – and the journey didn't necessarily take them through the portal for everything they found useful."
Formatting for smoother consumption in short or long form
A funny thing happens when asking people to pay for anything: expectations jump. There's always a freemium model, where introductory information is openly available, and higher-value content is behind a paid subscription wall. The hope is free material demonstrates enough value to convince a user to subscribe and get more access for a fee. That approach can leave a lot of users behind, however.
"If I've paid for a subscription, and I launch into a 45-minute webinar without well-designed sections, there's a risk I lose interest before I get the information I was looking for," says Richard Duvall, RF EDA Portfolio Marketing Manager. "To solve that, we're converting many of our longer content hits into easier-to-find, easier-to-navigate lessons."
Rather than locking the entire content behind a paywall, a user journey might take them directly to a lesson section and deliver the curated EDA experiences with minimal time and no fees invested. Duvall and others have been busy converting webinars on various topics into lesson modules that look more like this one on How to Design an RF Power Amplifier. Note how users can go hands-on with downloadable workspaces reinforcing lessons.
Pildner quickly points out that learners sometimes look for full-length, deep-dive webinar content on a complex topic – or maybe long-form insight, like a boot camp, from a particular expert. She sees free Keysight content in both formats moving forward, saying, "We want to be the trusted source, the first place people think of for test and measurement and RF EDA ideas."
Learning via curated EDA experiences sets a new tone
Starting in August, Keysight learning teams plan on moving away from the hierarchical portal and toward a smoother experience integrated with search, where users can guide their journey faster from more places in Keysight.com and other environments.
These curated EDA experiences with user access to Keysight experts are a big part of the digital transformation in enterprise RF EDA solutions. Users can see how Keysight approaches real-world RF design challenges with broader access to experts and their ideas.
To support your continuous learning effort, visit the extensive EDA course library covering RF Circuit Design, RF System Design, High-Speed Digital Circuit Design, and Device Modeling and Characterization on Keysight University.
Share this post via: