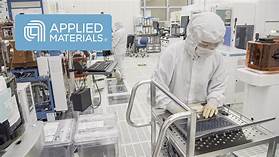 -Strong beat & guide- WFE up in 2021 & 2022-$160B combined
-Taking share in conductor etch & CVD
-Traditional Moore Scaling – No More?
-Foundry Logic leads followed by DRAM with weak NAND
Nice beat & guide & raise
Applied reported revenues of $5.58B with GM of 47.5% resulting in non-GAAP EPS of $1.63. Street expectation was for $5.41B and EPS of $1.51.
Guidance for the current quarter was $5.92B+-$200M and EPS range of $1.70-$1.82 versus street expectations of $5.53B and EPS of $1.56.
Financial results continue to improve nicely year over year with system sales up 50% year on year, great strengths in service and packaging at $800M
Second half 2021 to be up and 2022 also up
Applied went way ahead of its normal conservative guidance to say hat the second half of 2021 will be up over the first half and 2022 will be up over that.
WFE estimates increased for two years
Applied Materials upped the ante in WFE projections from the low $70'sB to the High $70'sB for 2021 and both years combined to be at least $160B which implies continued growth into 2022 which we take as a very bullish statement.
We think Applied management obviously has enough confidence in orders going forward to predict almost two years of growth. That kind of confidence in this industry is highly unusual so we think they are getting very strong signals over the long term from customers including some very large capex spending projections from the largest players.
China business improves
Applieds China revenue was up from last quarters $1.138B to the reported quarters $1.844B gong from 29% of revenues to 33% of revenues and the largest geographic segment of their business.
Obviously Applied is not getting hurt by any embargo on SMIC or others in China as China continues to ramp up equipment purchases more than any other place on the planet.
Share gains in conductor etch & CVD
Applied pointed out share gains in both Conductor Etch & CVD and further pointed to overall share gains in the semiconductor equipment market as compared to their peer group. We would assume that a fair amount of the gains came at the expense of Tokyo Electron.
Packaging at $800M in business looks like a segment of future strong growth as packaging is one of the key "more than Moore " areas that will see increased spend on heterogeneous chiplet packaging.
Service business continues to grow very strongly and is emerging as a strong anti cyclical source of revenue.
Moore's scaling , no more?
Applied suggested on the call that traditional geometric Moore's Law scaling is on the decline (which we would agree with). Their view is that their offerings are favored by non-traditional Moore scaling alternatives which we would tend to agree with.
How far, how fast and how much will be spent on non-traditional scaling remains to be seen but we think EUV spend , which is traditional geometric scaling, will remain huge and get even bigger over time.
The stock
Applied has pulled back since its peak in the $140's around the time of its analyst meeting. It closed yesterday at around $130 and the excellent report and very strong long term outlook could help it regain much of the value that came out of Applied and the rest of the semi equipment stocks. We would continue to be owners and might even get a bit more aggressive on some of the smaller cap or sub supplier names in the space.
About Semiconductor Advisors LLC
Semiconductor Advisors is an RIA (a Registered Investment Advisor), specializing in technology companies with particular emphasis on semiconductor and semiconductor equipment companies. We have been covering the space longer and been involved with more transactions than any other financial professional in the space. We provide research, consulting and advisory services on strategic and financial matters to both industry participants as well as investors. We offer expert, intelligent, balanced research and advice. Our opinions are very direct and honest and offer an unbiased view as compared to other sources.
Also Read:
You know you have a problem when 60 Minutes covers it!
KLAC- Great QTR & Guide- Foundry/logic focus driver- Confirms $75B capex in 2021
Lam Research performing like a Lion – Chip equip on steroids
Share this post via: