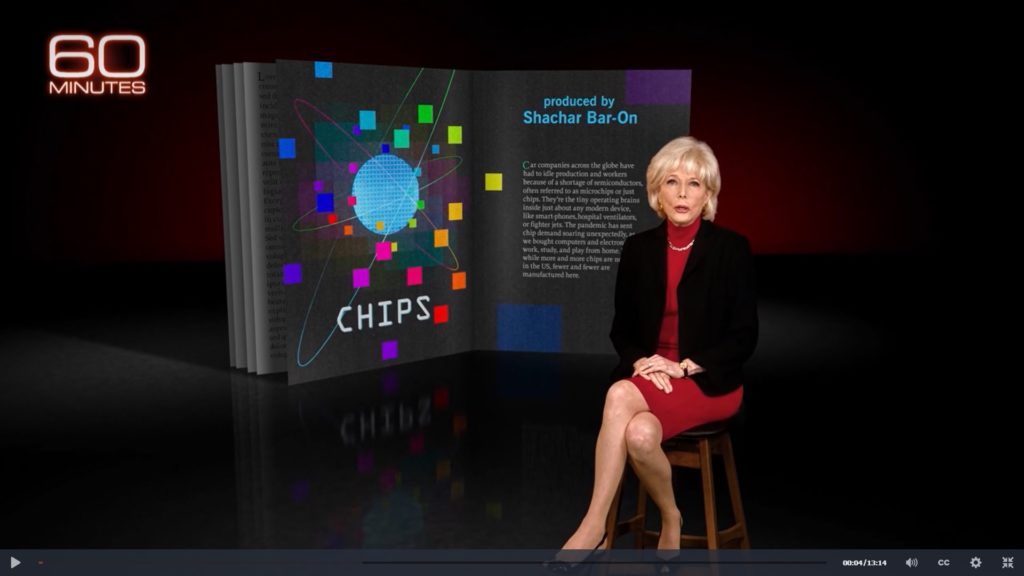 -Chip shortage on 60 Minutes- Average Joe now aware of chip issue
-Intel sprinkling fairy dust (money) on New Mexico & Israel
-Give up on buy backs and dividends
-Could Uncle Sam give a handout to Intel?
You normally don't want to answer the door if 60 Minutes TV crew is outside as it likely doesn't mean good things. But in the case of the chip industry, the shortage that has been talked about in all media outlets has finally come home to prime time.
The chip shortage that has impacted industries across the board from autos to appliances to cigarettes so it has gotten prime time attention;
CBS 60 Minutes program on Chip Shortage
60 Minutes got hold of some of our past articles including our recent ones about the shortage and China risks and contacted us.
We gave them a lot of background information and answered questions about the industry and shortages as we wanted to help provide an accurate picture.
Overall, we think they did a great job representing what was going on in the industry and were both accurate and informing.
Does Intel have its hand out?
We have previously mentioned that we thought that Intel was looking for government help and maybe a handout which was touched upon in Pat Gelsinger's interview , up front. While certainly not directly asking for money, it certainly sounds like Intel wouldn't say no. Intel was clearly shopping the idea under the previous administration in the White House as well as previous Intel management.
The chip shortage both amplifies that prior request as well as makes it more timely. It also gets even more timely when it is put under the banner of infrastructure repair.
Intel is going to hemorrhage Money
We have said that Intel's financial's were going to get a lot worse before they got any better.
We suggested they would triple spend 1) Spend to have TSMC make product 2) Spend to catch up to TSMC (like on EUV and other tools) 3) spend to build extra capacity to become a foundry.
Intel, Gelsinger, even said on 60 minutes that they are not going to be doing stock buy backs.
Intel in Israel & New Mexico
Intel has just announced that in addition the the $20B for two new foundries that it is spending in Arizona, it is spending $3.5B in New Mexico on packaging technology & capacity.
Intel is also spending $200M on a campus in Haifa, $400M for Mobileye in Israel and $10B to expand its 10NM fab in Kiryat Gat, Israel . Its interesting to note that the spend in Israel is not mentioned on Intel's newsroom website as it likely doesn't fit the "move technology & jobs back to the US" that Gelsinger espoused on 60 Minutes.
Between spending on production at TSMC, fixing Intel, building foundries, New Mexico, Mobileye, Israel (likely Ireland as well)…Intel is going to be raining down money all over.
Mark Liu on 60 minutes
Mark Liu was also interviewed as the clear leader in technology and capacity in the chip industry. We think that Liu was very accurate and straight forward when he said that TSMC was surprised that Intel had fumbled.
He also clearly is on the side of the industry that downplays the shortages and thinks they will be short lived.
As to the "repatriation" of the chip industry to the US, as expected he sees no reason for it.
He also stayed away from commentary about the "Silicon Shield" provided to Taiwan by its leadership in chips.
TSMC is clearly in the drivers seat and is not likely to change any time soon
The Stocks
Given the spending and gargantuan task ahead we have suggesting avoiding Intel's stock as its going to both take longer and cost more than anyone suggests and the odds of success aren't great.
Gelsinger is on a world tour sprinkling fairy dust around which he will need the luck of as we go forward.
We would not be surprised if the government does indeed write Intel a check as they are the US's only and last hope of getting back in the semiconductor game which is so critical to our future, not to mention our short term needs.
All this spend will do zero to help the shortage but the shortage did at least bring these issues (many of which we have been talking about for years) to the forefront of peoples minds.
We do continue to think that the semi equipment industry will likely benefit big time especially ASML as they have a lock on EUV.
We also think equipment companies can make a few bucks on their old 6″ and 8″ tools if they can resurrect manufacturing as those are the fabs in shortest supply.
Also Read:
KLAC- Great QTR & Guide- Foundry/logic focus driver- Confirms $75B capex in 2021
Lam Research performing like a Lion – Chip equip on steroids
ASML early signs of an order Tsunami – Managing the ramp
Share this post via: