Worldwide semiconductor shipments were $123.1 billion in 1Q 2021, up 3.6% from 4Q 2020 and up 17.8% from a year ago, according to WSTS. The 3.6% quarter-to-quarter growth was the highest for a first quarter since 1Q 2010, eleven years ago. The strong growth in 1Q21 implies strong growth in the following quarters and for the year 2021. However, supply constraints may limit semiconductor growth in 2021.
The table below show the top 14 semiconductor companies' revenues in 1Q21, change versus 4Q20, and guidance (where available) for revenue growth in 2Q21 versus 1Q21. Of the 12 companies which have reported for 1Q21, three had revenue declines from 4Q20 – Intel, Qualcomm, and STMicroelectronics. These three companies all expect declines in 2Q21 revenues of about 4% from 1Q21. Intel and Qualcomm stated they were supply constrained. STMicroelectronics attributed the decline to seasonal trends.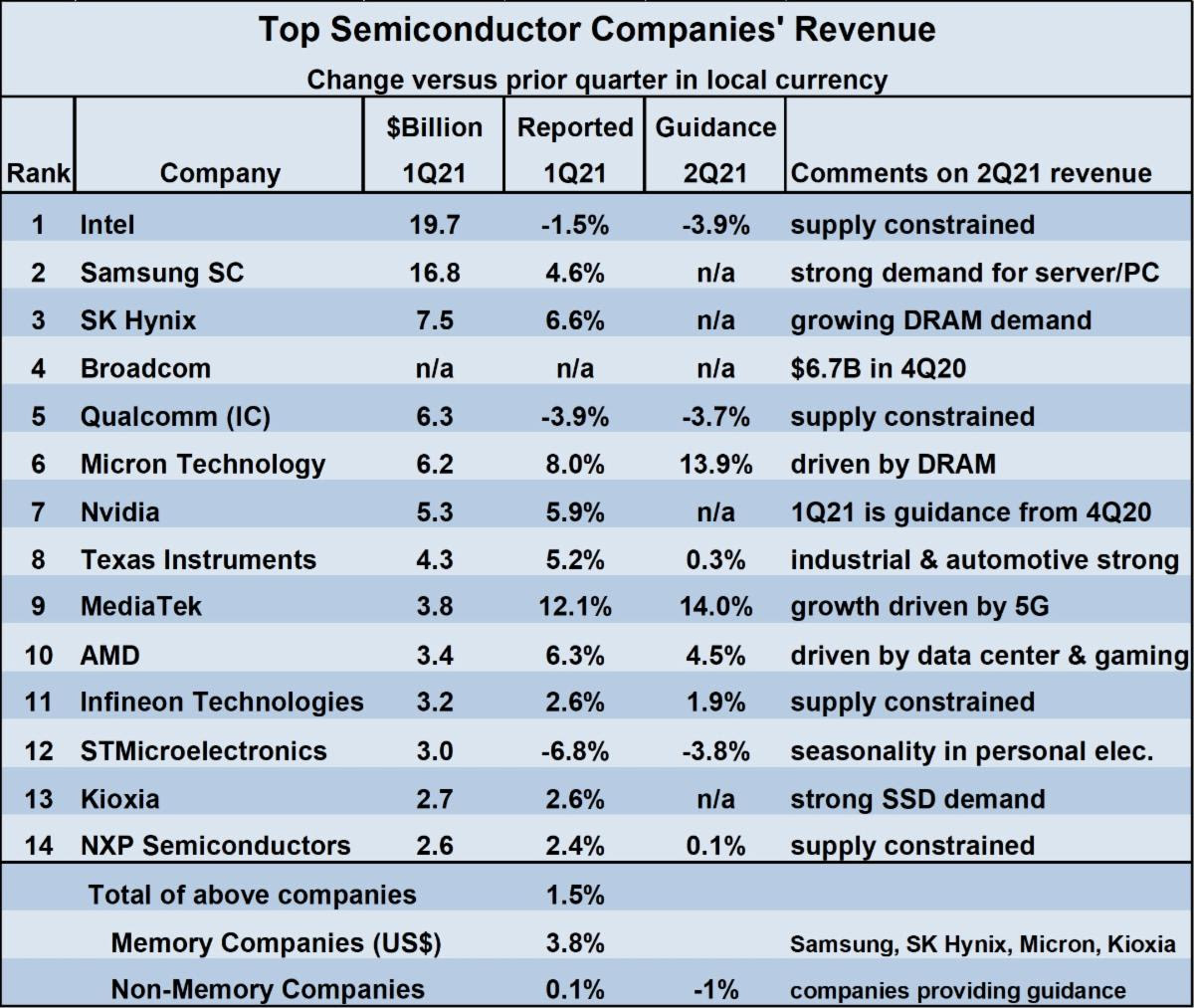 The rest of the companies all had revenue growth, ranging from 2.4% for NXP Semiconductors to 12.1% for MediaTek. These companies all expect 2Q21 revenues to increase from 1Q21, ranging from 0.1% for NXP to about 14% for Micron Technology and MediaTek. NXP cited supply constraints for its cautious outlook. Thus, of the nine companies which provided guidance for 2Q21, four stated they are supply constrained.
How long will the semiconductor industry be supply constrained? A recent article on zdnet.com asserted it could take two years to work out all the semiconductor shortages. CNBC quoted an analyst who send the shortage may not be resolved until 2023. The CNBC article also cited a Gartner report that the shortage will last another six months. As we reported in our last newsletter, the automotive industry has been hit especially hard by the shortage. In a recent interview on CBS' 60 Minutes TSMC chairman Mark Liu said his company can meet customer requirements for automotive semiconductors by the end of June, but supply chain issues could delay automotive production for several more months.
The global economy and key end equipment markets will drive increased semiconductor demand through at least 2021 and 2022. According to the International Monetary Fund (IMF) global GDP will bounce back from a 3.3% decline in 2020 due to the COVID-19 pandemic to a strong 6.0% growth in 2021. GDP growth is expected grow 4.4% in 2022, above the long-term trend. IDC projects smartphone units will rebound from a 6.7% decline in 2020 to 5.5% growth in 2021, moderating to 3.7% in 2022. The PC market grew 13% in 2020 as home-based work and education drove demand. IDC expects 2021 to be even stronger, with 18% PC unit growth. A correction in the PC market is forecast in 2022 with a 5% decline. Wards Intelligence / Morningstar project shipments of light vehicles will grow a robust 11% in 2021 after a 15% decline in 2020. Light vehicle growth will moderate to 7% in 2022, above the long-term trend. However automotive semiconductor shortages could limit 2021 growth.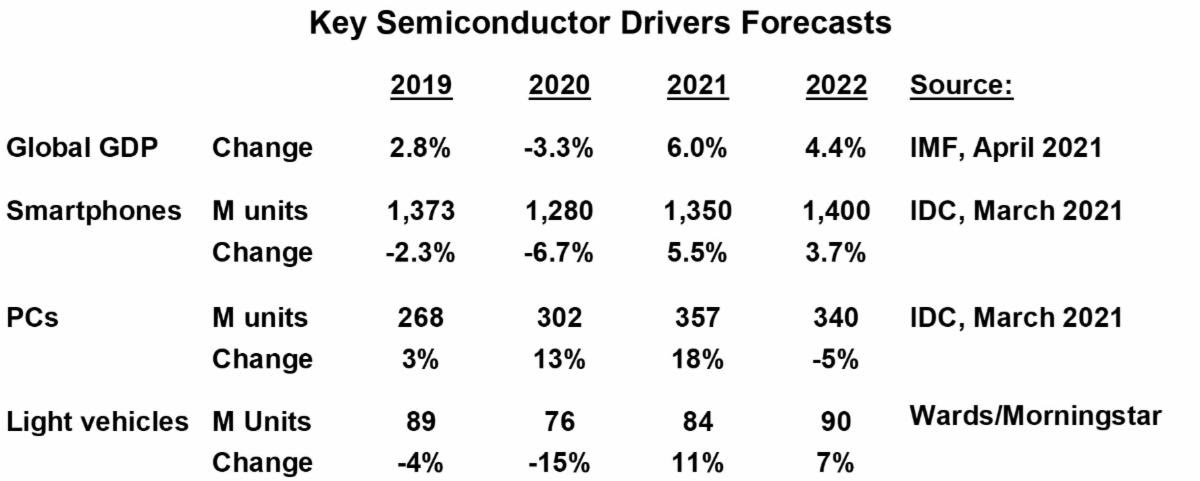 Forecasting the 2021 semiconductor market is particularly difficult as the world recovers from the pandemic. Rebounding demand for electronics is offset by semiconductor shortages. Shortages will drive up some semiconductor prices, but others are set by long term contracts. Building a new semiconductor fab takes about two years, but in many cases, production can be increased at existing fabs in a relatively short time period.
Recent forecasts for the 2021 semiconductor market are in two camps. The December 2020 WSTS forecast was updated with final 4Q20 data, resulting in 10.9% growth in 2021. IDC's May projection was 12.5% in 2021. IDC states robust growth in key markets for semiconductors will be offset by supply constraints. IC Insights believes the strong 1Q21 and moderate quarterly growth for the next three quarters will drive 19% semiconductor growth for the year.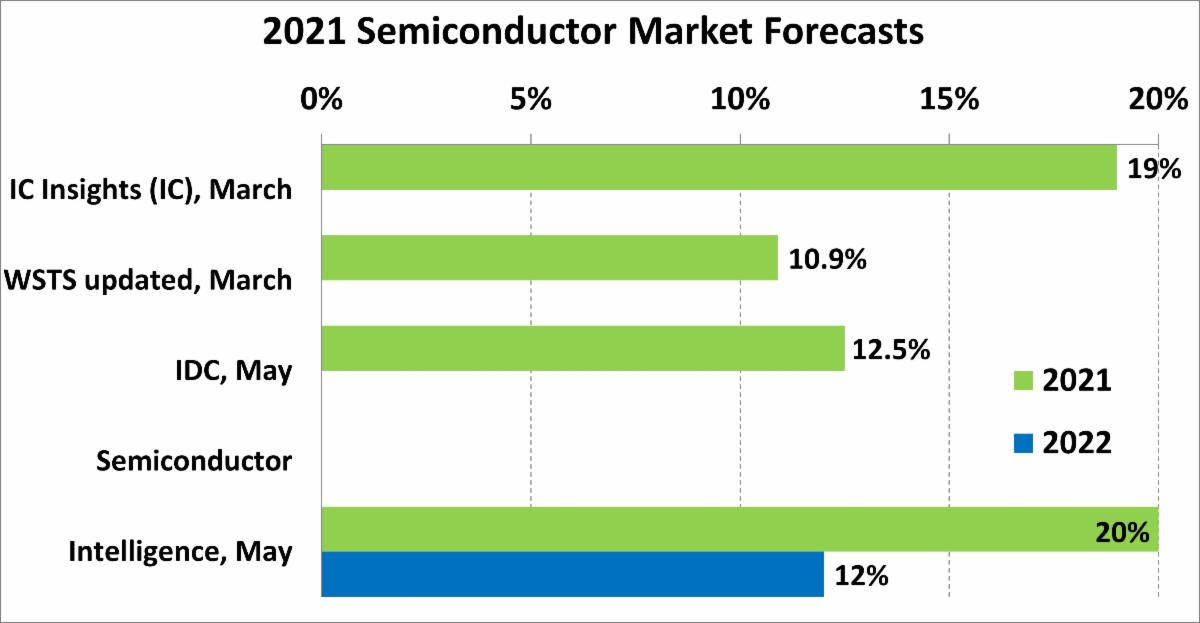 Our latest forecast from Semiconductor Intelligence is similar to IC Insights, with a projection of 20% growth in 2021. We believe strong demand will drive high growth, even though shortages may limit the upside. Without supply constraints, potential growth could be in the 25% range. We expect semiconductor growth to moderate to 12% in 2022, still above the long-term trend growth of 6% to 7%.
Semiconductor Intelligence is a consulting firm providing market analysis, market insights and company analysis for anyone involved in the semiconductor industry – manufacturers, designers, foundries, suppliers, users or investors. Please contact me if you would like further information.
Also Read:
Automakers to Blame for Semiconductor Shortage
Electronics Back Strongly in 2021
Semiconductors up 6.5% in 2020, >10% in 2021?
Share this post via: