Semiconductor sales in 2020 were $439.0 billion, up 6.5% from $412.3 billion in 2019, according to World Semiconductor Trade Statistics (WSTS).
We at Semiconductor Intelligence have been tracking the accuracy of semiconductor market forecasts from various sources for several years. We look at publicly available projections made late in the prior year or early in the forecast year before the WSTS January data for the forecast year is released in early March. For 2020, we have a tie for most accurate forecast between IHS Markit with a 6% forecast made in January 2020 and ourselves at Semiconductor Intelligence with a 7% forecast made in February 2020. WSTS was also close with a 5.9% forecast in December 2019. Forecasts made during this time period ranged from 0% to 10%.
The forecasts made in late 2019 and early 2020 did not account for the impact of the COVID-19 global pandemic. As the severity of the pandemic became apparent by April 2020, forecasters dramatically lowered their expectations for the 2020 semiconductor market. Some projected a double-digit decline. By the middle of 2020, it became apparent the semiconductor industry would not as impacted by the pandemic as other sectors of the economy. Most projections then shifted toward positive single digit growth. Our Semiconductor Intelligence November 2020 forecast was 5.5%. Interestingly, our 7% forecast released in early 2020 was closer to the final number of 6.5% than our forecast in late 2020.
The 4Q 2020 semiconductor market was up 3.5% from 3Q 2020, according to WSTS. The major semiconductor companies generally had strong revenue gains in 4Q 2020. Qualcomm's IC revenues were up 32% from 3Q 2020. AMD and NXP Semiconductors each had double-digit growth while Intel, Texas Instruments, and Infineon each had high single-digit growth. Micron Technology and STMicroelectronics had revenue declines. Three companies had revenue declines in 4Q 2020 versus 3Q 2020 measured in local currency (Samsung and SK Hynix in South Korean won; MediaTek in New Taiwan dollars) but grew revenue when converted to U.S. dollars.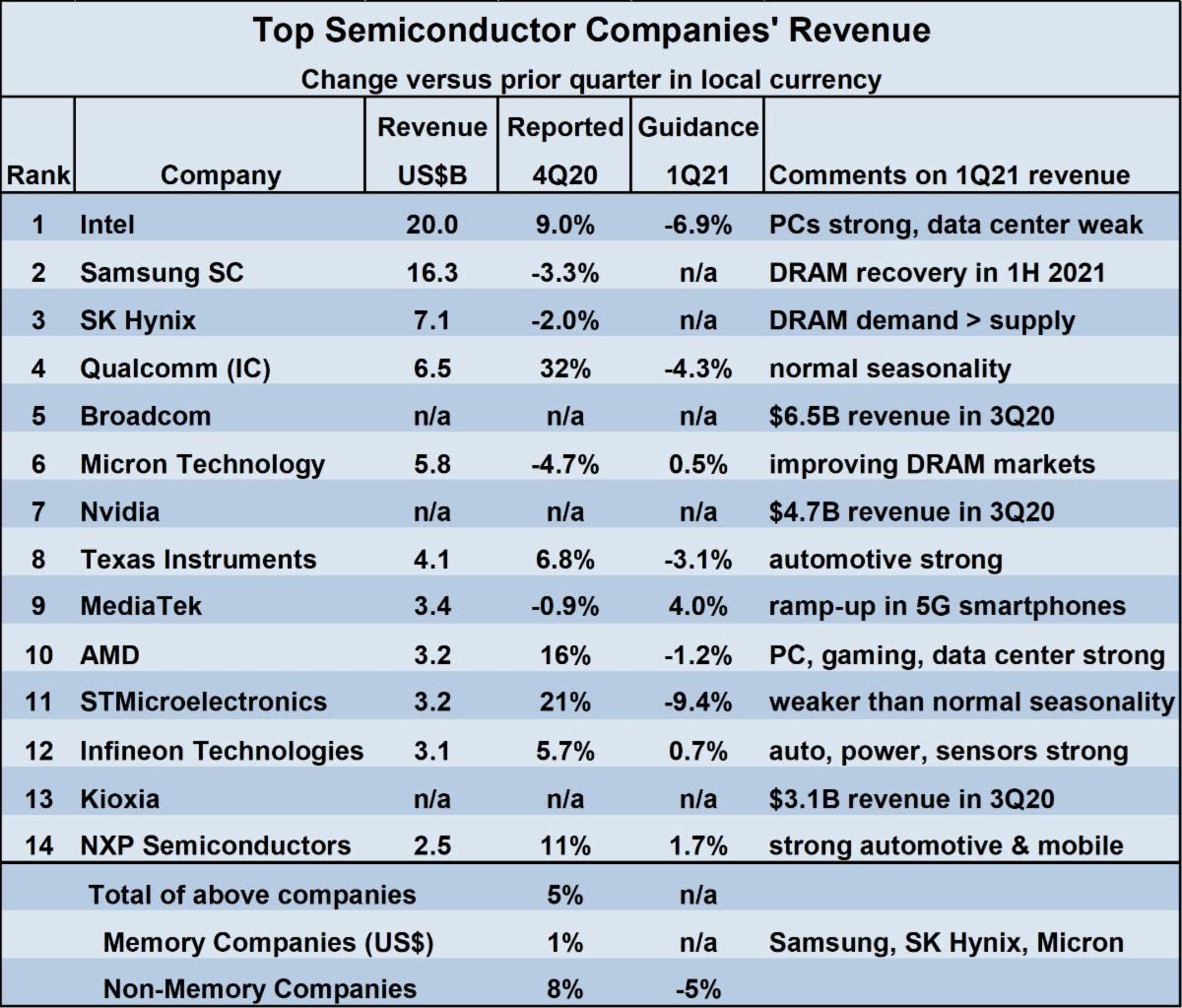 The outlook for 1Q 2021 revenue is mixed. Micron Technology, MediaTek, Infineon and NXP Semiconductors expect revenue to grow in the low single-digits in 1Q 2021 versus 4Q 2020. Intel, Qualcomm, Texas Instruments, AMD, and STMicroelectronics expect single-digit revenue declines – largely due to normal seasonal trends. Automotive was cited as a growth driver by several companies. The memory companies (Samsung, SK Hynix and Micron Technology) all see an improving DRAM market. The weighted average guidance for the non-memory companies is a 5% decline in 1Q 2021 revenue.
What is the outlook for the semiconductor market for the year 2021? Three key market drivers are smartphones, PCs, and light vehicles (automobiles and light trucks). Smartphone shipments declined 11% in 2020, primarily due to pandemic related production delays. Gartner expects strong 11% growth in smartphone shipments in 2021 as production returns to normal and new 5G models drive consumer demand. PC unit shipments increased 11% in 2020 as more people depended on PCs for home-based working, learning and entertainment during the pandemic. IDC projects PCs will return to a more typical 1% growth in 2021. Light vehicle production dropped sharply by 17% in 2020 due to pandemic related production delays and caution by automakers. IHS Markit forecasts a strong bounce-back to 14% light vehicle production growth in 2021.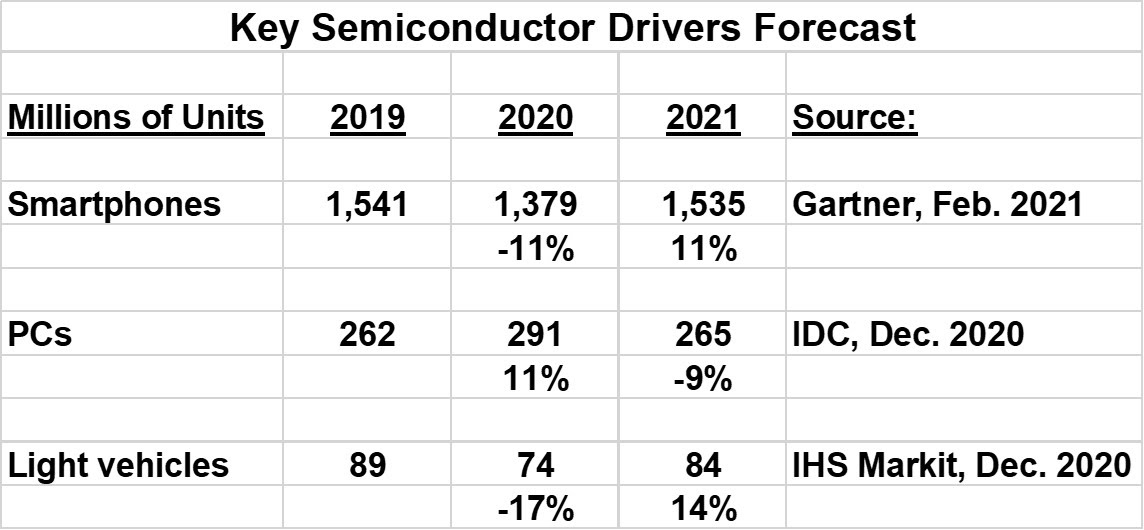 Smartphones are the single largest product driver for semiconductors, accounting for about $115 billion in semiconductor revenue in 2020, according to IDC. PCs are the second largest driver at about $70 billion. However, automotive is becoming an increasingly important market for semiconductors. IHS Markit estimates the automotive semiconductor market at about $40 billion. The average semiconductor content per vehicle is about $500, compared to less than $100 per smartphone and around $200 per PC. Most of the semiconductor value in smartphones and PCs is in relatively few components such as processors and memory. Automobiles contain a much wider range of semiconductor products including controllers, memory, mixed-signal ICs, power devices and sensors.
The automotive market is currently experiencing shortages in many semiconductor products. Reduced automobile production in beginning in early 2020 led semiconductor companies to shift to products for other applications. Fitch Ratings says the shortages could disrupt automotive production for several months, but expects most of the lost production will be made up in the second half of 2021.
Recent forecasts for the 2021 semiconductor market generally call for strong growth. They range from a low of 4.1% from the Cowan LRA model (which is based on past trends) to a high of 18% from the eternally optimistic Future Horizons. A strong consensus has emerged in the 11% to 12% range with five of the eleven projections. We at Semiconductor Intelligence are reconfirming our November 2020 forecast of 14% growth in 2021.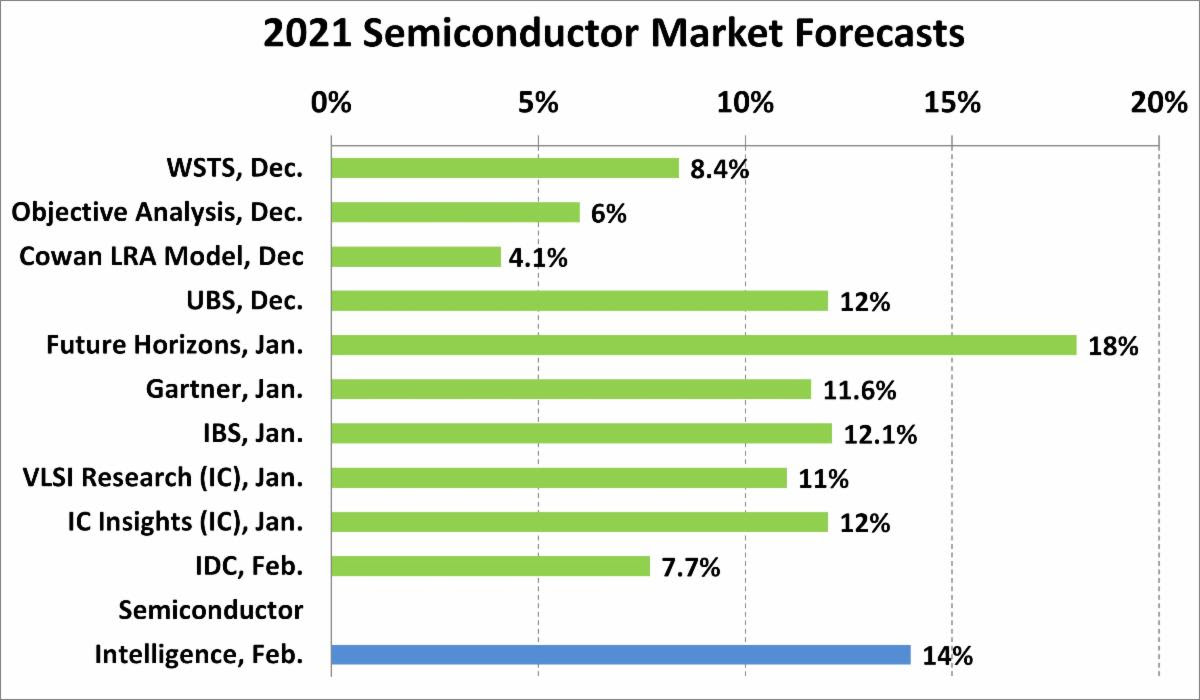 Our 2021 forecast is based on the following assumptions:
Recoveries in automobiles, smartphones, and other end markets more than offset slower growth in PCs.
Semiconductor pricing remains stable or increases slightly as demand exceeds supply in several areas.
The global economy opens up in the second half of 2021 as COVID-19 vaccinations become widespread.
About
Semiconductor Intelligence is a consulting firm providing market analysis, market insights and company analysis for anyone involved in the semiconductor industry – manufacturers, designers, foundries, suppliers, users or investors. Please contact me if you would like further information.
Bill Jewell
Semiconductor Intelligence, LLC
billjewell@sc-iq.com
Also Read:
China Mobile and Computer Update 2020
Electronics Production Healthy
Share this post via: