The third quarter 2020 semiconductor market totaled $114 billion, up 11.0% from second quarter 2020, according to World Semiconductor Trade Statistics (WSTS). The 3Q20 growth was the highest since 11.6% in 3Q16. The strong 3Q20 growth follows a 2.1% decline in 2Q20 versus 1Q20. The second quarter is normally a healthy growth quarter, averaging 4% over the last eight years. However, uncertainties due to the COVID-19 pandemic led to electronics companies cutting back on semiconductor purchases and some slowing of production. The strong 3Q20 market growth is due to electronics companies catching up to demand. Key markets for semiconductors have remained relatively strong despite the pandemic.
The revenue of the top semiconductor companies reflects the strong 3Q20. The combined revenue growth of the top 14 companies was 10% in 3Q20 versus 2Q20. Intel and SK Hynix were exceptions, with revenue down 7.1% and 5.6% respectively. Seven of the companies saw revenue increases of over 20%. AMD had the strongest growth, up 45%, leading the company to claim the number 12 ranking. AMD's growth was due to strong demand for PC, gaming, and data center products. MediaTek revenue increased 44%, driven by increased market share in smartphones overall and strong 5G growth. The outlook for the 4Q20 is mixed. Normally the fourth quarter semiconductor market is flat to down from the third quarter. Of the ten companies providing guidance, five expect 4Q20 revenues to increase over 3Q20 and five expect revenues to decline. STMicroelectronics is the most optimistic with 12.2% guidance and expected growth in all its product lines except RF communications. Micron Technology is the most pessimistic, projecting a 14.1% revenue decline due to weakness in demand in the enterprise segment. Intel is guiding for a 5.1% revenue decline due weakness in data center demand.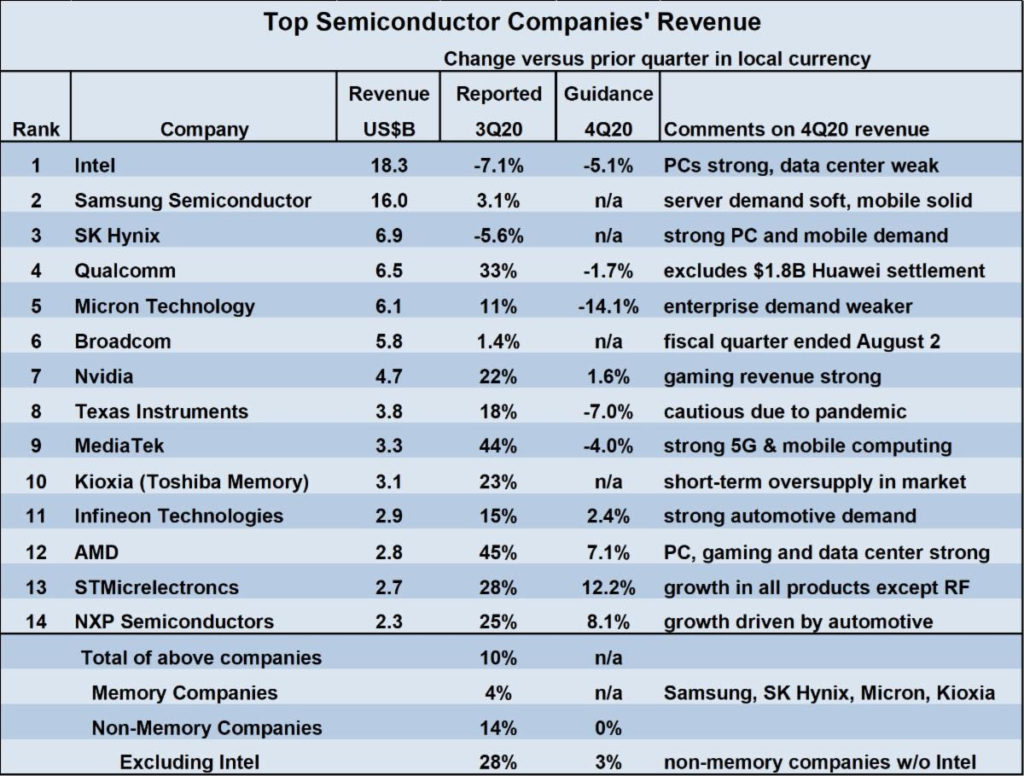 The Memory companies (Samsung, SK Hynix, Micron and Kioxia) had modest combined 3Q20 revenue growth of 4%. The non-memory companies saw revenues increase 14%. Intel, at $18.3 billion in revenue, skews the combined results of the top 10 non-memory companies. Excluding Intel, the non-memory companies had combined 3Q20 revenue growth of 28%. Combined guidance for 4Q20 revenue growth is flat for the non-memory companies. Excluding Intel, the combined growth is 3%.
The global economy is expected to bounce back in 2021 from a severe decline in 2020. Forecasts in the last month call for GDP to recover from a decline of 4% to 6% in 2020 to growth of 5% to 6% in 2021. The forecasts below were made before the announcement of successful COVID-19 vaccine phase 3 trials by Moderna, Pfizer, and AstraZeneca. Updated forecasts will most likely call for stronger GDP growth in 2021.

Third quarter data from IDC on two key semiconductor applications show an improving trend. PC units had a decline of 10% in 1Q20 versus a year earlier. The PC market has show strong growth since then, reaching 15% year-to-year in 3Q20. Smartphones had double-digit year-to-year declines in the first three quarters of 2020. 3Q20 recovered to only a 1% year-to-year decline. Smartphones should return to positive year-to-year growth in 4Q20.

Recent forecasts for semiconductor market growth in 2020 range from 3.3% to 5.5%. The forecasts made after 3Q20 WSTS data was available are 4.8% from the Cowan LRA model and 5.5% from us at Semiconductor Intelligence. With three quarters of 2020 data complete, it is safe to say the 2020 market growth will be somewhere between 4% and 6%.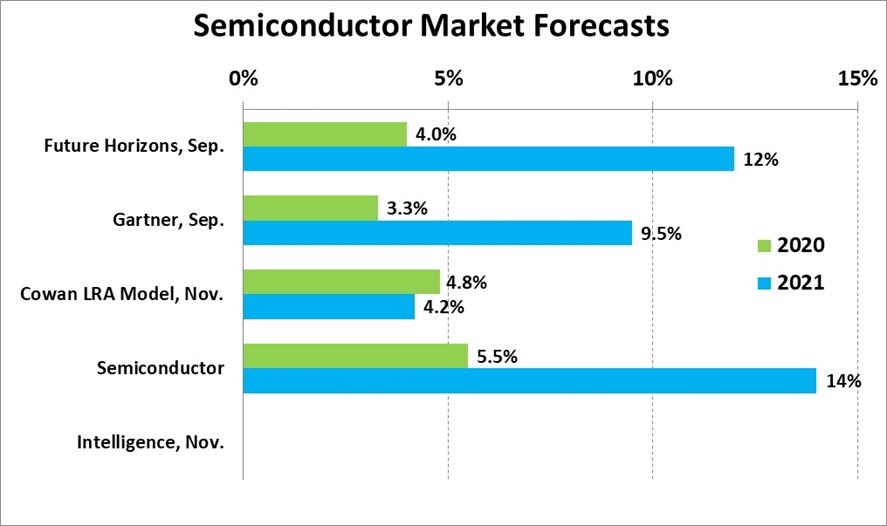 Forecasts for the 2021 semiconductor market range from 4.2% from the Cowan LRA Model to 14% from Semiconductor Intelligence. The Cowan LRA Model is based on historical trends and does not include assumptions for the future. Our 14% forecast is based on the recent results and expectations of major semiconductor companies, expected strong global GDP growth in 2020, a strong PC market, and a recovering smartphone market.
Also Read:
China Mobile and Computer Update 2020
Electronics Production Healthy
Semiconductors Not as Bad as Expected!
Share this post via: