Electronics production has recovered strongly from slowdowns due to the COVID-19 pandemic. Most major Asian electronic producers reported double-digit increases in early 2021. The chart below shows three-month-average change versus a year ago for electronics production. The data is from each country's official statistics and is in local currency.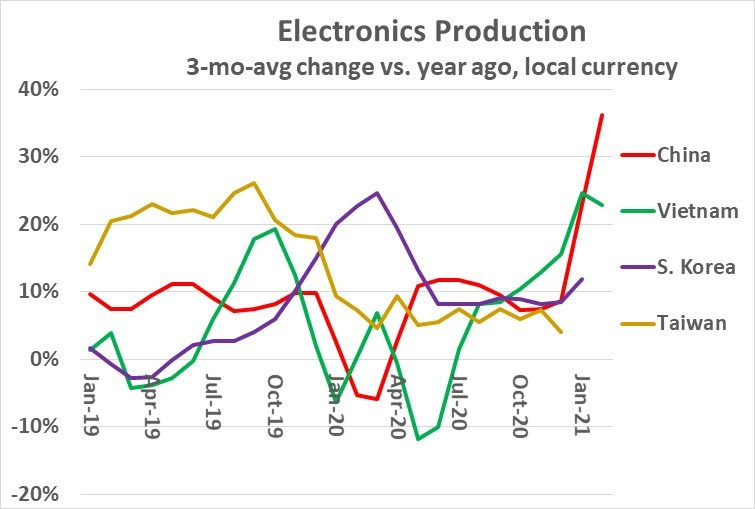 China, by far the largest producer of electronics, was growing at about a 10% average rate in 2019. As many factories were shut in early 2020 due to the COVID-19 pandemic, electronics production change versus a year ago turned negative. Production growth was back to the 10% range in May 2020. Production came back robustly in early 2021 compared to the weakness of a year ago. In February 2021, China's electronics production was up 36%.
Vietnam was one of the most successful countries in fighting the COVID-19 outbreak. According to the World Health Organization (WHO), Vietnam had only 2,567 cases and 35 deaths out of a population of over 94 million. The country did shut down for three weeks in April 2020, which resulted in a slowdown in electronics production. Production bounced back to double-digit growth in October 2020. Vietnam's electronics production growth in February 2021 was 23% versus a year ago.
South Korea was relatively successful in fighting COVID-19, with WHO reporting 97,294 cases and 1,688 deaths out of a population of over 50 million. South Korea never shut down businesses, which enabled growth in electronics production throughout 2020. Growth was over 20% in January through March of 2020, with South Korean manufacturing benefiting from slowdowns in other countries. South Korea's electronic production growth was 12% in January 2021.
Taiwan experienced electronics production growth averaging over 20% in the months of 2019, benefiting from production shifts from China during the U.S.-China trade disputes. Growth slowed to single digits in 2020, but never went negative. Taiwan was also very effective in fighting COVID-19, with only 990 cases and 10 deaths out of a population of over 24 million according to Johns Hopkins University of Medicine.
China's production growth is reflected in the unit production of two key electronics products – PCs and mobile phones. China produces over 80% of the world's supply of each of these products. Unit production change versus a year ago of both PCs and mobile phones turned negative in early 2020. PCs returned to growth in April 2020, but mobile phones remained negative throughout 2020. In February 2021, PCs were up 73% and mobile phones were up 19%. These growth rates are impressive but are being measured against a very weak early 2020.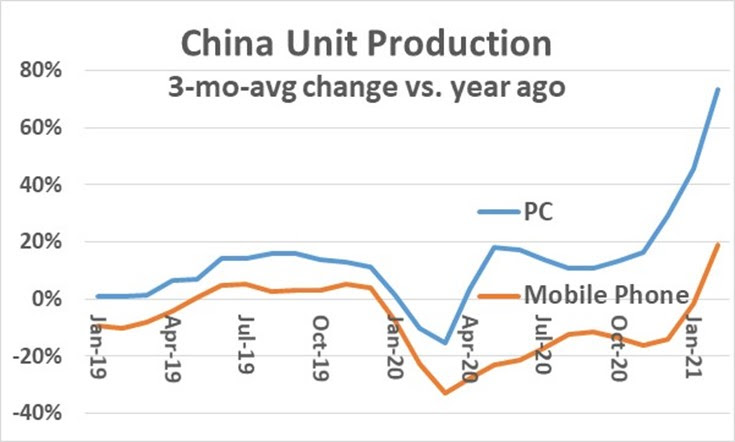 The United States and the United Kingdom (UK) were two of the countries hardest hit by COVID-19, with death rates of over 160 per 100,000 people according to WHO. Several major European Union (EU) countries were also severely impacted, especially Italy, Spain, and France. Lockdowns in the U.S. varied by state, but in general did not have much effect on manufacturing. U.S. electronics production slowed from over 5% year-to-year growth in the first five months of 2019 to less than 1% in December 2019, prior to any COVID-19 related slowdowns. U.S. growth remained below 1% until July 2020 and picked up to over 8% in November 2020. January 2021 growth was 8.7%.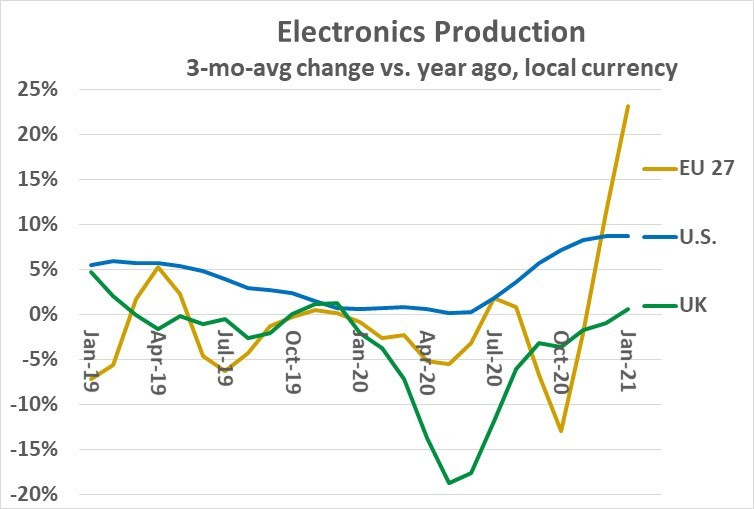 EU electronics production change versus a year ago in 2020 was similar to 2019 – single digit declines in most months. COVID-19 related lockdowns did not seem to significantly affect electronics production. Growth picked up to 11% in December 2020 and 23% in January 2021. The UK officially left the EU on January 31, 2020, a process known as Brexit. A transition period lasted until December 31, 2020 with a final trade agreement at the last minute. The UK electronics production change was like the EU, except for a double-digit decline beginning in April 2020. UK shutdowns impacted manufacturing for several months in mid-2020. UK growth in January 2021 was 0.7%. The UK has not seen the powerful recent growth the EU has experienced. The Financial Times reported over one-third of UK manufacturers have lost revenue since the UK left the EU, primarily due to delays in importing from and exporting to the EU. The long-term effect of Brexit on UK electronics production remains to be seen. Brexit critics foresee companies shifting production from the UK to EU countries to reach EU markets more easily. Brexit supporters predict with UK free of the EU it will be able to increase production for export to the world outside of the EU.
The substantial early 2021 growth in electronics production is reflected in semiconductor shipments, according to World Semiconductor Trade Statistics (WSTS) data. The semiconductor market in 2020 was on a recovery path from a 12% decline in 2019, with three-month-average change rebounding from a 16% decline in June 2019 to a 6.9% increase in March 2020. Growth plateaued in the 5% to 7% range until reaching 9.2% in November 2020. Revenues versus a year ago were up 13.2% in January 2021, the largest increase since October 2018. January 2021 monthly semiconductor shipments were $3,997 million, up 0.1% from $3,992 million in December 2020. The normal seasonal trend is a significant decline in January from December, ranging from -5% to -15% over the last ten years. January 2021 marks the first semiconductor revenue increase from December to January in the history of WSTS data going back to 1984.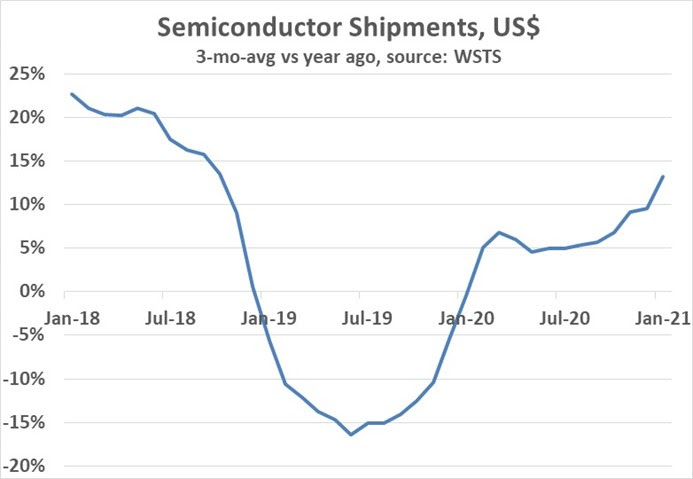 Although the global economy has yet to fully recover from the COVID-19 pandemic, the electronics and semiconductor industries seem past the recovery phase and back to healthy growth.
Semiconductor Intelligence is a consulting firm providing market analysis, market insights and company analysis for anyone involved in the semiconductor industry – manufacturers, designers, foundries, suppliers, users or investors. Please contact me if you would like further information.
Also Read:
Semiconductors up 6.5% in 2020, >10% in 2021?
China Mobile and Computer Update 2020
Share this post via: