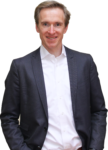 Casper van Oosten is the Business Field Head and Managing Director for Intermolecular, Inc., acquired by Merck KGaA, Darmstadt, Germany in 2019. Prior to this role, Casper worked in various roles on Eyrise™ Dynamic Liquid Crystal Window in Veldhoven, the Netherlands, at an affiliate of Merck KGaA, Darmstadt, Germany. Casper is one of the founders of the company Peer+ BV and the Eyrise™ technology, where he filled the role of CTO and, after acquisition by Merck KGaA, Darmstadt, Germany in 2014, Managing Director and Head of CellTech Operations. In this function, he was responsible for designing, building and operating a first-of-its kind factory for switchable windows.
Casper's former experience also includes a consultant role at Willems & van den Wildenberg New Business Consulting. Casper holds a PhD in Polymer Technology at Eindhoven University of Technology and MSc Mechanical Engineering at Delft University of Technology.
What brought you to semiconductors?
I achieved my Masters in Mechanical Engineering at Delft University in the Netherlands and spent the last year optimizing the motion control system of a waferstepper. ASML had loaned this tool to the university and basically the whole setup was mine to play with. The precision we could achieve with that tool – accuracy well below 100nm with a tool from the 1990s – was intriguing and I was grasped by the phenomenal physics going on at these small dimensions. However, the increasing power needed in these tools didn't seem sustainable to me so I ventured into self-assembling molecules – liquid crystals – for almost 2 decades before returning to the semiconductor world. Now, the semiconductor world is even more exciting as we are seeing the first applications where bottom-up self -assembly and top down structuring, for example in the lithography space, are starting to see high-volume applications. For me personally, it feels like I have closed the loop and am excited to work on these projects where the difference of one or two atoms really makes an impact on the overall device performance.
What is the backstory of Intermolecular?
Intermolecular was founded on the concept of high throughput experimentation for materials discovery, or combinatorial chemistry, that is found in life science labs. In this high throughput experimentation, a large number of experiments are executed in parallel, thereby mapping out an experimental space to quickly find optimal materials combinations and process conditions. The Intermolecular team adopted these tools for semiconductor applications, first for wet processes, later for PVD and ALD processes. Using these tools combined with our customers or our proprietary test vehicles, we can very quickly build and analyze test material stacks for their electrical performance. The Intermolecular business went through various business models but since 2015 we have been using these tools to support our customers in accelerating their device development by scouting out material combinations that unlock their next node of devices in a fully exclusive and dedicated fashion. This means that our customers get full ownership of the results of our work and this has allowed us to work with all major semiconductor companies and many of the tool makers. We operate as an extension of our customers' teams to drive impactful outcomes and product prototypes while creating first to market opportunities.
Since 2019, we are a subsidiary of Merck KGaA Darmstadt, Germany, part of the Semiconductor Solutions business. In this setup, we continue to work for external customers, working with any commercially available materials, but we also closely collaborate with our colleagues in the materials business so that our customers benefit from a seamless materials innovation process.
What customer challenges are you addressing?
We see that complexity is increasing across all application areas of semiconductors to meet the demands of advanced computing and producing smaller, more powerful and power-efficient connected devices. With this, the number of materials used in a single device is increasing. The number of options to consider and combinations to test for development of these devices is also exploding. We take that burden from our customers, working to resolve these materials challenges based on data and real experiments, so that our customers can focus on the other integration challenges at hand. While we do this for the large semiconductor companies, we have lately also seen an increasing number of startups that have found their way to us. These teams typically come to us after their initial funding rounds when they have to start building their first functional devices. While they will look to use known technology as much as possible to reduce risks, their key invention often requires processes and materials that are not known and not fully developed. Therefore, traditional foundries will shy away from these challenges, but this is where Intermolecular's team and toolset excels. Our cleanroom is setup in a flexible way so we can host these processes and produce these first working prototypes, up to small series, to generate yield and reliability data. Some of our customers will then reinsert wafers back into other processes or in some cases we even host their tools in our cleanroom.
What are the products Intermolecular has to offer?
Any program with Intermolecular aims to resolve the customers materials challenge rapidly using a data driven exploration of the potential solutions in materials and process settings. The exact contents of the program vary as they are always fully customized. We typically start by establishing tool correlations – meaning that we make sure that the solutions we find in our labs can translate to the customers lab. Once that is done, we will take the development through several optimization iterations, working through the list of key parameters to hit, until we have optimized the solution to within the projects targets. These collaborations are very intensive – a typical experimental cycle covering experiment definition, device fabrication, testing, evaluation and analysis is completed in two weeks, and will run from a couple of months to over a year. Once the optimization is done, we support the transfer to the customers tools using wafers processed in our labs and our analytical toolsets.
Application areas where we have been active include many memory technologies such as DRAM, phase change memory and 3D NAND. Furthermore, our materials exploration approach has been very productive in emerging technologies such as neuromorphic computing and quantum computing. We also have worked on the interface of optics and electronics, for example in displays, optical sensors and functional coatings.
What is your competitive positioning?
Intermolecular is one of the few labs that will allow customers to work on material stack development in a fully dedicated way with full IP ownership. Creating such a protected environment is key for us, as it allows our customers to share their full challenges with us which is essential to help them find the best solution. On top of that, our proprietary toolset not only allows us to quickly scan through a variety of material options and test them electrically, but it also allows us to be very flexible to adjust to the process needs of the customer. As we are now part of Merck KGaA, Darmstadt, Germany, this provides the option for our customers to tap into the materials base of our parent company when desired, providing a clear visibility on the supply chain through scale-up through to HVM. We believe that this puts is in a unique position in the value chain.  We see that many of our customers recognize this combination brings a lot of benefit to them.
We have recently announced (March 4) closer collaboration with the Merck KGaA, Darmstadt Germany Silicon Valley Innovation Hub, which will now be located in our 150,000 square foot facility in San Jose, providing companies a unique space for  innovation and collaboration at the intersection of life science, healthcare and electronic materials. This will allow us to branch out into new areas such as bioelectronics.
What kind of year was 2020 for Intermolecular?
2020 was in many aspects a transformational year for Intermolecular. Our programs involve very intensive interactions with our clients and we normally have our customers in our building on a daily basis. COVID of course changed this aspect completely; interestingly the acceptance of videoconferencing in the industry means that it is easier to join a meeting and we see that we are talking with larger teams at our customers. In my view, this has elevated the impact we make with the customers, though I still believe creative discussions with face-to-face interactions work best. Next to that, 2020 was the first full year as part of Merck KGaA Darmstadt, Germany, and in that sense it have been a discovery of new possibilities – both for our customers as well as for the Intermolecular team. With the combined forces, we are now taking on challenges we could have never mastered alone.
What does 2021 have in store?
The semiconductor industry is going through a strong demand phase right now. So while the large players in the industry are working hard to meet demands and maximize the output from their operations, we are seeing a lot of start-up activity working on solutions that takes us beyond today's problems. It is a great challenge to work on both helping to meet today's demands, as well as preparing for the next challenge for the industry. One challenge that is particularly close to my heart is the enormous energy consumption that all our data use is triggering. Continuing at this rate, in 2030 20% of the world's energy will be used for handling data, something that I find unacceptable. There are some great ideas out there to come up with radically different ways of computing – such as neuromorphic computing – to resolve this. While the industry is hot this year and everyone will be challenged to deliver on today's demand, I am optimistic that we can make progress on this very fundamental threat to our industry.
WEBINAR: Fundamentals of ferroelectric hafnium oxide for better devices
Also Read:
CEO Interview: R.K. Patil of Vayavya Labs
CEO Interview: Dr. Shafy Eltoukhy of OpenFive 
CEO interview: Graham Curren of Sondrel
Share this post via: