The global market for earphones and headphones in 2020 is estimated to have been $34B and is expanding at a compound rate of over 20% per year. Of this almost 50% is said to be earphones which are shifting rapidly to True Wireless Stereo (TWS). We have seen the sales of TWS devices grow from 1M units is 2016 to 109M units in 2019, though it should be pointed out that TWS can also be used for stereo Bluetooth speakers as well. TWS aims to deliver on long battery life, left/right synchronization, improved user interface and high-quality audio. TWS devices can also be used for new and novel functionalities, such as health and sports tracking.
Each of the features mentioned above and the new innovations coming down the pike create major challenges for product developers. CEVA has announced a turnkey hardware and software platform for TWS and Bluetooth SoCs that will help designers quickly solve these challenges. In a nutshell CEVA's Bluebud leverages several of CEVA's proven IPs, such as RivieraWave Bluetooth IP, the CEVA-BX1 DSP and the noise reduction, voice and motion processing algorithms in ClearVox, WhisPro and MotionEngine. It offers best in class TWS Bluetooth link stability and audio quality.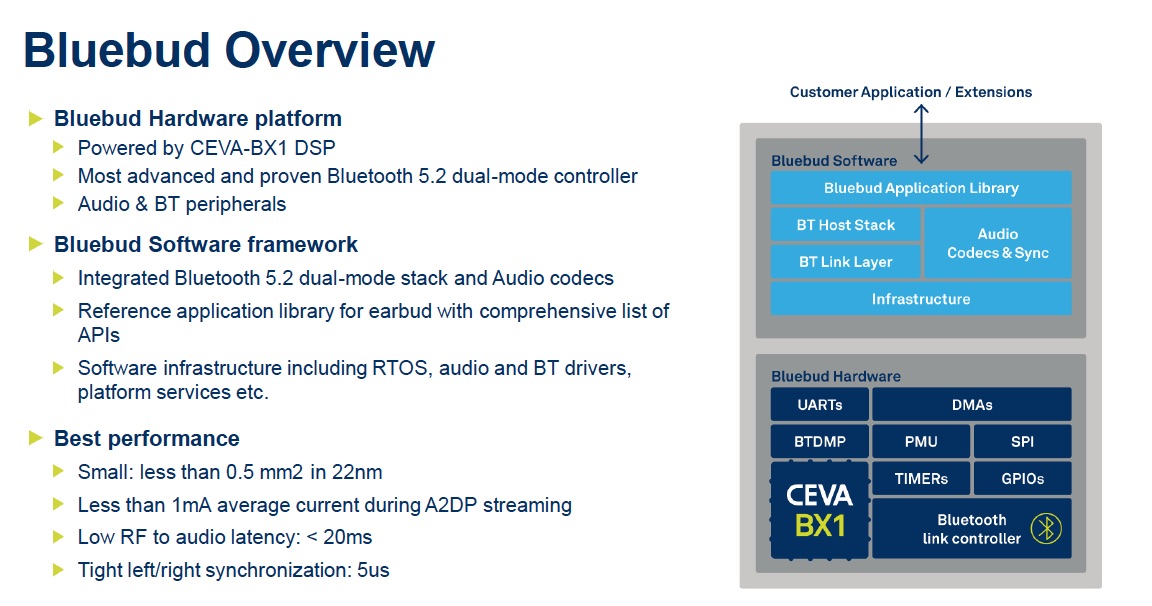 Bluebud uses a single core architecture that combines Bluetooth software, and audio & sensor processing on a single BX1 DSP. Despite being labeled as a DSP is it highly efficient at executing control code. This approach yields lower power, less data movement, lower latency and better left-right jitter control.
CEVA offers all the IP necessary for implementing a TWS system. Their Bluetooth 5.2 dual mode controller is a low-power packet engine with optimized traffic scheduling for Bluetooth Classic and LE. The integrated CEVA-BX1 processor can efficiently execute the protocol stack and handle the DSP processing. It supports a complete memory subsystem, with SRAM, ROM and FLASH, that includes efficient program and data caches. Naturally this comes with a full set of standard interfaces, like GPIOs, timers, PMU, etc.
The CEVA-BX1 processor is a hybrid DSP and controller with 4-way VLIW SIMD. It also comes with a quad 16×16-bit MAC and a Dual 32×32-bit MAC. It offers best in class code density and has a CoreMark/MHz of 4.41. The CEVA-BX1 supports user defined ISA extensions, optional floating point unit and advanced dynamic branch prediction.
Developers using the Bluebud platform also get a comprehensive software platform to make their job easier, built around the SenslinQ framework. There is a Bluetooth library with an LE stack (LE Audio, Sport & Fitness, etc.) combined with a classic stack (A2DP, HFP, etc). The audio software has a wide range of codecs, including the new LC3 codec. The audio software handles TWS streaming and audio sync. CEVA also has special purpose SenslinQ plug-ins for noise cancellation, voice commands and motion detection, or customers can supply or create their own. One interesting plug-in is the TinyML plug-in for TensorFlow Lite Micro.
The Bluebud platform includes an application library that supports many features that are needed in TWS. CEVA supplies libraries for easy and fast pairing, audio & call control, TWS optimized relay (including role switch to balance battery life), multi-source connections, OTA firmware update and sound effects, to name a few.
One of the key capabilities of TWS is handling two separate synchronized receivers for left and right streams. Bluetooth Classic does not offer native support for two receivers. There are several solutions on the market for working with Bluetooth classic devices. Basic forwarding is used where one receiver receives both signals and retransmits to the other side. However, it uses a lot of power, does not have high fidelity and can be unstable. Dual stream approaches, where the two channels are independently transmitted to each side, are often proprietary and require both the transmitter and receiver to be from the same supplier.
Sniffing is where both receivers listen to the transmitter but designate one side as the controller. This approach is compatible with all transmitters. However, it is complicated by technical and patent issues. CEVA on its side offers a similar performance sniffing solution with low complexity.
CEVA Bluebud is a complete high performance and high feature solution for companies developing TWS SoCs. With the fast market growth, time to market is a huge consideration. It seems that CEVA with their Bluebud platform is offering a rapid path for developing high quality, efficient and differentiated silicon. The CEVA website has presentation material, a written product brief and a white board talk on Bluebud to help designers come up to speed on their solution.
Also Read:
Expanding Role of Sensors Drives Sensor Fusion
Sensor Fusion Brings Earbuds into the Modern Age
Sensor Fusion in Hearables. A powerful complement
Share this post via: