Automakers worldwide have scaled back production due to a shortage of semiconductors. Companies which have announced temporary halts on production include Volkswagen, Toyota, General Motors, Ford, Nissan, Honda, Suzuki, Mitsubishi, Daimler (Mercedes) and Stellantis (merger of Fiat-Chrysler and Peugot).
IHS Markit estimates 1Q 2021 light vehicle production was reduced by 1.3 million units due to the shortage. They stated the semiconductor shortage may not be resolved until 4Q 2021. Microcontrollers (MCUs) are in particularly shot supply. IHS Markit estimates 70% of MCUs are manufactured by Taiwan Semiconductor Manufacturing Co. (TSMC), the worlds largest semiconductor foundry. In its 1Q 2021 quarterly conference call, TSMC stated they have worked to reallocate wafer capacity to support the automotive industry. TSMC expects the automotive semiconductor shortage for its customers to be largely resolved by 3Q 2021.
The largest automotive semiconductor suppliers are listed below. The automotive revenues are based on the companies' financial reports. The revenues for STMicroelectronics are for its Automotive & Discrete Group, which includes some non-automotive revenues. However, ST also has automotive products such as MCUs and sensors in its other product groups. Infineon's automotive revenue increased 1.1% for its fiscal year ended September 2020. The other companies all saw declines in 2020 versus 2019 ranging from 4% to 9%.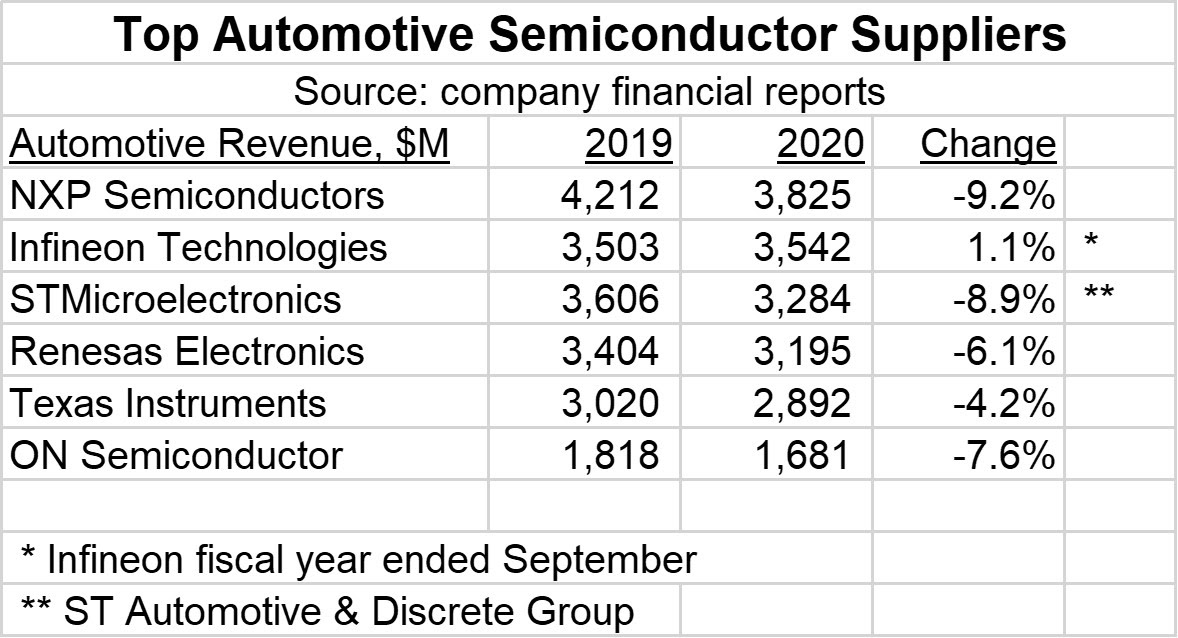 Several of these companies rely on TSMC and other foundries for much of their wafer production. Each company also has its own wafer fabs. Some of these fabs have recently encountered production problems. EETimes reports Infineon and NXP had to temporarily shut down their wafer fabs in Austin, Texas due to electricity outages during severe winter storms in February. NXP said the shutdown could reduce 2Q 2021 revenue by about $100 million. Infineon expects a hit to its revenues in the current quarter but expects to make up the revenues in the next quarter.
Renesas had a fire at is Naka, Japan wafer fab in March. The Japan Times reports Renesas expects the fab to return to full production in late May. The fire could cost Renesas up to 24 billion yen (US$220 million) in lost revenue.
Texas Instruments stated it will be able to meet demand for its products including automotive. TI produces most of its semiconductors at its own wafer fabs. ON Semiconductor said it has the capacity to support its automotive semiconductors and expects to catch up with demand by 2Q 2021 or 3Q 2021. STMicroelectronics also manufactures most of its wafers at its own fabs and expects to be able to meet the demand for automotive semiconductors.
The shortage of automotive semiconductors is primarily the fault of the auto makers. When the global COVID-19 pandemic began in early 2020, automakers cut production. Some of the production cuts were to protect workers from exposure to COVID-19. Most of the production cuts were due to the uncertain demand for autos in the wake of major economic disruption caused by the pandemic.
The top ten automotive (light vehicle) manufacturers are listed below. The number of vehicles is either production (when available) or sales from company reports. These ten companies account for about 70% of all light vehicles made. All had declines in vehicles in 2020 versus 2019, ranging from 10% to 27%. Collectively, the ten companies had a 17% decline in vehicles in 2020.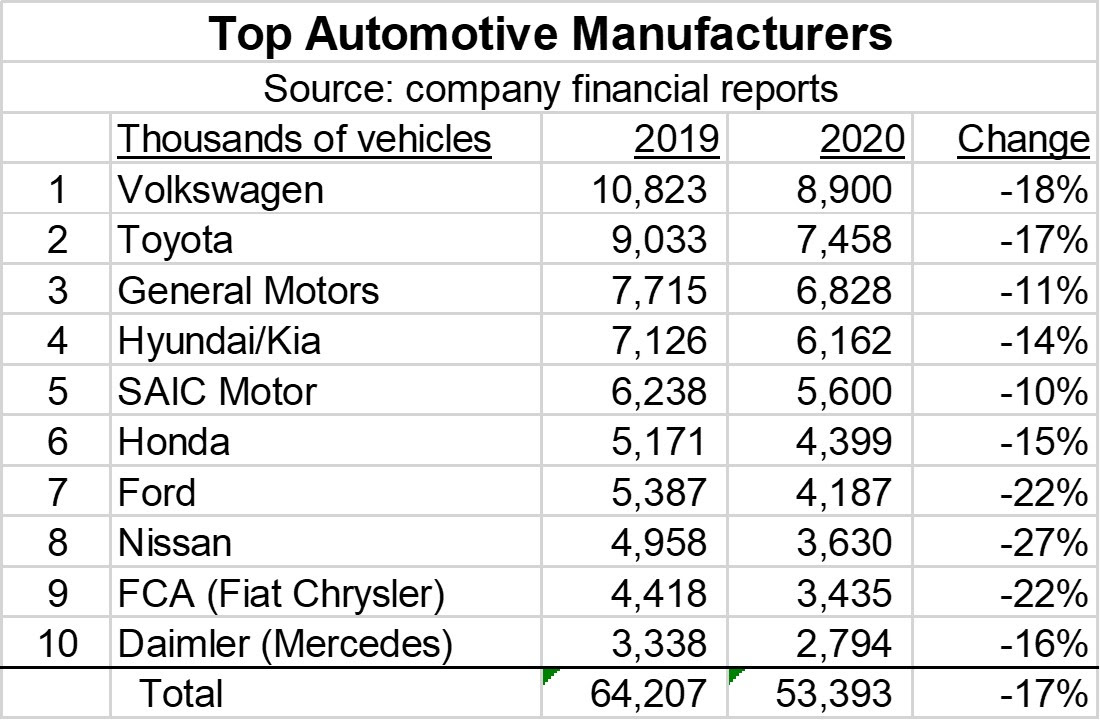 Vehicle production declines began in 1Q 2020. SAIC Motor of China had a 56% decline in 1Q 2020 production versus a year earlier, primarily due to factory shutdowns to try to contain COVID-19 spread in China. Other automakers had year-to-year declines in 1Q 2020 ranging from 9% to 27%. In 2Q 2020, SAIC Motor production returned almost to normal production levels. All other makers experienced major production declines in 2Q 2020 versus a year earlier, ranging from 24% to 63%. By 4Q 2020 production had returned to normal levels, with year-to-year change ranging from a 5% decline for Volkswagen to a 11% gain for Honda.
The automotive production decline is illustrated below compared to two other major end markets for semiconductors, PCs and smartphones. Shipments are indexed to 1Q 2019 equaling 100. The change in units shipped each quarter is based on the quarter-to-quarter change against the base index. Vehicle units dropped to 60% of 1Q 2019 levels in 2Q 2020, before recovering in 4Q 2020. PCs and smartphone units shipped dropped to about 90% of 1Q 2019 levels in 1Q 2020. PC shipments grew strongly in 2Q 2020 to 4Q 2020, reaching over 150% of 1Q 2019 shipments. Smartphone shipments were flat in 2Q 2020 versus 1Q 2020 but recovered to over 120% of 1Q 2019 shipments in 4Q 2020.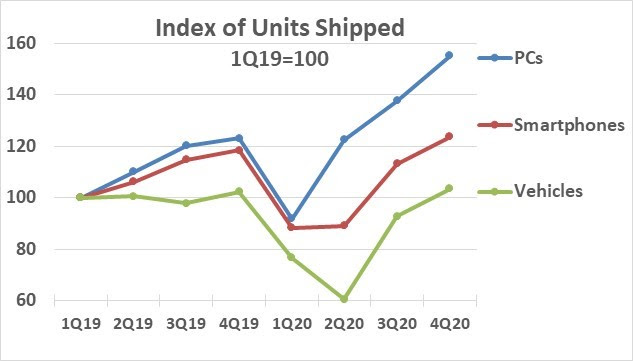 There are numerous other applications for semiconductors, but these represent the general trend. One cannot blame semiconductor companies for switching capacity to growing applications while automakers cut production (and presumably semiconductor orders) by 40% over two quarters. It will take time to resolve the shortages. TSMC stated it takes at least six months from semiconductor production to auto production and involves several links in the supply chain. Capacity can be shifted in the short term, but increasing overall capacity often requires construction of new wafer fabs, which takes about two years. Automakers gave up their place in line, so they will have to wait their turn for semiconductors.
Semiconductor Intelligence is a consulting firm providing market analysis, market insights and company analysis for anyone involved in the semiconductor industry – manufacturers, designers, foundries, suppliers, users or investors. Please contact me if you would like further information.
Bill Jewell
Semiconductor Intelligence, LLC
billjewell@sc-iq.com
Also Read:
Electronics Back Strongly in 2021
Semiconductors up 6.5% in 2020, >10% in 2021?
Share this post via: