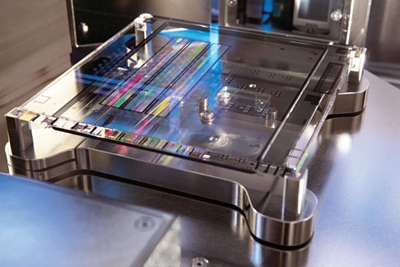 -KLAC- Solid QTR & Guide but flat 2021 outlook
-Display down & more memory mix
-KLAC has very solid Dec Qtr & guide but 2021 looks flattish
-Mix shift to memory doesn't help- Display weakness
-Despite flat still looking at double digit growth
-EUV driven business may see some slowing from digestion
As always, KLAC came in at the high end of the guided range with revenues of $1.65B and non GAAP EPS of $3.24 versus the guided range of $2.82 to $3.46. Guidance is for $1.7B +-75M and non GAAP EPS range of $3.23 – $3.91. By all financial and performance metrics a very solid quarter
A "flattish" 2021 while WFE grows "mid teens"
Management suggested that WFE which exited 2020 at $59-$60B would grow double digits in 2021 but the year would look a bit more flat for KLAC as its acquired display group is expected to shrink and there is an expected mix shift towards memory which is less process control intensive.
Foundry has been strong which has been very good for KLA and the current quarter is expected to see roughly 68% of business from foundry
Will EUV take a breather?
KLA obviously sells process management tools to companies working on new process such as EUV. TSMC has bought so many EUV tools it probably has problems finding the space for more. TSMC has also clearly gone well over the hump of getting EUV to work and likely may not need as much process control and maybe could slow its EUV scanner purchases a bit given that its so far ahead.
Intel is obviously still coming up the learning curve and purchasing curve and Samsung is in between the two. We would not expect either Samsung nor Intel to be as EUV intensive as TSMC has been, at least not in the near term. All this being said , it is not unreasonable to expect EUV related process management to slow slightly.
Memory not as intensive as Foundry/logic
The industry is expecting memory makers to increase capex spend in 2021 as supply and demand have been in reasonable balance and supply is expected to get tighter.
Most of the expectation is on the DRAM side which is slightly less process control intensive as compared to NAND and likely lower in overall spend. This mix shift towards memory is obviously better for memory poster child Lam than for foundry poster child KLA. However its not like foundry is falling off a cliff with TSMC spending a record of between $26B and $28B in capex.
Service adding nice recurring revenue
As we have seen with KLA's competitors, the service business continues its rise in importance to the company. The recurring revenue stream counterbalances the new equipment cyclicality and lumpiness. Having 25% or more of your revenue coming from service is very attractive
Wafer inspection positive while reticle inspection negative
EUV "print check" has obviously been very good for KLA and a way to play the EUV transition given the issues in reticle inspection. Patterning (AKA reticle inspection) was down significantly after a nice bump in prior quarters where KLA managed to take back some business from Lasertec (which now sports a $10B Mkt Cap).
Obviously "missing the boat" on EUV reticle inspection is toothpaste that can't be put back in the tube. We expect Lasertec to get the lions share of Intel's business as it ramps up EUV.
The stock
If we assume roughly $7B in revenues for 2021 ($1.75B/Q) with roughly $15 in EPS ($3.75/Q) we arrive at roughly 19X forward EPS, at the current stock price. This is likely a pretty good valuation for a company with stellar/flawless execution in a slowing, but still strong, market.
Investors will likely get turned off by the "flattish" commentary despite the good numbers. It also doesn't help that the chip stocks have been feeling a bit like they are turning over here Despite any weakness KLA remains the top financial performer in the industry.
Also Read:
New Intel CEO Commits to Remaining an IDM
ASML – Strong DUV Throwback While EUV Slows- Logic Dominates Memory
Share this post via: