-Intel good results had a little extra help to be great
-New CEO commits to remaining an IDM versus fabless
-Claims of strong progress on 7NM fuel optimism inside
-Outsourcing to TSMC will not go away but will increase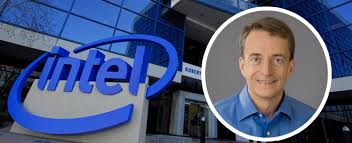 A good quarter but with some silicon enhancements from ICAP
Intel reported Revenues of $20B and EPS of $1.52, which were well above consensus and expectation. Expectations were for revenues of $17.5B and EPS of $1.10.
But if you look below the surface there was a bit of "artificial enhancement" from ICAP (Intel Capital). $1.692B of the $7.488B pre tax income (or almost 23%) was from ICAP and not operations. This compares to $212M in ICAP benefit for the prior 9 months total and versus $617M in ICAP benefit in the year ago quarter. Backing out this unusually large one time gain would result in a good beat but not the large beat that was surprisingly printed prior to market close Thursday.
Guidance was also a beat with Q1 guide of $17.5B (down 12% YoY) and EPS of $1.10 (down 24% YoY) versus analyst expectation of $16.4B and EPS of $0.87
More importantly Intel staying "Inside"
Intel's new CEO, Pat Gelsinger, was on the call, along with the chairman of the board. Pat made it clear that he thought that 7NM was on the road to recovery and that Intel will continue to produce the majority of its chips inside as an IDM.
This is perfectly in line with what we had predicted in our last two notes on Intel. We obviously also have a strong bias to see Intel remain a true IDM and "own its own fabs". We had also predicted that the final decisions would not be made until Pat was there for a while, which they also said on the call as they did not give full year guidance.
It is also clear that, as we had suggested, Intel has no choice but to continue to outsource to TSMC and in fact will increase the outsourcing as even if they fix 7NM they still will not be able to ramp capacity fast enough.
Pat even referred to the same view we have about Intel being somewhat of a national treasure and key to the US's technology infrastructure.
Get ready for numbers to look ugly and get sandbagged
Although Intel did not give full years guidance, we would hold onto our seats as we have suggested that the dual costs of increased outsourcing to TSMC added to increased spend on Internal efforts to regain Moore's Law pace will be high and pressure margins in the short term which we would view as at least the next two years and maybe more.
If Pat is smart he will sandbag strongly and lower expectations to numbers that can be beaten easily and overestimate the costs of fixing 7NM and ramping capacity while still paying TSMC to make chips. He doesn't want to put out numbers he will miss in his first couple of quarters on the job.
We would hope that this would include a large jump in Capex and R&D to give the engineers and manufacturing the latitude they need.
It may not be the $28B or $30B of TSMC and Samsung but it should be generous.
So what was the problem with 7NM?
While Intel did not explicitly say what was wrong, they did say that the fix required them to re-design a significant number of steps in the process flow to fix the problem. This clearly means that it was not one step or tool or material or even a design.
Intel obviously drove down a dead end from which there was no escape. It meant that they had to back up quite a bit and start over which obviously accounted for the extra time.
Backing that far up means literally going back to the drawing board (EDA tools) and re laying out all the designs and layers. It means a new set of masks, new and additional tools. It can get ugly and out of control quickly.
As with plane crashes its never just one thing that went wrong nor has to be fixed.
Bringing people out of retirement
We had also mentioned that we thought that Intel had lost some of its brain trust through RIFs and retirements etc; We are happy to see that Pat is already bringing back Intel's prior stars to help bail them out. Maybe they should buy out Jim Keller's AI chip start up to get him back to Intel. Intel did mention AI a significant number of times on the call, maybe there's a coded message there.
The Stocks
Intel jumped before the close on Thursday as numbers were somehow released while the market was still open. Intel was up 6.5% during market hours largely due to the leak and down 1.5% in after hours.
We don't know how many analysts or investors dug deeper into the numbers to find that they appeared better due to the Billion dollar plus ICAP benefit.
As we suggested in our last note we think there is a potential opportunity to make some money on a near term pop in Intel's share price due to the double whammy of new CEO and unusual beat. We would likely want to be out of the stock prior to Pat's resetting of numbers a projections for the full year which will likely show higher expenses.
We view this as a neutral to a positive for AMD as the underlying strength of demand is a good thing and not being n the same TSMC lifeboat with Intel gives AMD some room.
Some investors took it as a negative for TSMC which we disagree with. TSMC has more than enough demand to deal with and heaping even more demand would likely strain them in the short run and piss off even more customers on the lower end who won't get serviced or be pushed out by the big boys. TSMC has way more than enough potential business and profits and doesn't need to drown in demand.
Equipment companies should see this as a positive, which we already suggested, as Intel will likely not only continue to spend but likely spend more to catch up and ramp up. So it should be positive across the board. Perhaps ASML may getter a bigger slice of the benefit as Intel will have to ramp EUV much as TSMC already has and Samsung is trying to do. Perhaps it would make up for the recent slowing of a couple of EUV customers.
Long Live "Intel Inside!"
Also Read:
ASML – Strong DUV Throwback While EUV Slows- Logic Dominates Memory
SMIC Blacklist puts ASML in Jam
Share this post via: