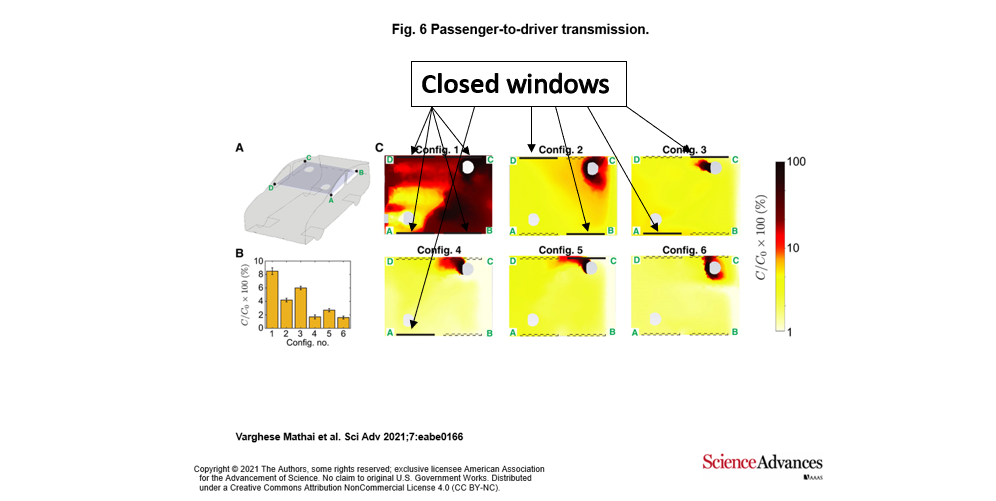 A study published in ScienceAdvances has shown computer simulations of the movement of virus-laden airborne droplets in cars. The objective of the study appears to be to assess the degree of driver-to-passenger and passenger-to-driver exposure given different open-or-closed window configurations in the context of modeled airflow around and within a four-windowed car.
"Airflows inside passenger cars and implications for airborne disease transmission" – ScienceAdvances – 
The study does not recommend any particular window open or closed configuration. This would be difficult as a configuration that might be advantageous to the passenger may not be optimal for the driver. The ideal configuration, not surprisingly, is to have all windows open. In fact, the more windows that are open, the lower the exposure of either driver or passenger.
The study is important for shining a light on the question of driver-to-passenger (and vice versa) exposure in the context of the unique air pressure gradients surrounding the car and the counter clockwise movement of air within the car and the prevailing front to back movement of air when air conditioning or heating is in use. The study also looks at the number of air changes per hour (ACH) per different open-closed window configurations.
What the study does NOT consider is the impact of introducing an in-vehicle partition. The study also does not take into account multiple passengers. What the study really highlights, though, is the reality that no configuration is a guarantee of safety for either passenger or driver. It also fails to determine whether the driver or the passenger is at greater risk – although the driver is presumably at greater risk given the number of potential exposure opportunities during a working day.
The study also highlights the lack of research into COVID-19 infections among taxi, limousine, and ride hailing drivers – and frequent users/passengers. In fact, a broad study of transmission on busses, subways, and taxis – including driver/operators and passengers is overdue.
It would seem that the only real takeaway from this study is that there is no safe window open-or-closed configuration when sharing a vehicle with a stranger or family member. The lack of any testing of partition-equipped cars is unfortunate.
Too many ride hailing companies have adopted Center for Disease Control and Prevention guidelines such as mask wearing and sanitation as sufficient. The CDC guidelines for taxi, limousine, and ride-hail operators can be found here:
https://www.cdc.gov/coronavirus/2019-ncov/community/organizations/rideshare-drivers-for-hire.html
The CDC guidelines have a single reference to vehicle partitions: "If you work for a company that offers a large fleet of vehicles, ask company management for a car/taxi (when applicable) with a partition between driver and passengers, if available." The agency makes no public policy recommendation – such as requiring partitions.
Some ride hailing companies – like Alto, Bolt, Didi Xuching – get it.  These operators have required and added partitions to their vehicles.
If partitions are deemed effective at restaurants, grocery stores, gyms, and in schools and on busses, it stands to reason they will be effective in taxis and ridehail vehicles. Somehow this message has not penetrated senior management levels at Uber – now obsessed with shedding assets and shoring up profitability. Lyft makes partitions available to its drivers, but does not require them.
The study discussed here was conducted by Dr. Varghese Mathai, a physicist at the University of Masssachusetts, Amhert, and three colleagues at Brown University — Asimanshu Das, Jeffrey Bailey and Kenneth Breuer. The study has spurred consumer advocates to recommend that the windows opposite the driver and the passenger each be rolled down for the optimal and safest airflow in the vehicle.
Still, it seems that the only really safe means of offering shared vehicular transportation is with a partition installed in the car. Maybe a follow-up study can take a look – and maybe next time the scientists will keep public policy in mind. Passengers and drivers shouldn't have to calculate their odds of getting a COVID-19 infection based on how many windows are rolled up or down in their vehicle.
Share this post via: