I should start by saying that SEMI Smart Technology is not technology that is only half as smart as our phones, it is a conference on smart technology organized by SEMI. Officially it is called the International Technology Partners Conference with a sort of subtitle of From Smart Cars to Smart Cities: Shaping the Future of Microelectronics. It is November 10-13th in the Wailea Beach Marriott in Maui. If you need a reason to go to Hawaii in November (aren't Mai Tais and great seafood enough) then this is it.
This year's theme is "Engines of Innovation – "Driving Collaboration, Partnership and Growth" and features program sessions that address industry trends, collaborative business models, R&D, technology challenges and market drivers.
The conference promotes business partnering dialog and relationships among the world's top executives in the nano- and microelectronics manufacturing supply chains. Now on its 28th edition, ITPC is bringing together industry leaders to address strategic investment, market and technology issues in the semiconductor value chain. ITPC consistently attracts high-level executives from all over the world. The conference is aimed at senior executives in the semiconductor equipment, materials and semiconductor manufacturing industries.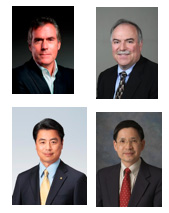 There are four keynotes, given by IBM, Intel, JPL and Toyota:
IBM: Michael J. Cadigan, VP/GM, Microelectronics and Systems Technology Group
Intel: Wen-Hann Wang, VP, Intel Labs; director, Circuits and System Research
NASA Caltech Jet Propulsion Laboratory: Michael Watkins, Mission manager, Curiosity Mars Rover; manager, Science Division
Toyota Motor Corporation: Hiroyoshi Yoshiki, managing officer
Sessions include:
Growth Engines — Trends in Market Drivers: with Bill McClean, president, IC Insights and Raj Talluri, senior VP, product management, Qualcomm Technologies.
Driving towards the Future: Luc Van den hove, president and CEO, imec and James A. O'Neil, senior VP, Electronic Materials, ATMI Inc.
Engines of Innovation — Manufacturing Technology: Eric Meurice, chairman, ASML Holding and Atsuyoshi Koike, senior VP, Technology and Fab Operations, SanDisk; president, SanDisk (Japan) Limited
Accelerating Opportunities: Akihiko Tobe, GM, Smart City Project Division, Social Innovation Business Project Division, Hitachi, and Hans Stork, CTO, senior VP, ON Semi
A panel moderated by Dan Hutcheson on CTO Principles of Innovation
A panel on R&D collaboration that includes Intel, IBM, Global 450 Consortium, imec, and KLA-Tencor
Full details are here. The full agenda is here.

Share this post via: