KLA saw its share of the semiconductor metrology/inspection market increase from 52% in 2018 to 56% in 2019.
As a background, KLA manufactures and sells equipment used to monitor many of the 400 to 600 processing steps in the manufacturing of semiconductors, starting with a bare wafer, such as silicon, to a completed device. The company makes metrology systems used to measure parameters such as thin film thickness or linewidths, and inspection systems used to detect defects and monitor abnormalities in production.
Except for a small percentage of sales of non-metrology/inspection equipment that came with the acquisition of Orbotech, KLA generates nearly 80% of revenue from metrology/inspection.
According to The Information Network's report entitled "Metrology, Inspection, and Process Control in VLSI Manufacturing" KLA was the only company among competitors to demonstrate positive growth in 2019. This report analyzes 17 different segments of the overall sector, and there are individual leaders in each of the segments. KLA, of course, with a dominant market share, leads many of the segments.
As shown in the chart below, KLA grew 2% in revenues in 2019. It's closest competitor, Applied Materials had revenue growth of -10.1% in 2019.
ASML, the dominant lithography market leader, is the leader in the electron beam inspection segment, yet its share of the overall decreased year-on-year 23.3% in 2019.
Nanometrics and Rudolph Technology announced that their merger was finalized in 4Q 2019, (new company named Onto Innovation), but I kept them separated in this chart. Rudolph Technology's revenue dropped 18.3% YoY and Nanometric's revenue dropped 16.7% YoY in the metrology/inspection sector.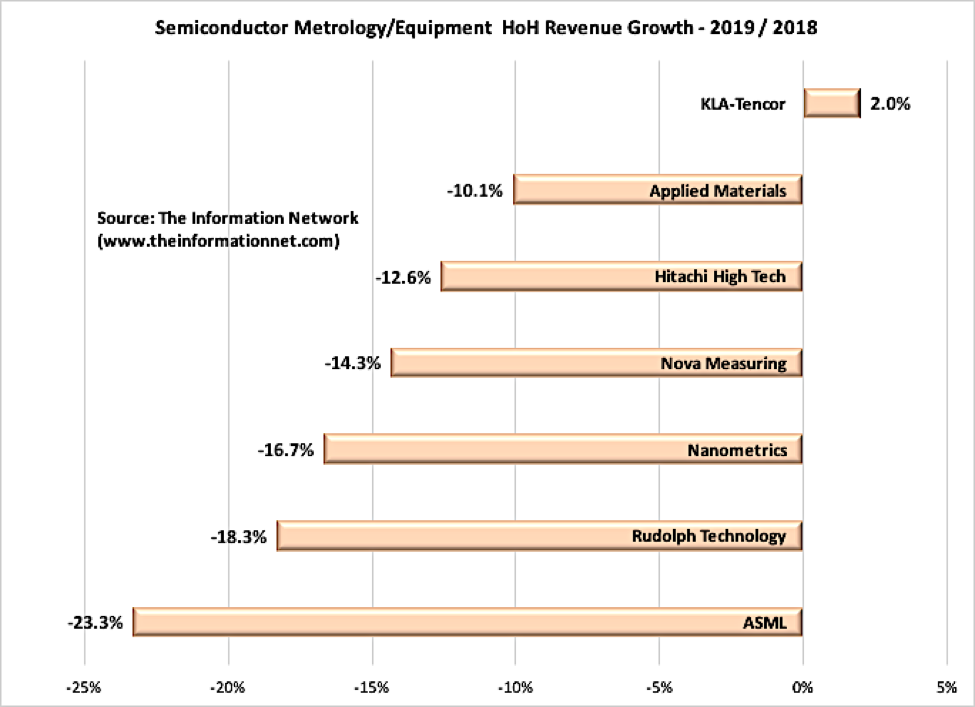 In the overall metrology/inspection market, KLA increased its share from 52% in 2018 to 56% in 2019. Hitachi High Technologies' share of the market in 2019 decreased from 10.4% in 2018 to 9.1%. Next was Applied Materials market share decreased from 10.1% to 9.1%.
Share this post via: