In January 2019, the memory market has been hit with a significant amount of negative news.
On Jan. 15, DRAM manufacturer Nanya Technology reported its Q4 2018 revenue was $551 million, down 30.4% QoQ.
On Jan. 24, 2019, SK Hynix reported Q4 2018 earnings. Revenues fell 13.7% QoQ to $8.7 billion, while operating profit amounted to $3.9 billion, down 32.4%. SK's DRAM and NAND bit shipments dropped 2.5% and rose 10% QoQ, respectively, while its DRAM and NAND ASPs fell 11.1% and 21.2% QoQ, respectively.
Also on Jan. 24, Western Digital reported revenue of $4.2 billion for its second fiscal quarter ended Dec. 28, 2018, down 20.7% QoQ. Operating income was $176 million with a net loss of $487 million.
On Jan. 31, 2019, Samsung Electronics reported Q4 2018 DRAM and NAND revenues of $18.8 billion and $6.6 billion in operating profit, down 27.7% and 43.0% QoQ, respectively. Samsung's DRAM and NAND bit shipments were down 18.3% and 9.7% QoQ, respectively, while ASPs were down 9.7% and 21.5% QoQ, respectively.
The memory market is an important gauge on the health of the current semiconductor market because equipment spent by NAND and DRAM chip manufacturers was largely responsible for the 37.2% increase in the equipment market in 2017. In 2016, the equipment market grew just 12.9% and an estimated 9.7% in 2018.
It' also important because the memory market represents a significant percentage of sales of leading semiconductor equipment manufacturers. For example, memory represented 60% of Applied Materials revenues and 79% of Lam Research's revenues in their most recent quarterly announcements.
In addition, the poor earnings of the memory companies reported in Q4 had a significant impact on ASML's revenue in the past quarter of 2018; its memory revenue represented just 40% in Q4 compared to 58% in Q3 and 54% in Q2.
Chart 1 illustrates the percentage of NAND and DRAM compared to the overall WFE market from 2013 and forecast for 2019 based on guidance from memory companies.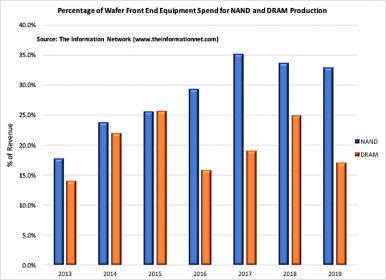 Capex spend in 2019 is expected to decrease 23% increase in NAND spend while DRAM spend will decrease 46%, as shown in Table 1.
The equipment companies must also contend with cuts in capex spend in logic and foundry as well. TSMC's capex spend will increase modestly because the company will continue as the sole supplier of Apple's A13 processor for iPhones.
Conversely, the move to 7nm, which TSMC says made up 23% of its revenue in 4Q 2018, 7nm+ (with EUV) is on track for volume ramp in the second quarter. That's the bad news for equipment companies like Applied Materials and Lam Research, because EUV lithography will reduce the amount of deposition and etch equipment required for DRAMs.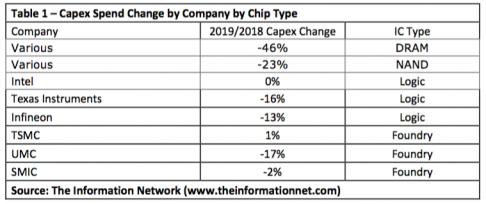 Until Q4 2018, cloud computing was the lone bright spot for semiconductor companies following weakness in demand in autos, PCs, and smartphones, and the crash in cryptocurrency. Late in the year even cloud spending succumbed to the weakness.
Industry fundamentals have deteriorated from both an oversupply of NAND and DRAM chips and macroeconomic factors tied to the China trade war, which are affecting logic chip manufacturers and foundries. Capex spending reductions across the board will impact equipment manufacturers.
How ironic that the trade war with China is behaving like "death by a thousand cuts," which is a form of torture and execution originating from Imperial China! At this point, I'm predicting 2019 WFE will be down 15%.
Share this post via: