This is what happens when you have a CFO acting as a semiconductor CEO, and Robert Holmes is a career CFO with zero semiconductor experience or education. Granted, no way did he write the opening statement, but it was full of jibber jabber anyway. The real disappointing jibber jabber was from our own Murthy Renduchintala on the status of 10nm which has been a trending topic on SemiWiki and elsewhere for many months. Why Intel thought they could jibber jabber their way out of 10nm questions I do not know. It started with Bob's opening statement which in no way did he write:
While our current product lineup is compelling, our roadmap is even more exciting. We continue to make good progress on 10-nanometer. Yields are improving, and we're on track for 10-nanometer-based systems on shelves during the holiday 2019 selling season. The breadth of IP we've assembled combined with Intel's design, software, packaging, and manufacturing capability, gives us an unmatched ability to invent the industry's future.

Bob, your current product lineup is compelling for one single reason, you have no real competition at 14nm. Intel 14nm is by far superior to TSMC 16nm and Samsung/GF 14nm in both performance and density. Unfortunately, that lead ends now with TSMC and Samsung 7nm which makes your current product lineup an offense to Moore's Law and the industry leading Intel Tick-Tock model that we all knew and loved.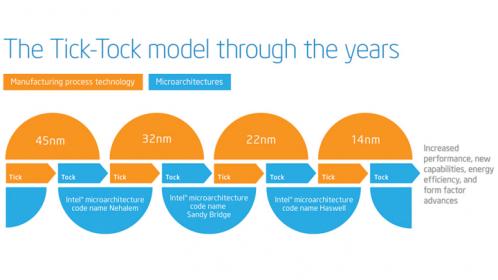 And the Murthy 10nm Jibber Jabber in the Q&A:
Venkata S. M. Renduchintala – Intel Corp.
Hey, Vivek, let me take it. This is Murthy. First of all, as Bob said in his opening remarks, the progress we've made in the quarter is very much in line with our expectations. While we can't give any specific numbers, I do believe that the yields as we speak now are tracking roughly in line with what we experienced in 14-nanometer.
So we're still very much reinforcing and reaffirming our previous guidance that we believe that we'll have 10-nanometer shipping by holiday of 2019. And if anything, I feel more confident about that at this call than I did on the call a quarter ago. So we're making good progress and I think we're making the quarter-on-quarter progress that's consistent with prior generations having reset the progress curve.
"While we can't give any specific numbers"? Sure you CAN but you just won't. Are they that embarrassing? How about a little transparency? And you wonder why the fake news about 10nm getting cancelled got traction? Murthy, since you were not at Intel during the 14nm yield ramp let me remind you that it was disastrous. So where exactly are 10nm yields in relation to 14nm?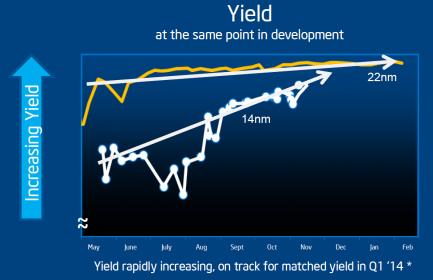 Now that TSMC is in HVM with 7nm, which is comparable in performance and density to the much delayed Intel 10nm, not only CAN you disclose specific yield or defect density numbers, investors should be demanding it! It was embarrassing how the analysts on the call did not push for more information.
The full Intel Q3 2018 transcript is here.
The good news is that Intel had a fantastic quarter but AMD not so much. Hopefully this will change when AMD has 7nm parts out early next year but I would not bet on it. Even after losing the process lead the Intel sales organization is getting VERY aggressive and protective of their lead customers. I have seen examples of this first hand and I am seriously impressed. Intel is not walking away from price competitive deals, absolutely.
Intel +3.6% on beats, Data Center recovery, and positive guidance
Q3 results that beat EPS and revenue estimates driven by a recovery in Data Center, which missed estimates last quarter. Upside Q4 guidance has revenue at $19B (consensus: $18.39B) and EPS of $1.22 (consensus: $1.09). Revenue breakdown:
Client Computing, $10.2B (+16% Y/Y; consensus: $9.33B)
Data Center, $6.1B (+26%; consensus: $5.89B); IoT, $919M (+8%; consensus: $952.4M)
Non-Volatile Working Memory Solutions, $1.1B (+21%; consensus: $1.14B)
Programmable Solutions, $496M (+6%; consensus: $526.8M)
AMD Q3 revenue miss, weak guidance
Q3 results missed revenue by $50M with a reported $1.65B. Non-GAAP EPS narrowly beat by a penny at $0.13 but GAAP EPS missed by as much with $0.09.Computing and Graphics missed consensus with $938M in revenue (+12% Y/Y/ -14% Q/Q) compared to the $1.05B estimate. On the year growth was driven by Ryzen desktop and mobile products sales, partly offset by lower graphics sales.
The other notable news is that Intel publicly addressed fake news from a well known rumor site claiming that Intel 10nm had been cancelled. It has been discussed on SemiWiki in detail amongst actual working semiconductor professionals who found it to be fake news. The rumor site of course still stands by the report and that pretty much sums up the state of American media today. Thumbs up to Intel on this one. Let's hope a legal response is being considered.
SemiAccuratehas learned that Intel just pulled the plug on their struggling 10nm process. Before you jump to conclusions, we think this is both the right thing to do and a good thing for the company.
Intel News
✔@intelnews
Media reports published today that Intel is ending work on the 10nm process are untrue. We are making good progress on 10nm. Yields are improving consistent with the timeline we shared during our last earnings report.
8:42 AM – Oct 22, 2018

Update October 22, 2018@3:30pm: Intel has denied ending 10nm on Twitter. The full tweet is, "Media reports published today that Intel is ending work on the 10nm process are untrue. We are making good progress on 10nm. Yields are improving consistent with the timeline we shared during our last earnings report." SemiAccurate stands by its reporting.
Also read:
Intel Slips 10nm for the Third time?
Intel delays mass production of 10nm CPUs to 2019
Intel 10nm process problems — my thoughts on this subject
Kaizad Mistry on Intel's 10 nm Technology (PDF)
Share this post via: