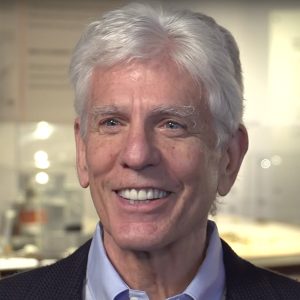 In 1967 I was a grad student at Cal Berkeley.  In December of that year my wife to be and I got engaged to be married.  I was supposed to get my master's degree in December of '68, but once we worked out all the details we realized that I'd have to go to school over the summer of '68 and get the degree in September.  We were broke and couldn't afford the extra three months of expenses with little or no income.  Berkeley was set up with two biannual college recruiting programs, during which corporations would come in to interview prospective new hires.  One of the sessions was in April and one was in November. My original plan was to go through the college recruiting process in the November session, but the wedding plans changed that.  Since I wouldn't be ready to go to work until September, the April recruiting session seemed too early.  So  — how to get a job?  That was the question.
I wrote 40 or 50 letters. There was a college placement handbook that had the address of the important companies.  I wrote to them basically saying "Dear Sir, you don't know me but I want a job."  I got back just three responses which was a little depressing   One was from IBM, where I then interviewed and didn't get a job offer. One was from HP where I interviewed and didn't get a job offer.  But one was from Fairchild. All I knew about them — or thought I knew — was they made cameras.  (The official company name was Fairchild Camera.)  I interviewed with them and they were excited about me.  They brought me back a short while later to have lunch with two of their executives:  Jerry Briggs – an HR guy (Called Personnel in those days)  — and Gene Flath  –  a product line manager.  That was my first business lunch.  It turned out that in those days, business lunches involved large quantities of martinis and the like. They thought I was the greatest guy in the world (Possibly because of the martinis) and they offered me a job on the spot. This was in roughly May of '68.  They knew that I wasn't going to be done until September so they said, "That's not a problem. We'll wait for you. You're going to be wonderful. In fact, you don't even need to communicate with us in the interim. The day before you're done, just call us and we'll make arrangements for you to come and everything will be great."   Then they both gave me their business cards.
When I had one day to go —that is I had just taken my last final and was ready to go to work —- I picked up the phone and called Fairchild HR.  A lady answered the phone.  I asked, "Can I please speak to Jerry Briggs"   The lady who answered the  phone said,  "There's no Jerry Briggs here and I've never even known a Jerry Briggs." We debated for a while and after a bit I asked her "Well, how long have you been there?" It had been a couple of months. The department had turned totally over between the time of the offer in May and my call in September. I thought to myself, 'That's not a problem because I've got Gene Flath's card as well. I'll just call Gene Flath'.  So   —  I called Gene Flath's number and got a secretary. She said, "There's no Gene Flath here and there's never been a Gene Flath here in all of the time since I got here."  "Well, how long have you been here?" "A couple of months."   I asked myself, "What the heck is going on here?"  I needed that job! Fortunately, I had the offer letter.  I called the HR department again and told them so. Some guy who I had never met said "Well, okay, we'll honor it.  Come in at 9:00 on Monday morning and we'll figure out what to do with you."
What the heck was going on?  I found out later that Bob Noyce, the President of Fairchild had just left to form Intel Corporation and taken a cadre of the really good people with him.  Sherman Fairchild (the Chairman of the Fairchild board) had brought in Les Hogan from Motorola to be the new CEO. Hogan, then, brought in eight of his top lieutenants to help him run things.  They were referred to as 'Hogan's Heroes'.  (That was the name of a popular TV show in those days.)  Hogan's Heroes proceeded to fire about a third of the upper ranks. Roughly another third of the upper ranks said to themselves, "Well, wait a minute.  If I stay around they're going to fire me, too." So they left as well.  Everything had turned over in that four month window.  When I got there nobody knew what was going on. Nobody knew who their boss was. What a zoo it was, but that made it almost seem like fun. One thing that was particularly noticeable was —- in the other companies where I had interviewed the managers were 40-year-old or 50-year-old people.  Today that doesn't seem very old, does it?  But then it seemed ancient. "You mean, I've got to be around twenty years before I can get a manager job? That's terrible".   At Fairchild the managers were kids. They were 25 and 26 years old. And not only were they kids, they were kids viewed as being experts in their field because the field was that young.
I thought,  "I'm going to like this place"
See the entire John East series HERE.
Biography
John East retired from Actel Corporation in November 2010 in conjunction with the transaction in which Actel was purchased by Microsemi Corporation.  He had served as the CEO of Actel for 22 years at the time of his retirement.  Previously, he was a senior vice president of AMD, where he was responsible for the Logic Products Group.  Prior to that, Mr. East held various engineering, marketing, and management positions at Raytheon Semiconductor and Fairchild Semiconductor.  In the past he has served on the boards of directors of Adaptec,  Pericom and Zehntel (public companies), and MCC,  Atrenta and Single Chip Systems (private companies).  He currently serves on the boards of directors of SPARK Microsystems – a Canadian start-up involved in high speed, low power radios — and Tortuga Logic  —  a Silicon Valley start-up involved in hardware security.   Additionally,  he is presently an advisor to Silicon Catalyst  — a Silicon Valley based incubator actively engaged in fostering semiconductor based start-ups. Mr. East holds a BS degree in Electrical Engineering and an MBA both from the University of California, Berkeley.  He has lived in Saratoga, California with his wife Pam for 46 years.
Share this post via: