Cellular as a method to communicate with the IoT is on a tear for obvious reasons. It's long-range with no concerns about the lesser reach of Bluetooth or Wi-Fi, it needs no added infrastructure since it already works with 2G/3G/4G (and ultimately 5G I presume) and it's designed for ultra-low power, supporting those devices expecting to run on a coin-cell battery for 10 years. Commercial cellular IoT networks are blossoming across the world, with a total of 69 launches by 33 operators in 34 counties as of Q4, 2018; and NB-IoT represents 80% of all deployments.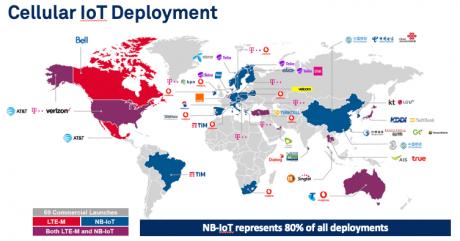 For the big cellular players with in-house communications design expertise this is just another direction to grow. But this is IoT, with lots of new silicon design teams, so the market is likely to be more fragmented than more familiar mobile markets. Many of these players, not all new ventures, lack silicon communications expertise so depend on proven IP to handle the modem.
There used to be a number of providers in the NB-IoT space. CEVA, still very much active, has well-established expertise in cellular and introduced their first Dragonfly NB-IoT solution early last year and their eNB/Rel 14 release of that product more recently. ARM was pursuing NB-IoT with its Cordio platform but announced late last year that they would no longer pursue this direction. Commsolid, another IP supplier in this space, was acquired by Goodix and now makes chips rather than IP. When you're building an IoT solution, modem chips are one way to go of course but if you want ultra-low power and ultra-low cost (which you generally do for high volume edge devices) it's a lot more attractive to look at integrated ASIC solutions with the modem in an IP.
Which puts CEVA in an enviable position in serving this expanding market. In their eNB-IoT release they have also added multi-constellation GNSS positioning support, satisfying a need for location services in the majority of new IoT products, whether mobile or fixed (an interesting market wrinkle in itself; I have written about this before). A report from DNB Markets (on Nordic Semiconductor following MWC 19) confirms this. DNB are confident in cellular IoT prospects based on what they saw at the event and noted CEVA's enabling position in driving competition in this space, citing interest coming from semiconductor companies who don't have cellular expertise, but also from non-semiconductor companies who want to build their own chipsets and modules.
Nurlink, a China-based IC design company specializing in cellular IoT wireless communications, recently announced the introduction of their NK6010 eNB-IoT SoC powered by CEVA-Dragonfly. This supports all eNB-IoT frequency bands and major global carriers, as required to support certification of devices on any eNB-IoT commercial network around the world. Nurlink's goal is to drive adoption of their chip in IoT devices such as smart meters, wearables, asset trackers and industrial sensors. They added that they're now engaged with (mobile network) operators worldwide to certify their SoC.
That certification step shouldn't be ignored. To be allowed onto the networks, you have to prove your device will play well with others in real life (not just in the lab), according to MNO expectations. If you're already not a communications expert, this can be daunting. CEVA works hard to make this transition as smooth as possible. While MNOs will not certify IP, CEVA have built their own silicon based on the IP which they have been running through test trials at Vodafone's IoT Future Lab in Düsseldorf, Germany. Using those open lab facilities which provide a realistic end-to-end live environment of the NB-IoT technology, CEVA connected to the Vodafone NB-IoT network and demonstrated end-to-end IP connectivity with its test chip running an eNB-IoT compliant software stack. This provides a "pre-certification", not an official signoff but getting as close to compliance as possible short of proving it in the end-product, which should simplify certification for product developers.
Lastly, how low can you go on power? Integrating the modem into your ASIC automatically reduces power from a multi-chip solution. On top of that, Dragonfly is designed for additional power reduction down to a few micro-amps in sleep-mode through dedicated instructions to support power-saving mode (LTE PSM), also through support for LTE eDRX (extended discontinuous reception). Since communication should be relatively infrequent for applications intended for eNB-IoT, getting to 10-year battery life should be achievable as long as you don't hog power in your application or sensors.
Want to learn more about CEVA Dragonfly? Click HERE.
Share this post via: